When you're in business, garnering more customers or clients is key. That's why networking is a necessity. Whether it's at the local chamber of commerce, industry trade show, or community event you'll want your business name bandied about and positively circulated. One of the best and most cost-effective branding tools is a company table. A well-designed and dressed table captures attention and exudes a professional appearance. In this post, we will give tips on dressing a trade show table as well as essential functional products a vendor needs to enhance and complete the look.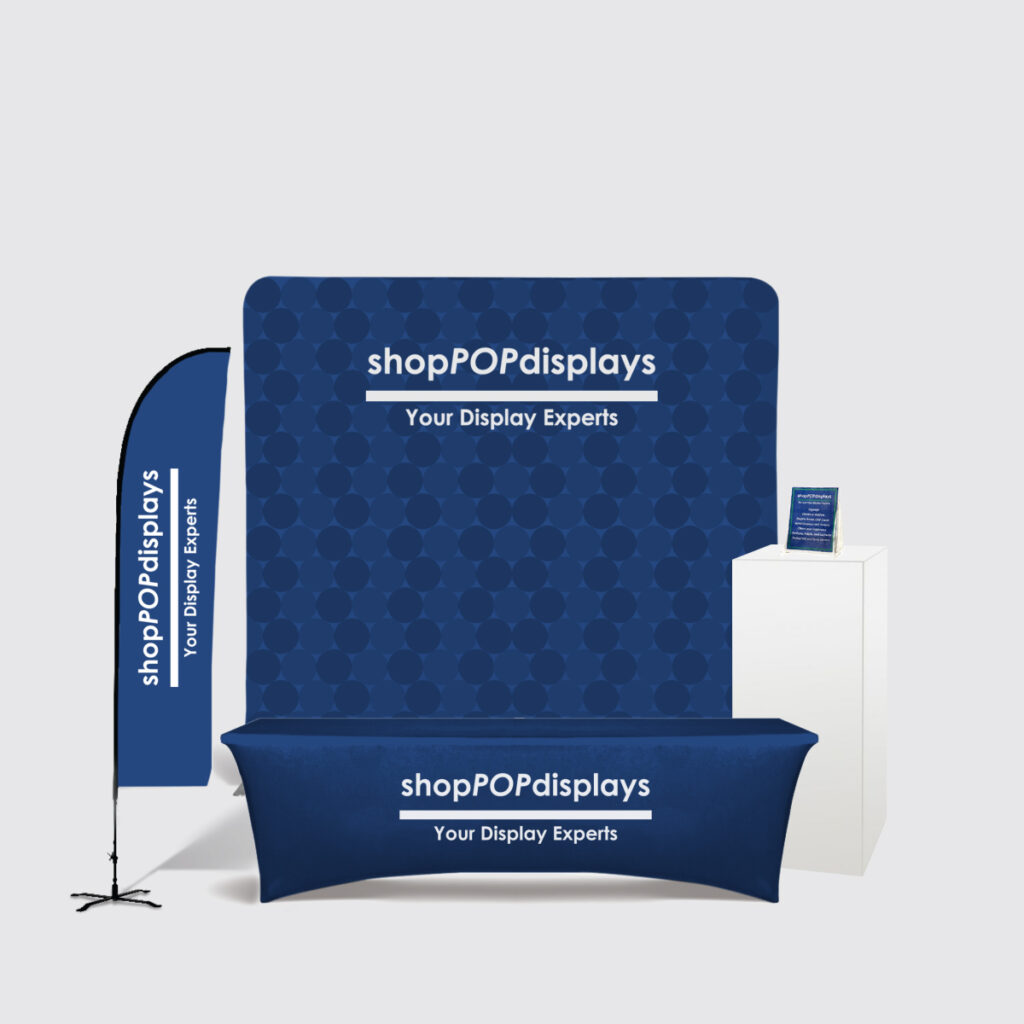 Quality tablecloths in your company color or a color that will make your logo and slogan pop can yield customers and dividends in the long term. The initial investment of time and money it takes to order custom printed tablecloths and trade show table covers will prove to be a justified return on investment (ROI) in the short term. But how to choose the one that is best for you? Well, first you start with the table size. Standard folding table sizes used in events and trade shows include 4 feet, 6 feet, and 8 feet.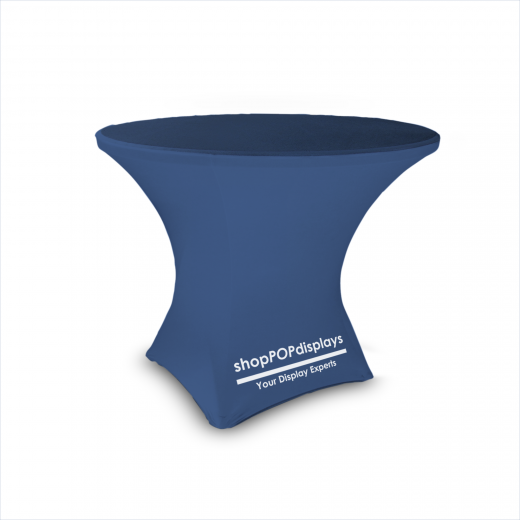 Standard, Stretch, or Fitted
Next, choose a table cover style and option. These include – standard, stretch, fitted, zip back, and open back. Standard is the unfitted style that loosely drapes over the table and allows chairs to slide in and out. Stretch table covers feature stretch material that perfectly fits and covers the table completely for a professional look. Fitted table covers fit specifically sized tables providing a tailored look, this style is most often seen at formal events like weddings.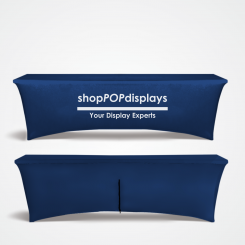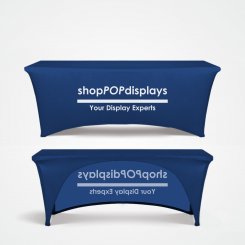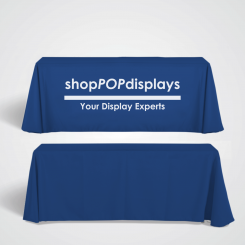 Zipper Back or Open Back
There are also other options to consider when choosing a custom printed tablecloth or table cover, a zipper back or open back. A zipper back option is available for stretch and fitted table covers. Zipper back provides easy access and coverage to items stowed under the table while offering a finished look. Open back fully covers the front and sides of the table and accommodates storage and allows for seating. This style is popular for an event or trade show where staff will be sitting at the table.
Key Trade Show Pieces
You have the table and the customized trade show tablecloth or cover. Next, is topping your marketing magnet with a few items that complete a professional look and promote face-to-face interaction.
Here, a few trade show must-haves and good-to-haves:
Banners, Flags, Portable Displays and Booth Backdrops. Assess your needs according to space and product promotion, then decide on which item or items will have the most impact. A custom trade show booth backdrop makes a statement and provides instant recognition for your business while complementing a custom print tablecloth. A dynamic duo.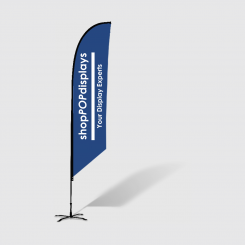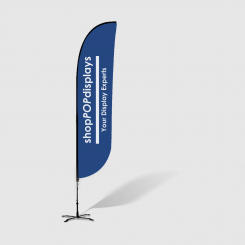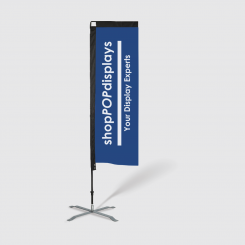 Space-saving custom pop-up counters and a strategically placed custom banner flag, and/or retractable display banner grab attention and stop potential customers in their tracks. Conveniently portable and customized to your company brand or product promotion, choose one or all to boost visibility and potential sales.
Pedestals and Displays. Showcase your spotlight product with pedestal placement. Items on pedestals naturally catch the gaze of consumers because it is singled out. Traditional pedestals are available in a variety of shapes, materials, and styles. Consider portable or collapsible displays for trade show convenience – they easily breakdown and set up.
Acrylic Risers. Available in various heights, styles, and widths – clear or color acrylic column risers, acrylic block risers, and mirrored risers – allow you to stagger and stage products for optimal exposure and viewing. Bonus, they work well lighting to highlight specific items.
Acrylic Sign Holders, Picture Frames and Table Top Easels. Ideal for merchandise and services alike, lightweight yet sturdy acrylic sign holders, picture frames and table top easels bring attention to your brand and are essential to promotion. Choose sizes and styles that enhance, not cover the item.
Literature Holders. Lightweight but a heavy hitter in combatting clutter, acrylic business card holders and pamphlet and brochure holders keep sales material organized and within reach.
Display Boxes and Cases. Never underestimate the need for a clear receptacle, especially in the trade show setting. Multifunctional display boxes and cases also house any logo-branded swag you may be giving away. Likewise, place products inside and/or on top of clear or colored boxes for a two-fold purpose – display box and product riser. Trade show tip: place two swag acrylic display boxes at opposite ends of the table to prevent crowding and promote customer interaction with staff.
Acrylic Raffle Box. Create buzz and business with a giveaway or simply collect potential customer or client information with a raffle box. Place an acrylic raffle box and a sign holder with entry instructions on the table and watch the business cards or entry forms fill it up!
A well-designed table can make your next trade show or business event. We discussed how custom printed tablecloths and trade show table covers are the best basic branding tool you can buy at bargain prices. Add one, two, or all the essential trade show event merchandise listed – acrylic risers, sign holders, literature holders, acrylic displays and cases, raffle boxes, custom banners, and more. Each has a purpose, so select items specific to your business needs to create a show-stopping table no one will pass by. Don't know or see what you need? shopPOPdisplays is here to help you create a brand presentation unique to your business and budget. Contact our sales team, they're ready and happy to assist you.