Shipping and Return Policy
STANDARD SHIPPING POLICY
Orders process Monday through Friday between 8:30 am and 8:00 pm, Eastern time.
Orders from stock are processed immediately to ensure fast turnaround times.
Custom orders, including custom printing, requires longer lead times since customers must approve artwork in writing before production begins. See individual product pages for more details.
We generally ship via UPS or FedEx, which takes approximately 1 to 6 business days to arrive after departing our location. See the map below for transit times to your area.
shoppopdisplays delivers only to valid street addresses. We do not ship to PO, APO, or FPO boxes.
Express shipping is available. Please contact us for additional information.
We will gladly facilitate delivery via your shipping account. You will need to provide us with a shipping label in order for us to offer 3rd party shipping options. Shipping costs will vary from our published rates. We work with most major shipping carriers.
Items exceeding weight and size limits for UPS and FedEx, as well as specialty or fragile parcels, will ship via freight LTL truck delivery. All freight deliveries are to your loading dock, or curbside - no inside delivery. Please contact us for specific information regarding your order.
Orders outside the continental United States, including Alaska and Hawaii, are subject to extra fees. Contact us for additional information.
Outside the US, we currently ship only to Canada. However, we can work with an exporter of your choice for international orders to other locations. You will be responsible for arranging shipping with the exporter.
Once we invoice and ship your order, we will email your tracking information.
We are not responsible for delays beyond our reasonable control. Shipping dates are estimates based on the receipt of all required information.
Should you refuse a delivery, additional charges may apply for deliveries returned to our location.
All freight deliveries are made during the carriers normal business hours Mon-Fri 8am to 5pm.
EXPEDITED SHIPPING POLICY
We deliver items on time to the shipping carrier with the correct class of service. After the carrier has the items, we cannot be responsible for delivery times since it is beyond our control.
PICKING UP FROM OUR NEW JERSEY WAREHOUSE
shopPOPdisplays offers order pickup from our New Jersey warehouse. Please inspect the merchandise when picking up your order. We are not responsible for any damages once the merchandise leaves our facility.
---
ESTIMATED DELIVERY FOR MOST ORDERS WITH UPS GROUND SHIPPING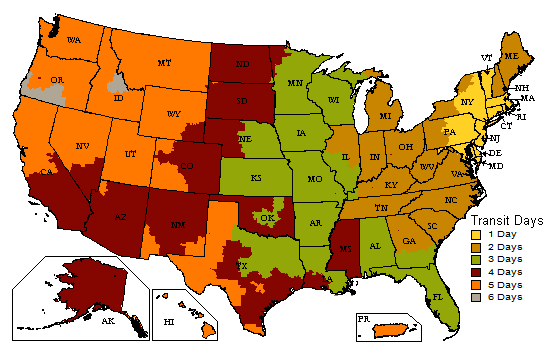 ---
RETURN POLICY
For sneeze guards, plexiglass shields, retail barriers and other COVID 19 related items, we are not accepting returns or cancelations at this time.
For all other stock items:
You may request a return for your shopPOPdisplays.com order within 30 days of receipt. Please note that not all orders are eligible for returns. Custom orders and custom print orders are considered final sale and are therefore non-returnable.
In order to return all or part of your order, contact us for a Return Merchandise Authorization number (RMA#).
After RMA number is provided by customer service, customers are responsible to pay for returns and create their own shipping labels. We do not provide any return labels. All items must be returned in their original packaging and in re-sellable condition.
Once you receive a Return Merchandise Authorization number (RMA#) you have 30 days from the date the RMA# is issued to physically return the product to us. Please note that after those 30 days are exceeded you will not be able to return your product to us.
Items you return to shopPOPdisplays.com should be packed carefully and shipped with tracking & insurance.
Shipping and/or handling charges on the original order are not refundable.
We charge a 25% restocking fee on all returns.
An additional 20% repackaging fee may apply on returned merchandise if the original product packaging is absent or significantly damaged.
PRODUCT EXCEPTIONS TO RETURN POLICY
We do everything in our power to complete custom requests according to your explicit instructions. Since customers approve custom orders in writing, unless there is a production error requiring product replacement, customized products, including custom print orders are not subject to the return policy stated above and are considered FINAL SALE.
CHANGING OR CANCELLING ORDERS
Once an order is placed, it is processed immediately to ensure fast turnaround times. A placed order cannot be changed or canceled. Please contact customer service for assistance if you have an urgent case.
Damaged Item(s)
Do not return damaged merchandise without contacting our Customer Service Department. Please inspect all contents immediately for damages upon arrival. If contents are damaged, notify our Customer Service Department at (800) 631-3690 no later than five business days following receipt of your order. We are available between 8:30 am and 5:00 pm, Eastern time.
Save damaged shipping box(es) and all packaging. For LTL truck deliveries, save the pallet(s).
For LTL deliveries, you must make a note on the driver's delivery receipt for any and all visible exterior damage. If additional damage is discovered after opening the package, damage claims will only be accepted if a note is made on the paperwork. Otherwise, the carrier may deny the claim.
Incorrect Item(s)
If you have received an incorrect item, please contact our Customer Service Department at (800) 631-3690 between 8:30 am and 5:00 pm, Eastern time, for a resolution.
Packing and Mailing Authorized Returns
IMPORTANT NOTE: To return your damaged or incorrect item(s), kindly ship them back packaged as carefully as we did when we mailed them to you. We are unable to refund or replace items damaged in transit back to us. We recommend insuring the item(s) so that you can be reimbursed by your carrier in the unlikely event that it is damaged in transit.
Retain all packing materials, as items should be returned in their original box(es) with sufficient packing material to ensure a safe and undamaged return to our warehouse. If the box was damaged in transit, please use a similar box (shape, durability, and size) for return as these materials were specifically selected to ensure the protection of your purchase.
Print and insert the email with the RMA number into the box for return. Also, write the RMA number on the outside of the box to expedite the return process.
shopPOPdisplays.com relies upon the reputation of UPS and FedEx for safe and secure shipping. Please return items via UPS or FedEx. Items shipped using other carriers will not be accepted.
Other Terms and Conditions
All shopPOPdisplays.com items are produced to meet "Industry Appearance" standards, defined as finished products potentially having small variances and slight imperfections, which are considered acceptable if not visible from a distance. These do not result from our fabrication process but rather from allowable variances in the production of acrylic and other raw materials.