Lighted Display Cases: LED, Color-Changing & More
Showcase your valuables with an LED lighted display case. Available in multiple styles and colors, our display cases are perfect for highlighting products, collectibles, and artwork. Whether you are displaying collectibles or merchandise, you'll find our cases and fixtures are durable, elegant, and made from high-quality materials such as wood, metal, glass and acrylic.

Our lighted showcase options include built-in LED lighting with dimmable, remote, and color-changing options. Cabinets are lit from the top to illuminate the interior of the case and highlight merchandise. Our LED lights are long-lasting, use low energy and generate very little heat to illuminate your items as efficiently and safely as possible.


FAQ
Where can LED lighted display cases be used?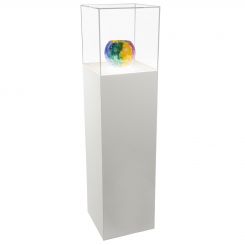 ShopPOPdisplays carries several LED lighted display, cases with a variety of lighting features to meet your needs. Our display cases can be used in many business settings, including museums and galleries, office and corporate settings, retail stores, boutiques and shops, restaurants and bakeries, exhibitions, events and more.
What are the different types of lighted pedestal display cases that are available?
Our lighted pedestal stands come in a variety of sizes—including small and large—as well as a variety of materials and colors. Plinths are available in acrylic, wood or laminate, with or without LED lighting, with or without a protective acrylic cover in wall-mounted, tabletop and floor-standing models.
Our lighted acrylic display case is an eye-catching presentation option with LED lights that light up the entire surface. Add a bit of liveliness to our acrylic pedestal with color-changing LED lighting and remotely control the colors, brightness, and color-changing modes.
Our >a href="/P_PED-WOODL-MB-RAISED-L/black-laminate-lighted-pedestal-display-case-with-acrylic-cover.html">laminate pedestals are available in several colors including white and black, gloss and matte, and wood finishes. Customizable options include metal or marble finishes. They can also be customized for concealed storage. Laminate pedestals have a LED light with a built-in on/off switch and dimmer.
Our wooden pedestals are manufactured with an all-wood veneer and finished with a durable clear coat. The built-in LED light highlights any item placed on the plinth. These bases are available in cherry, oak, maple, walnut, black matte, black gloss and white, and can be custom finished in metallic or marble and/or with concealed storage.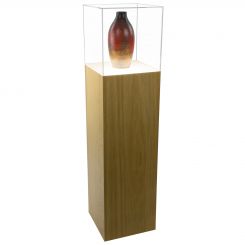 What is a lighted tower display case?
Tower display cases showcase your merchandise at eye-level. Our hex or square-shaped stands are available in black or cherry finishes and arrive pre-assembled. The tower units are 75" high with four glass display shelves. Built in LED lights at the top of the unit illuminate merchandise for a spectacular exhibit. Tower display cases feature adjustable shelf pins to accommodate a variety of different sized items. The hinged door is secured with a plunger lock.
What are the features of ShopPOP's lighted display cabinets?
Our display cabinets with lights provide ample display storage and protect your products with built-in locks. Available with metal, wood or laminate frames, these glass-enclosed lighted display shelves add elegance to any space. Choose from floor-standing, free-standing or wall mounted, in a variety of heights, widths, and shapes to fit your needs. Select fixed, adjustable, or cantilevered glass shelves in full or half-widths to stylishly arrange your merchandise.
We have several options to choose in the way of merchandise cases, shoe cabinets, football trophy displays, and lighted jewelry display cases, including countertop display cases. LED lighting beautifully highlights the interior of these cabinets and the items being displayed.
Can ShopPOPdisplays make me a customized display case with lights?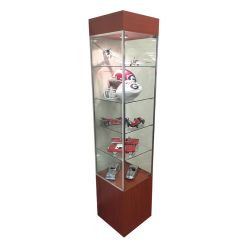 ShopPOPdisplays is a manufacturer and supplier of lighted display cases, showcases and boxes, which we sell wholesale in bulk nationwide direct from our factories. We make yours out of acrylic (also called plexiglass, Perspex, or Lucite) which is a durable type of plastic.
If we can't meet your business needs with our in-stock products we'd be happy to build a custom case that does meet your needs. We can customize one special for you in the right size and shape with the exact features your business needs. We can even add your brand image or other personalization to the lighted display case. Contact us to discuss your endless customization options.
Use Cases
Retail: Use lighted pedestals to highlight any retail products. Illuminating a special item that is high-end or on promotional sale can help accentuate the object and effortlessly draw consumer attention to it. Such products include fine jewelry, accessories, leather goods, professional cookware, and ceramics.
Art Galleries: Lighted pedestals can be used to dramatically change the look and feel of any art on display. Perfect for glass sculptures as well as pottery and ceramics, lighting helps to capture the unique essence of each piece.
Museums: Like art galleries, lighted pedestals can be used to help museum visitors focus their attention on the detail of sculptures, ancient artifacts, and other collectibles. The illumination of items will accentuate details that may otherwise go unseen.
Corporate Setting: Whether your business is looking to highlight awards, artwork, or honorary plaques, lighted pedestals can add a professional and distinguished look to these noteworthy pieces that may otherwise blend into the background.
Lobby/Waiting Areas: Whether placed in a professional institution, medical facility, or educational institution, lobby and waiting areas are excellent areas to show off awards and other honors. Placing these objects within a lighted pedestal is a wonderful way to convey the achievements of a company to guests and visitors.
Cannabis Dispensaries: From showing off the latest vape pens to accentuating the detail of artisan glass bowls, lighted pedestals are an effective way to promote cannabis goods and provide consumers with dazzling details that'll convert to sales.
Galleries: From photographs, drawing, to sculptures, enhancing any type of medium under lighted pedestals will assuredly help protect its quality and accentuate its presentation. This will allow guests to connect with the piece being displayed.
Trade Shows: Regardless of what you are promoting at your next trade show, lighted pedestals are a wonderful focal point to display the subject at hand. From cookware to musical instruments, lighted pedestals can be used for highlighting almost any object and help draw eye-catching attention to that item among competitors.
Events: Whether trade shows or wedding expos, lighted pedestals promoting products to sell to visitors are a necessity. These lighted display cases keep costly items like wedding veils, rings, and garments protected while also highlighting their intricate details.
Home: We all have collectibles that we adore. Why not highlight them? Lighted pedestals are perfect for heirlooms, awards, and other expensive novelties that can brighten up home spaces.
Resources
Customer Image Gallery