Seashells, sports memorabilia, antiques, fine china—whatever you collect, how they're showcased is often as important as the items themselves. If you visit a museum or gallery, you'll probably notice that collectibles just look better there. That's because careful attention has been paid to choosing collectible displays that allow for optimal viewing and are lit to perfection. Take a page or two from the pros yourself. Here are some tips you can use to make your collection look great right in your own home.
Pay attention to backdrops and bases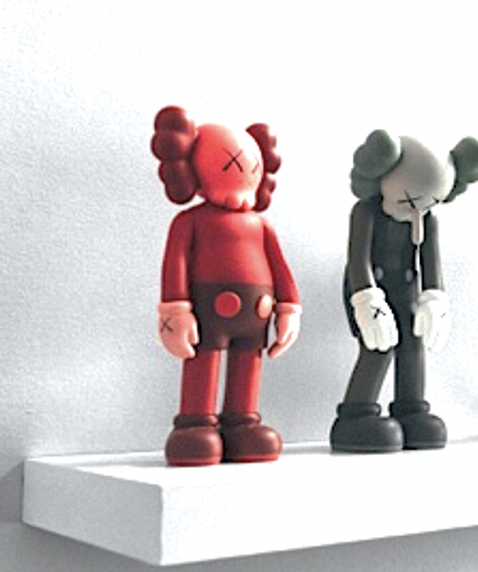 To highlight a collection properly, make sure the backdrop in your display case or your shelf display doesn't distract from the objects themselves. For something like a championship ball, you'll want a single-color background and base. For dark objects, you could go with a display box with a white base or an open shelf, as in this photo. If you're displaying small collectible figurines, avoid dark or busy bases and backgrounds that would make it hard to see them.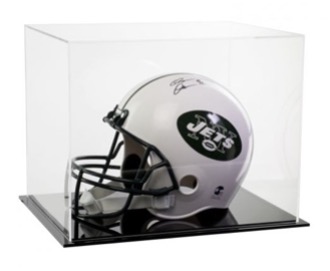 If the collectible is predominantly white or a light color, like the football helmet in this display, a black base works great. Keep some space around it or, if it's against a wall, make sure the wall is a light color to help the dark base stand out and let the object shine.
Woodgrain and bright colors for bases can work, too, but test the collectible on them first. You want to make sure the color doesn't distract. If the base is a bright red, for example, the collectible should probably have a dominant white or black color in order to stand out. And no deep greens, because that instantly screams Christmas (unless, of course, you collect Christmas things).
Think about height for collectible displays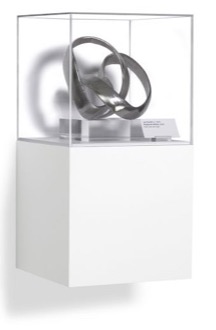 Give your collectibles a lift and put them up closer to eye level. A clean and simple black pedestal display case does just that. The black base makes the first impression and the clear and white of the actual casing allow your collectible to stand out.
Or you can try a wall-mounted pedestal display case against a contrasting wall color for a trophy, artifact or heirloom. The white matte finish on this particular case hung on a white wall helps this sculpture stand out.
Delight with light
Get your collectibles into the spotlight. Remember, you can light from any angle—above, behind, below or to the side. It doesn't have to be overly powerful, either (and for some sensitive items, shouldn't be). When you set your lighting, watch for shadows. If the object is larger and casts a big shadow, it won't stand out as much as it could.
If the room has a lot of natural light, sometimes additional light can get washed out, too. Always start by examining how much natural light the room has and the best location for the object or collection, first. Then you can make the decision to use extra light if you really think it's needed. Don't be afraid to experiment with different lighting levels and bulbs. LEDs tend to be brighter, and some bulbs may cast a yellowish glow that could either be welcoming or not. Some bulbs run hotter than others, which may also be a factor in your decision depending on the materials that comprise your object.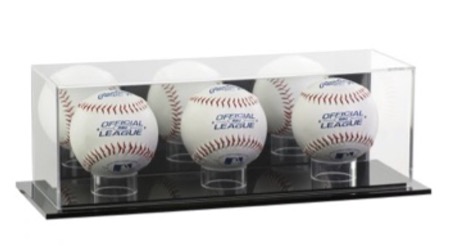 Focus your collectible displays
Generally speaking, unless all of your objects are very small, give one object the
full attention. You can also group items with a similar theme, like the three baseball display in this photo. Using a mirror for the background can add depth, too, and enable people to see all sides without touching. Also, if you have a few items on a larger shelf, keep some space between each one so the mind can enjoy on one at a time.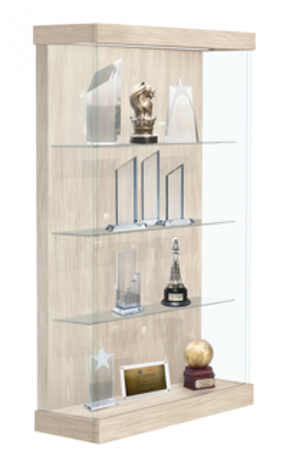 Plan out your larger case displays
For smaller collectibles, sometimes it's best to go with a larger display case with adjustable shelves. You can create sections and areas of focus for the collectibles.
Many large cases have built-in lighting. Be careful not to put too many items into the case. Sometimes, if you have many small pieces, a larger case can look cluttered. Two display cases may be a better option.
Go vertical with a floor standing collectible displays
Try a lighted floor standing display in a corner or a prominent area of the room. The small shelves and vertical nature of these collectible displays helps to narrow a viewer's focus on specific items. He or she can observe one level at a time and the enclosed case keeps the dust away, too. You'll want to avoid smaller pieces on the bottom so you don't hide them from view.
Ask the pros
The pros have a lot of resources at their disposal to create perfect collectible displays, but there are a lot of options out there to make your collection shine. Sometimes a pro's eye is all it takes. We've been designing displays and reshaping spaces for years. If you need assistance, contact the pros at shopPOPdisplays for help!