Unless you've been living under a rock, crystals have been trending the last few years with no signs of slowing down. Beyond new-age types, the stones have found new appreciation from everyone from celebrities and collectors to social media influencers and gen Z teens (and their parents). But you know crystals and gemstones are really popular when Walmart is selling crystal-infused water bottles.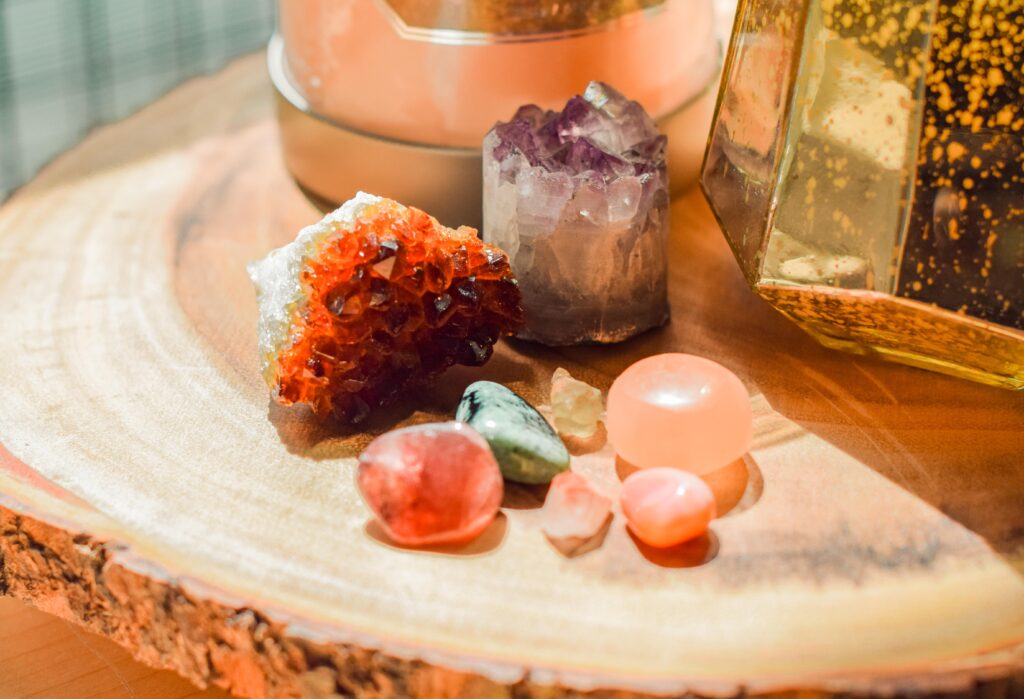 Crystals have been used for centuries, mostly for the same reasons they are used today—their beauty and their purported healing benefits, including lowering stress, reducing anxiety, and boosting mood. On a metaphysical level, crystals and gemstones are thought to activate energy centers in the body to promote positivity and good vibes while ridding oneself of negative energy. And though there is no scientific evidence that crystals work, there is evidence that the placebo effect does. In other words, for those who believe in the power of crystals and gemstones, it may be enough to shift their mindset and mood.
THE BUSINESS OF CRYSTALS
The global wellness industry was worth nearly $4.9 trillion in 2019, with crystals estimated to be more than $1 billion of that total. While the industry slowed a little during the pandemic the Global Wellness Institute predicts it will be valued at $7 trillion by 2025. However, not all sectors slowed down over the last few years. For instance, the mental wellness sector saw growth of 7.2% during 2020. That's mostly due to the many mental wellness activities able to be done at home or through social media platforms (meditation, yoga, self-help/support groups). Also driving popularity: many products are inexpensive (aromatherapy products, weighted blankets, yoga props, and crystals).
WHAT ARE CRYSTALS AND WHAT MEANING DO THEY CARRY?
Crystals are naturally occurring rock formations that are valued for their beauty—and by some practitioners—their energy. Crystals and gemstones are thought to promote positivity and good vibes while shielding against negative energy. Energy healers believe crystals alter the vibrational energy of one's being. These vibrations help to heal the body, balance emotions, and increase spiritual sensitivity. Wearing them in jewelry, displaying as décor, using in beauty products, or placing stones directly on the body (on energy centers called chakras) are just a few of the ways to absorb a crystal's energy.
Different healing properties are attributed to different crystals. Here are just a few:
Amethyst
This purple stone is used as a healing stone, to purify and protect. It is also thought to help one tap into their intuition and spiritual self.
Clear Quartz
This clear stone is believed to foster clarity, inspiration, and new beginnings. It's also considered an all-purpose crystal making it a great choice for those new to crystals. It can be used on its own or paired with another crystal to amplify its healing powers.
Citrine
This stone's uplifting orange hue helps to manifest abundance, boost joy, and relieve stress. Its abundance isn't limited to money, it can boost creativity, fertility, and happiness as well.
Rose Quartz
This pink stone represents love and harmony. It's used to soothe emotional issues and smooth relationship woes.
Carnelian
This red/orange stone is associated with passion. The fiery stone is purported to boost confidence in and out of the bedroom.
Obsidian
This black gemstone offers protection from negative energy. Keeping a black crystal close is said to offer psychic protection. It is also associated with transformation and grief.
CRYSTAL AND GEMSTONE MERCHANDISING
Given the popularity of gemstones, there are plenty of opportunities to include crystals in your inventory. That's true whether you are a large retailer or a local mom-and-pop shop. Here are a few ways to display various gemstone merchandise.
Jewelry
Whether your customer is interested in birthstones or healing stones, wearing crystals allows them to pair their personal taste with the stone's healing powers. There are a multitude of dedicated jewelry displays you can use to showcase necklaces, bracelets, and rings. But get creative and arrange them near natural light so they sparkle when they catch the sunlight; use display boxes with mirrored bases or backgrounds to reflect stones in the surface; or drape necklaces over risers to  set them apart from other and command attention.
Home goods and décor 
Gemstones are lending their good vibrations to home décor from bookends to cheeseboards to coasters. The same displays used for housewares—lighted display case, display tables, shelving—can put these wares in the right light.
Collectibles
Geodes (hollowed-out rocks with crystals lining the cavity) or larger crystals are also hot sellers. Give them the attention they deserve by displaying on pedestals. Up the drama with a mirrored pedestal or place higher-priced pieces on a pedestal with an acrylic cover on top to protect it from dust and damage.
Meditation tools and loose crystals 
During meditation, practitioners hold a crystal in their hand while focusing on their intention. In your store, small bowls and trays can hold smaller crystals and tumbled stones. Larger stones can be arranged on shelves or in countertop display cases. Place cards with the stone to educate the customer on the stone's name and its attributes.
Beauty/massage tools
Search #jaderoller on Instagram and you'll find 230K results. Facial rollers and gua sha stones are used to gently massage skin and promote circulation, reduce puffiness, and help with lymphatic drainage. Acrylic adjustable dump bin displays can hold jade or quartz facial rollers and gua sha stones. Serums, scrubs, oils, masks, and moisturizers that contain crystals can be displayed on acrylic cube risers (turned upside down they can be used as dump bins).
One thing is crystal clear: these gemstones are no longer just for new-age spiritual seekers. They are mainstream. Even if your store is not a new age shop, it makes sense to dedicate some space in your store (a shelf, a section, a countertop display) to add crystal products to your retail mix. And if you stock green aventurine, the "stone of opportunity," your store may see prosperity and growth. Talk about good vibrations!
Check out shopPOPdisplays for our extensive selection of jewelry displays and retail displays to make your crystal inventory shine. We carry both in stock and custom options. Feel free to contact us with questions, to place an order, for help creating custom display risers, or even just some friendly advice on showcasing your crystal and gemstones.