Automotive businesses play a vital role in our lives, keeping people's cars moving so they can get to work, school and back home without any issues. In addition to servicing vehicles, these businesses also sell parts and products directly to the consumer. In fact, the global automotive aftermarket industry size was valued at $408.5 billion in 2021 and is expected to register a compound annual growth rate (CAGR) of 3.4 percent from 2022 to 2030.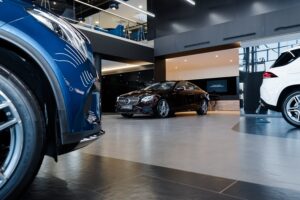 For a customer who is not an expert on car repair, walking into one of these locations can be intimidating. If they don't find what they need right away, they might just walk out empty-handed—and you'll miss out on making a sale. That's why automotive shop displays are such an important part in keeping your location organized and inviting for everyone who walks through the door. Here are 10 automotive shop and service center display ideas to engage customers and drive sales.
Wire Racks
When it comes to a product that will display your products effectively—as well as keep them organized—look no further than the wire rack. It is sturdy enough to hold even heavier items and products, but diverse enough so that you can move it around the location whenever the need arises.
The silver wire display rack is easy to assemble, with five adjustable shelves and a sign holder top. It can be used for sale items, as well as to keep smaller parts organized. In addition, the five shelf rolling wire display can easily be moved around, even keeping parts and products handy for mechanics while they're repairing or servicing vehicles.
The round shelf wire rack has a sign holder and three round shelves that can hold a high volume of products, while on-the-go snacks can easily be displayed with the black wire display rack.
Sign holders
Keeping both customers and employees informed is an important part of any business. Utilize our selection of sign holders, which can be wall mounted to keep counter and floor space clear. Or catch customers' attention with holders that can be placed on countertops, like this break-resistant countertop sign holder, the slant back sign holder, or the upright sign/brochure holder combo.
Banners and flags
Banners and flags are a wonderful way to showcase special deals, sales and offers to attract customers into your automotive business. They can be fully customized with colors, wording, and logos to fit whatever your store, shop, or service center needs.
Floor standing
Important signs are easier to spot with floor standing displays, such as the acrylic poster stand, which boasts a double-sided 22″ x 28″ display area and a design that can complement any décor. For a simpler look, there is also the Poster Stand with Flat Base in black and chrome.
Countertop
Every customer will stop by the cash register at some point, so don't let that space and opportunity go to waste. Countertop signage can help keep customers informed, as well as encourage impulse buys before their checkout. Chalkboard signs and complementary chalk markers are known for their convenience since you can change announcements on a whim. You can also keep smaller items for sale in various countertop displays, such as acrylic adjustable dump bin display with removable dividers.
Slatwall
Slatwall allows automotive business owners to save floor space and keep their inventory organized and easy to find. Utilize trays, bins, shelves and even sign holders to make the most of your valuable retail space.
Gridwall
There's no shortage of gridwall options to hold merchandise, including the acrylic gridwall j rack, the acrylic 3 bin and 4 bin display, and the gridwall basket in white and black.
Locking cases
Store pricier sale items, car, or truck collector's edition models, and more in one of our locking acrylic displays. The acrylic locking slanted front display case w/ 2 flat shelves and the acrylic locking 1 shelf square display case will keep everything safe—giving you peace of mind. Save space with wall-mounted acrylic displays as well as acrylic display pedestals.
Peg Boards
These can be hung of walls—freeing up valuable floor space—and used to display different tools and auto parts for sale like hoses, belts, wipers, and more.
Acrylic display boxes
Selling smaller items that are hard to keep organized? Place them in one of our acrylic display boxes, which can be left on shelves and countertops so customers can help themselves.