It's no secret that attractive displays create attention and sales. Vape displays are no different. In fact, given the intricate, ornate, colorful, and classic designs of some commercially available vapes, vaporizers, vape pens, e-cigarettes, e-cigs, hookah pens, and e-pipes, all terms used to describe electronic nicotine delivery systems (ENDS), presentation is everything. Here, vape display ideas to get consumers in the door and to the checkout counter.
Go clean and clutter-free. With the wide variety of colorful vape accessories, position them to be the main attraction with décor friendly and functional acrylic vape displays. Invite customers to see and touch, if applicable, the merchandise while also protecting your investment with reliable and quality acrylic fixtures like locking displays.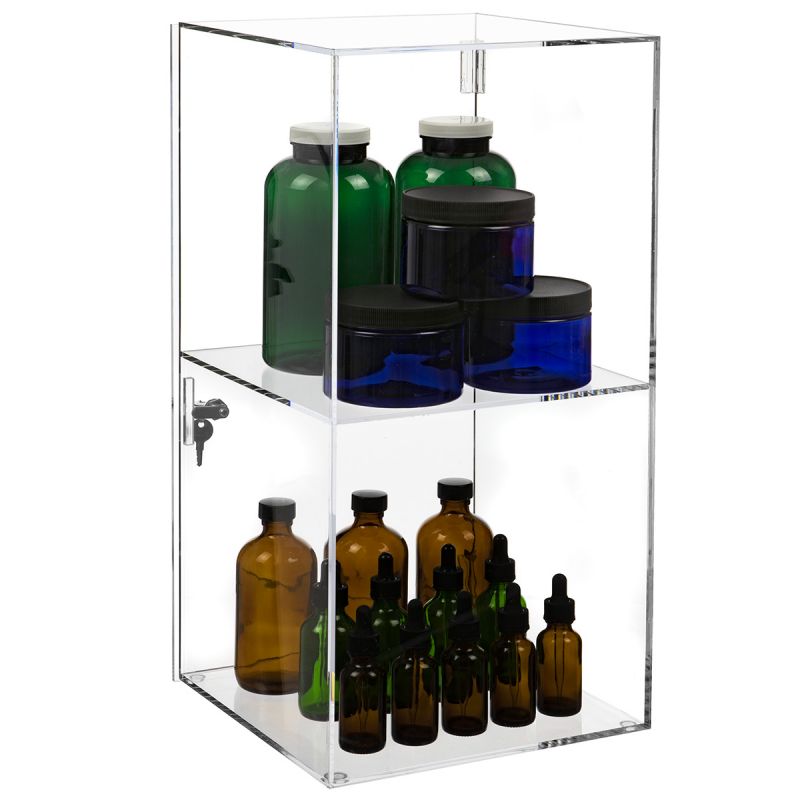 Make the most of your retail space size with countertop display cases and wall mount display cases provide easy waist- and eye-level access to items. A must-have for any vape store, locking display cases not only secure merchandise, but also meet many state regulations. As laws vary by state, vape-related merchandise like vape juice and e-liquids contain nicotine, which must be stored behind the counter or in locked display cases. The easy and cost-effective solution are lockable display cases. Choose one or more fixtures to fit your space and need. They range from one to six shelves with adjustable shelves or fixed, as well as preferred lock and door orientation. Consider both countertop and wall mount locking displays to maximize retail space and optimize visual impact. If you have something specific in mind, customized locking display cases and locking pedestals may be your best bet and investment in the long run.
Rise(r) and Shine
Acrylic risers and LED lighting are perfect for showcasing vape accessories. Acrylic display risers are pretty much mandatory in all retail settings, however clear, color, and mirrored riser displays, not to mention customized brand, logo, color – hello, shopPOPdisplays – in a variety of shapes and sizes like column, block, cylinder, cube, and more, can elevate vape accessories and sales even more. Perfect for compact spaces, simply cluster acrylic display risers of varying heights, then top with an item or two and position at optimal angles. Use this technique to spotlight a specific vape pen, or to simply showcase box mod kits. If spotlighting merchandise is what you're after, and who isn't, add LED lights, LED display risers, and lighted pedestals to promote sparkle and sales.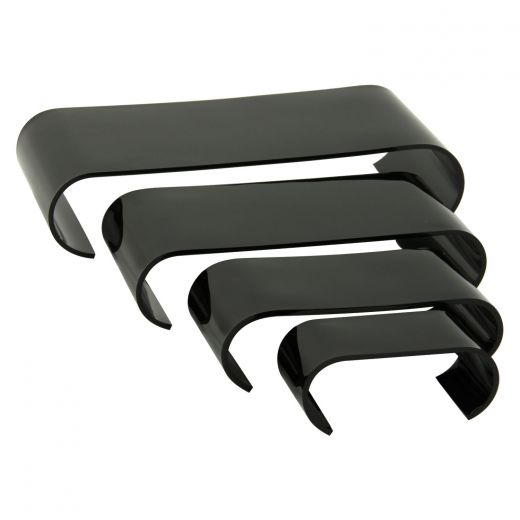 Displays, Dispensers, and Holders – Oh, My!
The right display, dispenser and holder is essential to vape shops. Ill-fitting fixtures can cause merchandise to fall and break, which can lead to loss of inventory, investment, and potential profit. Side-step this preventable situation with acrylic vape displays, gravity dispensers, and tube holders designed for vape accessories and complementary products.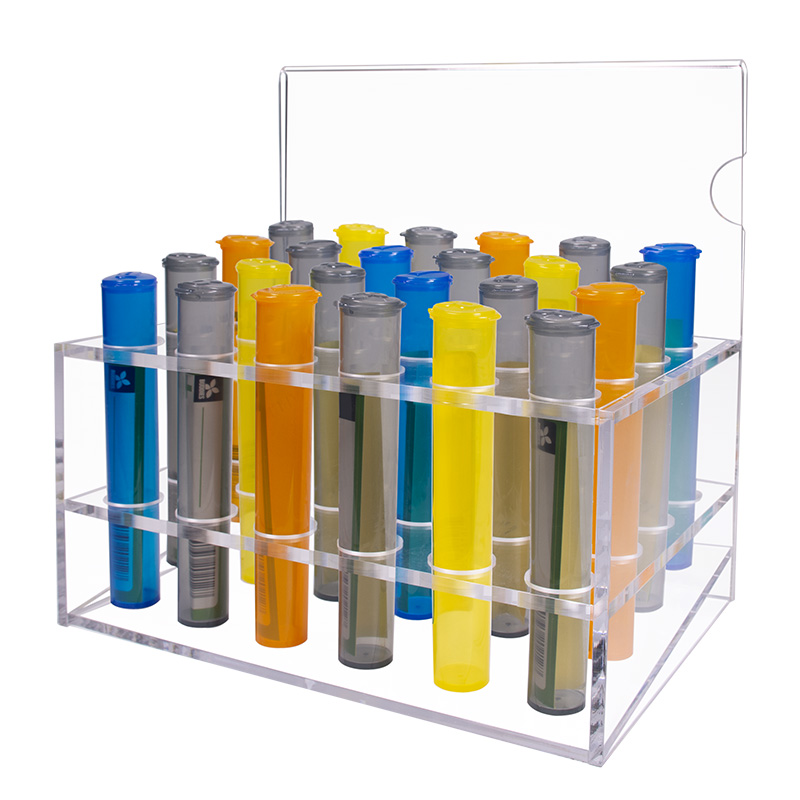 One of the most popular items in any vape shop is the assortment of vaporizers, vape pens, e-cigs, and the like. Displaying them may be a challenge simply due to the vast variety. Multi-unit displays not only make sense but they also offer the opportunity to present your products by category, like material – glass, acrylic, ceramic, wood, etc. Likewise, highlighting a more modest number in a double or 5-slot sturdy acrylic vape display provides easy transport convenience throughout your store as well as the opportunity for customers to touch and get a feel for the product, a sample of sorts. Sturdy economical acrylic vape displays are available in a variety of classic colors like frosted, smoke, and clear, as well as a variety of shapes and orientation – standing, curved, and angled – to position and promote products in any space configuration while complementing every décor scheme.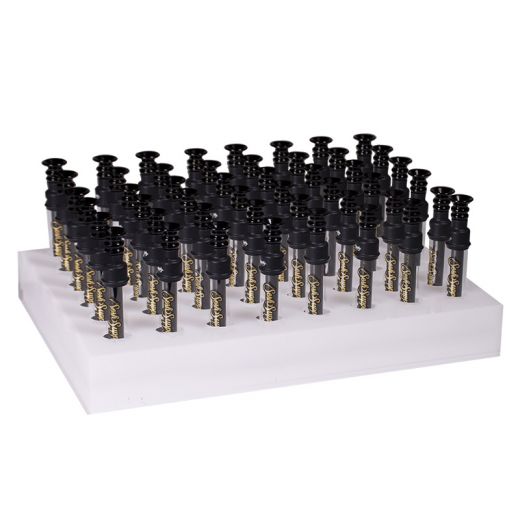 Gravity dispenser displays help control clutter and any possible mishaps. These space-saving acrylic displays have a slimline silhouette and an auto-fill feature. Once a customer removes a tin or item, the next one takes its place, filling the space automatically. Gravity dispenser displays replenish stock and always look full, something a retail shop always wants to convey. Plus, its built-in take-and-replace inventory management system is the perfect prompt for completing the purchase.
Tube holders highlight an array of vape pens and e-cigs. These table top acrylic displays provide a neat and organized multi-unit display option that shows off your inventory without the clutter. Tight on space? Select an all-inclusive upright tube display box with built-in sign holder or without sign holder model that holds the product in place from top to bottom, a handy feature when moving the holder from countertop to acrylic riser or locking pedestal. Multi-unit tube displays come in sleek slanted models, too. Select a design that does double duty like holding product and providing a branding space for signage sticker, brand, and logo customization. shopPOPdisplays covers all your needs.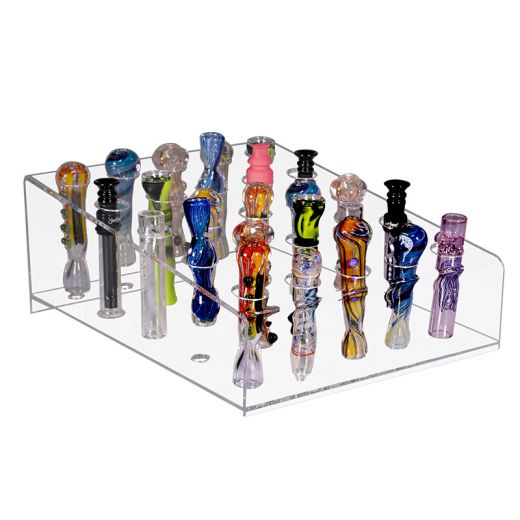 Confidently mix-and-match countertop and wall mount locking display cases with acrylic display risers, vape displays, LED risers, and more to create a look unique to your space and merchandising needs. Also, customization ensures your displays and locking pedestals are one of a kind. shopPOPdisplays can make it happen for less. Contact us for ways to make your vape shop stand out!