How to creatively use baskets to showcase your merchandise
If you are a retailer or small shop owner, you may have realized by now that the same old nondescript metal or plastic bins don't seem to effectively catch your customer's attention anymore.  As surprising as it may seem, customers pay just as much attention to the vessels and containers in which merchandise is displayed almost as much as the products themselves! There is truly an art behind clever visual merchandising. According to an article from completecontroller.com, "Visual merchandising makes retail spaces more attractive and pleasing for customers, entices foot traffic, and encourages impulse buying. … Visual merchandising is all about the look, feel, and culture of your store and brand. If it's done correctly, it will help increase your customer brand loyalty."
One way to captivate your consumers is by showing off your products with the use of interesting, eye-catching baskets – wood, manufactured, faux rattan, etc. In this post, we will discuss the different kinds of displays that can be used in retail sales settings, their benefits, and examples of products that are best complemented by them!
Tiered Baskets
Whether you are looking to promote clothing items, groceries, candles, or stationery or the like, a tiered basket display can easily entice your consumer with its clean presentation and thematic nature. Create a story out of this layered type of merchandising tool. For instance, if you work at a local grocery market and sell fresh produce, consider one of these displays to create a pasta night sauce arrangement where tomatoes rest in one basket, packaged pasta in another, and below fresh basil or garlic.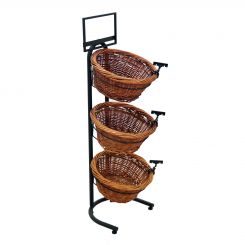 On the other hand, you may run a fragrance shop and are looking to promote a new scent with lotions in the top basket, shower gel in the next, and body sprays in another. The possibilities are endless when the display items have a common thread theme and can help direct a shopper to the perfect gift or date night meal. Use these merchandiser displays to inspire and thoughtfully showcase products. Select a basket display with casters options and they become on-the-go spot merchandisers ready for impromptu specials or seasonal sales in any department. A retailer must-have!
Countertop Baskets
Perfect for odds and ends in your store, you can easily use countertop baskets – single or stacked – for products that may ordinarily be an afterthought, if not otherwise propped up in front of you calling for attention. These baskets are perfect for last-minute decisions or impulse buys. For example, a stationery store that sells gift wrap, a counter basket display would be extremely useful to display near check out. Inside of the baskets you can place tape, bows, labels, and other notions that perfectly complement all gift wrap packaging needs. This is an organized and cross-merchandising way for owners and consumers alike to ensure customers have everything they need upon leaving and a smart way for retailers to make extra sales.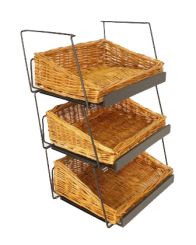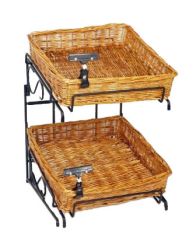 Nine Basket Display
The ultimate basket display for fresh produce and farmers' markets alike— the specialty nine basket display from shopPOPdisplays, is a lot more than what initially meets the eye. Ideal for storing fresh herbs, vegetables, and fruit, it can also be utilized for delicate handcrafted items such as artisan yarn, wax candles, soaps, and condiments. Use this display piece to be front-and-center of your visual merchandising layout, regardless of space or station. Its presence will undoubtedly attract crowds with its well-organized nature and natural rustic appeal.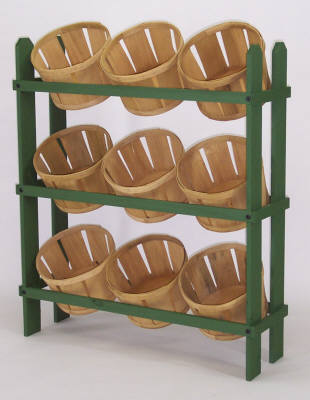 According to Mary L. Peabody, Community/Economic Development Specialist, University of Vermont Extension in an article titled, The Art & Science of Farmers' Market Display," "Baskets make great displays, because they make selection easy, without fearing that the whole arrangement will fall apart." This specific display tool will help call out compelling products without getting lost in a sea of similar objects. Hence, creating ease and direction for a consumer, saving time, and creating more efficiency all around.
No matter the industry you are in — a basket display is an absolute must when creating your visual merchandising store plans. We hope you were able to gather a couple of useful tips from our team of display experts. Here's to your future creative basket displays and happy merchandising!