Looking to elevate your store's visual merchandising this holiday season ? How about all year long? From home decor stores to thrift shops, cafes and jewelry stores—lighted pedestal displays are an excellent way to highlight holiday and year-round sales. Below we have six ingenious and easy merchandising tactics for you to use to entice your consumers during peak sales times throughout the year. Learn how to effectively elevate your shop's look and ultimately increase your store's ROI with flawless lighted pedestal display planning.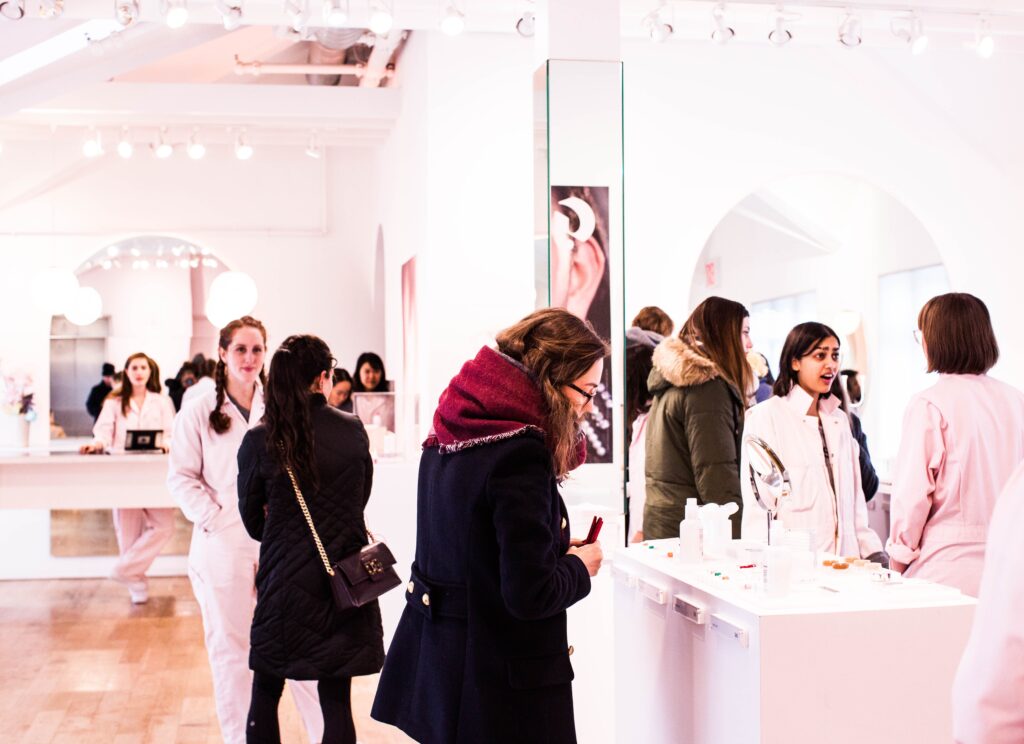 Create a Captivating Focal Point
Lighted pedestal displays are the perfect visual merchandising trick to capture the attention of your audience. Simply place a beautiful product inside a lighted pedestal display and position it inside a central or high-traffic area of floor's store plan. By doing so, you will see the product go from standstill to superstar. This trick works across multiple retail industries — whether you are marketing elegant cookware or a trendy pair of pumps, sparkling lights inside a clear display case will illuminate in all directions—stirring up lots of attention.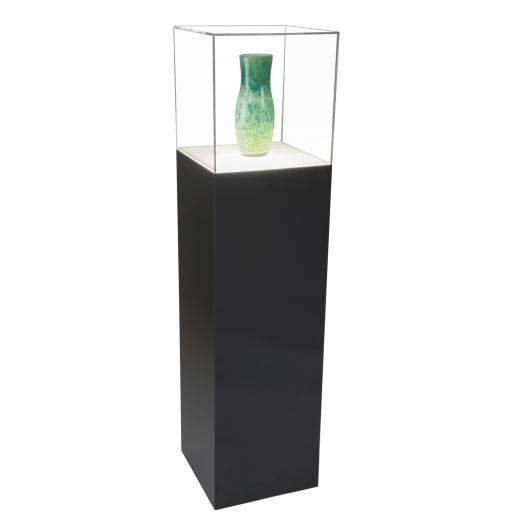 Elevate Your Store's Design
Lighted pedestal displays are a straightforward way to prevent your store from blending into the background to quickly becoming high-end sophisticated. Lights enhance most environments, while also creating ambiance that offers style to any floor plan. Whether you are displaying a newfangled coffee machine or showing off beautiful baubles, a lighted pedestal display will not only enhance your merchandise, but the decor around it, too. This technique lures people in to take a gander and wander your store. According to Ifillumination.com, " Good lighting has  proven to have a positive impact on the consumer's impression of a store, which then translates to sales. The way lighting is set up in a retail space directly impacts the consumer's level of interest. Bright lighting makes the consumer shop for products quicker." Further proving that gorgeous luminosity like lighted pedestal displays will encourage your shoppers to make grander purchases.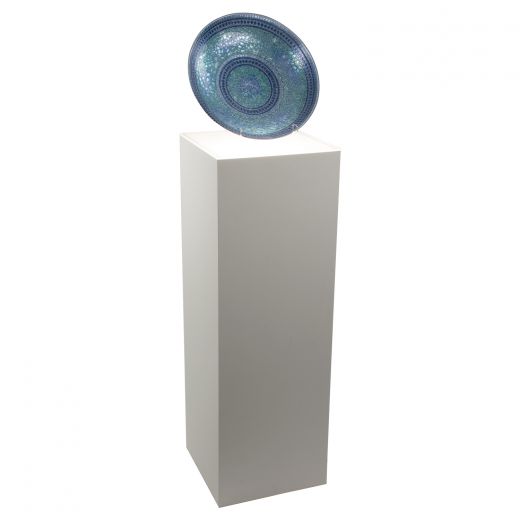 Offer An Enticing Story
Product placement is integral to your consumer's connection to it. Lining up similar sales items in a row or general grouping with the added luster of lighted pedestal displays will help create a relatable story. For example, a clothing boutique may choose to highlight a best-selling necklace, gloves, and purse. All three products can be placed in a row within the lighted pedestals to be showcased, but also lends cohesion. Sparking interest in your consumer for a date-night outfit for themselves or a gift for someone near and dear, the grouping of products should be accomplished seamlessly providing your consumers with a hassle-free purchasing experience.
Add a Gorgeous Accent to Details
Lighted display pedestals also give way to dramatizing interesting features on particular products like when showcasing a bag with rhinestone embroidery or a rose quartz color kitchen mixer, LED lights can heighten the beauty of these details and also amplify the focus on this one coveted object, allowing your customers more time to ponder purchasing it, which often leads to more sales.
Environmentally Friendly Approach to Showcasing Goods
In addition to being a multifaceted asset to your store's visual marketing display, LED lighted pedestal displays are also an environmentally responsible way of adding lights to your store's marketing plan. Many consumers today are concerned about carbon footprints of products, so energy efficient, LED lighted displays are durable, long lasting, and emit lower amounts of heat. They magnify the beauty of products, while also saving time, money, and energy.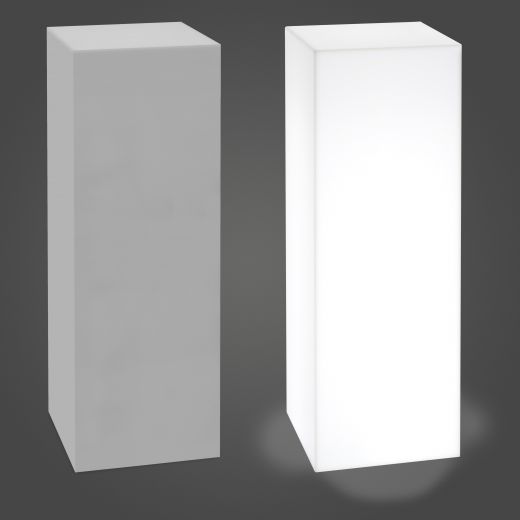 Placing Exclusive Sale Products at a Taller Height Under Attention Grabbing Lights
For ample use of lighted pedestal displays in your store's visual merchandising plan and layout, place lighted pedestal display at varying heights to attract immediate attention from consumers and passerby traffic. When stationing lighted pedestal displays on stairs, risers, or platforms in front of main entrances, foyers, or holiday window displays, you'll create an opportunity for people to make direct eye contact with the product inside and attract more holiday foot traffic, too.
Interested in learning more about our lighted pedestal displays? Contact our team for details on how we can customize the perfect lighted display for your business.