In post-pandemic times, cannabis trade shows are coming back in full swing. New laws are being passed every day, making this hot commodity more accessible around the globe. It's important now more than ever that cannabis businesses are prepared to create immersive trade show booths to capture the attention of their target audiences. Creating customized marijuana displays is truly a skill. Below, are ten cannabis trade show trends to get ahead of to give your brand an ideal trade show booth experience that will stand out to prospective customers.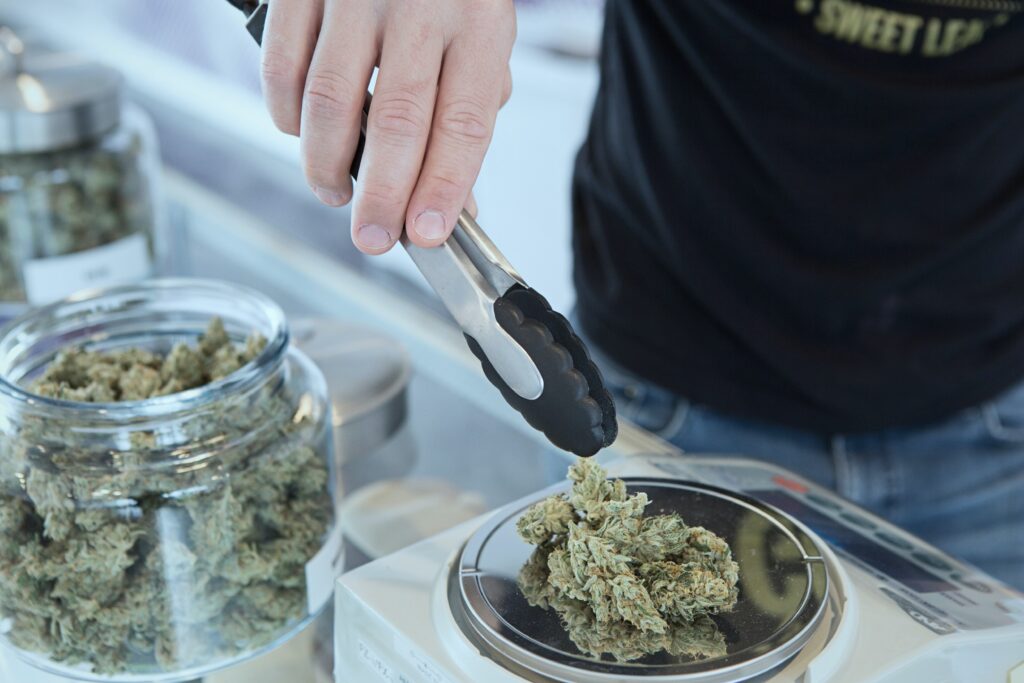 Getting Clarity on Brand's Visual Guidelines
Design your cannabis trade show booth with the right intent. Having a well-designed marijuana display has a lot to do with the merchandise you are promoting and what the business reputation you want or what you represent. In the catalog of cannabis there are many types of products from vapes, flowers, edibles, to tinctures, and buds that you may be trying to sell. Be sure the branding for your company's exhibit stays on point with your branding identity and the cannabis product you sell. Customize banners, flags, and portable displays with straightforward messaging to best set business apart from the steep competition.
Going Beyond the Green Leaf in Marketing Materials
Ensure you have an effective marketing plan when it comes to your marijuana displays and overall booth presence. According to Mgmagazine.com, "While there is limited opportunity to engage with prospective customers on the show floor, providing useful takeaways in the form of leaflets, flyers, catalogs, or product samples—and, of course, branded swag—will keep your company in leads' minds long after the show ends." A wonderful example of this is to create marketing swag that can be taken away based on the focus of your exhibit. For instance, many cannabis subscribers partake in cannabis products to lower anxiety, consider giving away branded stress balls as a useful and memorable takeaway gift. This creative touch in addition to providing consumers with informational literature will offer them an impression of your cannabis brand.
Hybrid Events
Depending on budget, time, and capability, your specific cannabis business may opt to have a virtual exhibit to show at trade shows that you otherwise may not want to take part. Virtual options are a fantastic way to highlight your brand and offer rare selections, but unfortunately don't allow for the personal experience an in-person marijuana display can provide. Trade Shows are a great outlet to connect to customers, test products, and network with vendors while providing ongoing education to the cannabis world. At times virtual options may make sense for your brand and at other times you may need to show off your goods in person. Making all options a viable way to give your bud influence.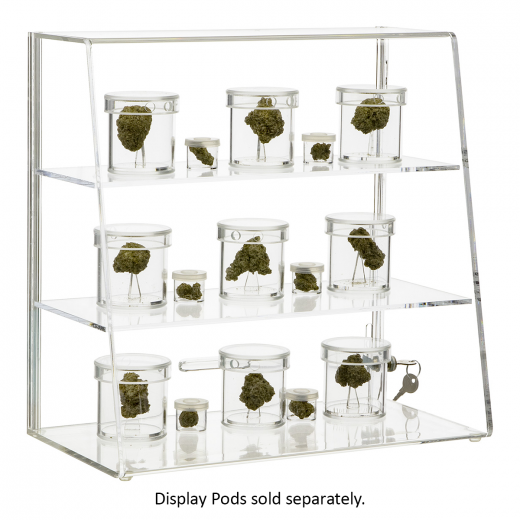 Virtual Reality vs. Augmented Reality
While there is still no definitive date of when this option is going to launch, look out for when it hits the stage because it is going to provide potential consumers with an experience unlike anything they have ever received before. According to Mgmazine.com, "Some companies already are employing VR and AR in their exhibits to demonstrate products and services in a safe, controlled way. Medical device manufacturers are giving professionals "hands-on" experience with new equipment in virtual hospital rooms, for example. At cannabis trade shows, extraction and cultivation equipment exhibitors could offer the same sort of "test drives." Thus, allowing your consumers to understand their experience with your product before ever actually purchasing it. No grander type of education!
Bringing the Outside, In
Great networking is the foundation of any successful tradeshow. Networking events that happen before or after trade shows can help bring outsiders who have never been exposed to your brand. Hosting intimate affairs helps build a great rapport with potential subscribers and consumers. Host an event with cocktails and appetizers to leave a great impression and allow room for networking, partnerships, and to gain a competitive edge against other cannabis dispensaries and brands.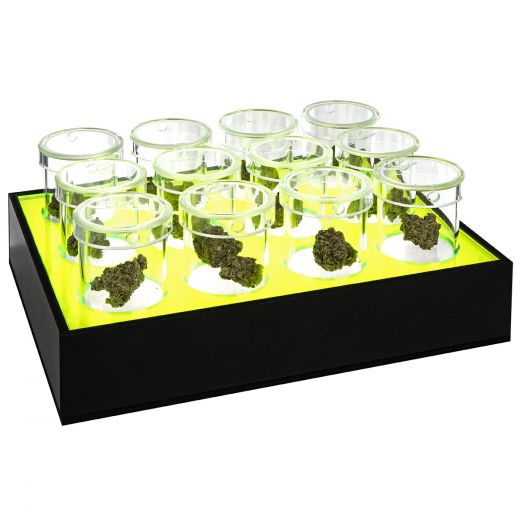 Adaptable Booths
From portable displays to modular booths, all trade shows need to approach each event as a unique experience. Within every unique experience comes a need for adaptable booths that fit different ambiances and spaces. Having custom tailored trade show booths that can adapt to any environment will allow your marijuana displays to be present in numerous opportunities and reveal your brand for various crowds.
Incorporate Games and Giveaways
It's always a hit to incorporate games and giveaways in your trade show exhibit. Beyond pens and magnets, it might be a great idea to invest in a smart tech  giveaway with your company's brand on it. Consider a personalized phone charger or flashlight. Perhaps host a "How Much Do You Know about Cannabis" trivia game with a monetary reward or gift card to Amazon or Starbucks. Make this move and watch the crowds start to pour in.
Memorable Booth Experiences
Have your trade show booth experience be unlike something anyone has ever experienced, whether it be by offering wonderful educational presentations, thoughtful giveaways, putting a heavy emphasis on self-care and going the extra mile to participate in meaningful conversation with your attendees, make sure to connect to your consumers and there is no better way to connect to people than having meaningful conversation about products in which will ultimately change their lives  for the better.
Use Hemp Paper Products for Swag
When producing marketing giveaways there is a simple rule of thumb—keep it on point and brand specific by using hemp paper products for your swag giveaways. This giveaway is brand consistent with your marijuana display and is eco-friendly. Hemp has a plethora of benefits and is most widely known for its amazing ability to lower stress and inflammation.
Creating Hospitality: Offer a Seat and Snacks
Make your marijuana display inviting and offer newcomers a comfortable place to sit and hang out to learn more about your merchandise. Provide beverages like tea, healthy snacks, and complementary flavors that keep consistent with what your cannabis products strives to achieve. If people have the space to experience your products, they are more likely be loyal as opposed to your competition.
Want to make your cannabis or marijuana displays truly stand out at your next trade show event? Contact our team of trade show experts at shopPOPdisplays and ask about the custom options we can offer you.