No matter how big or small your retail business may be, it is important to create enticing window exhibits that draw foot traffic into your store. Your window showcases the first impression of your shop — it's your chance to catch someone's eye and encourage them to come in and browse. The holiday season is no exception. In fact, window displays are actually most prevalent during the holiday season. Many big box retailers create magnificent holiday window displays that attract thousands of visitors each year.
In this article, we will share some of our favorite holiday window displays from years past as well as some tips you can steal from these retailers for creating your own window creations. We hope these stunning examples and our quick tips will provide you with some inspiration this holiday season.
Macy's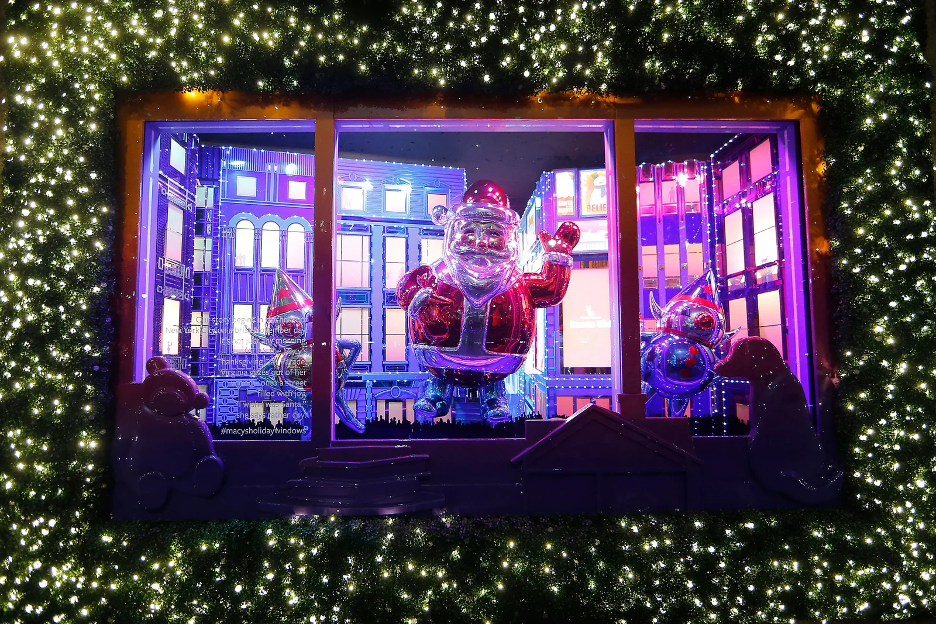 There is nothing we love more than a traditional holiday window display that really encompasses all elements of the season. Last year's featured a large, fluorescent Santa surrounded by two elves. The outline of the window was then adorned with twinkling lights, which really made it pop. This provided the perfect way to get customers into the holiday spirit.
Lights are a great way to add some Christmas cheer, but it is important that they are not overdone. We recommend keeping the lights minimal to ensure you don't take away from the actual display itself.
American Girl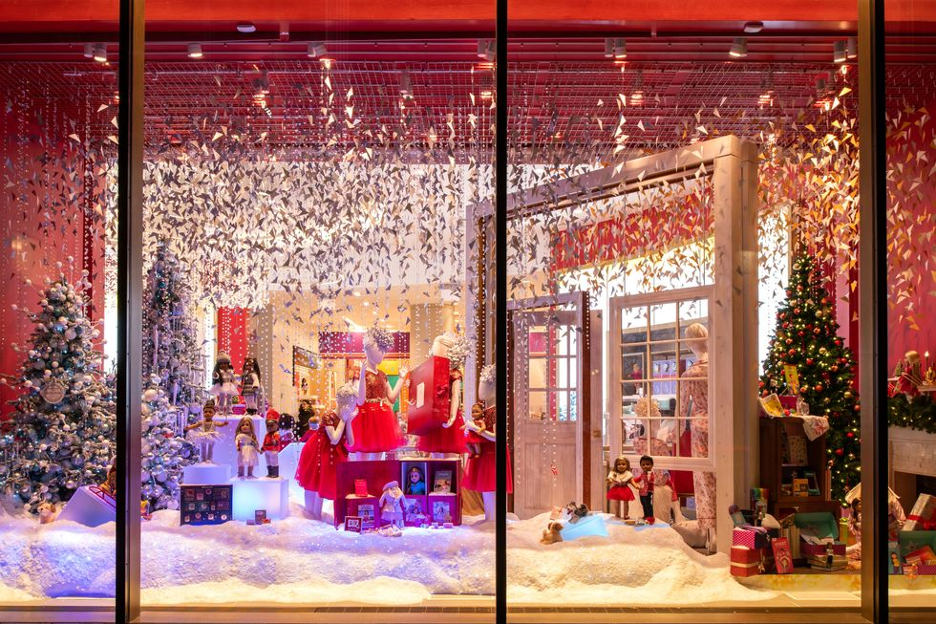 In 2019, American Girl created a winter wonderland in their storefront window. That retail display was intricate and featured tons of small details that caught the eyes of those passing by. While that wasn't as large and breathtaking as some of the other big box retailers, it still encompassed many holiday features and left us feeling festive.
The company also incorporated several of their own products, which was a great way to promote them. Many of the dolls pictured were actually available for purchase, which meant if something caught a customer's eye, they were able to grab one for themselves. Keeping your products front and center is a great form of advertisement — considering propping up your products on risers or podiums to grab the attention of people walking by.
Saks Fifth Avenue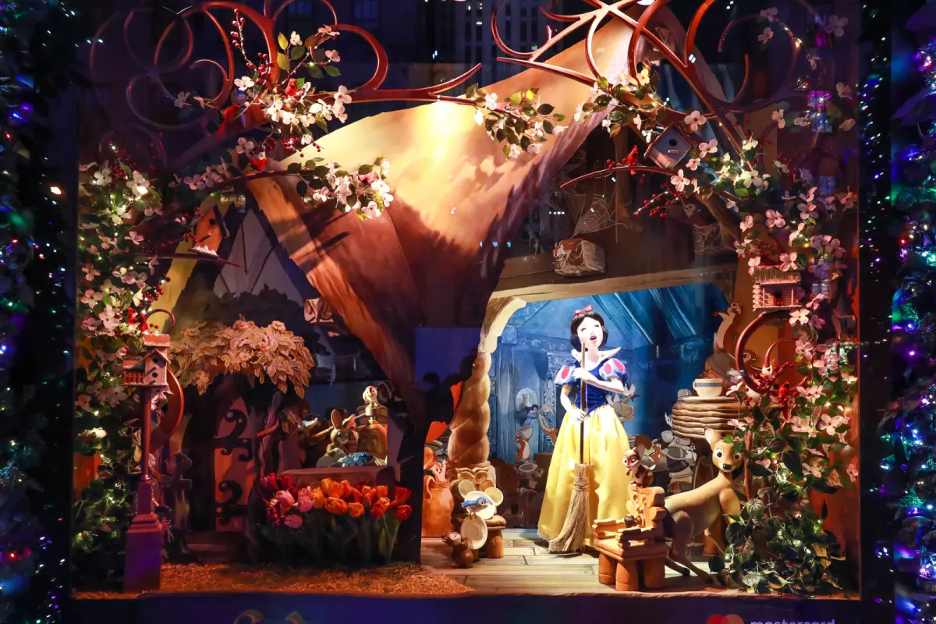 Saks Fifth Avenue created a magical holiday window display in honor of Snow White's 80th anniversary. This meticulously detailed window had Disney fans incredibly excited and sparked the continued use of 3D window displays. The 3D Snow White pictured in the window created a far more interactive experience for users and really made them stop and stare. Saks' detailed display featured 14 animated windows that retold the classic fairytale.
Although the theme wasn't directly related to the holiday season, the way the creators incorporated deep winter tones and twinkling lights really made it fit right in with the season. The animated aspect also made it stand out among all the other retail windows.
Bloomingdales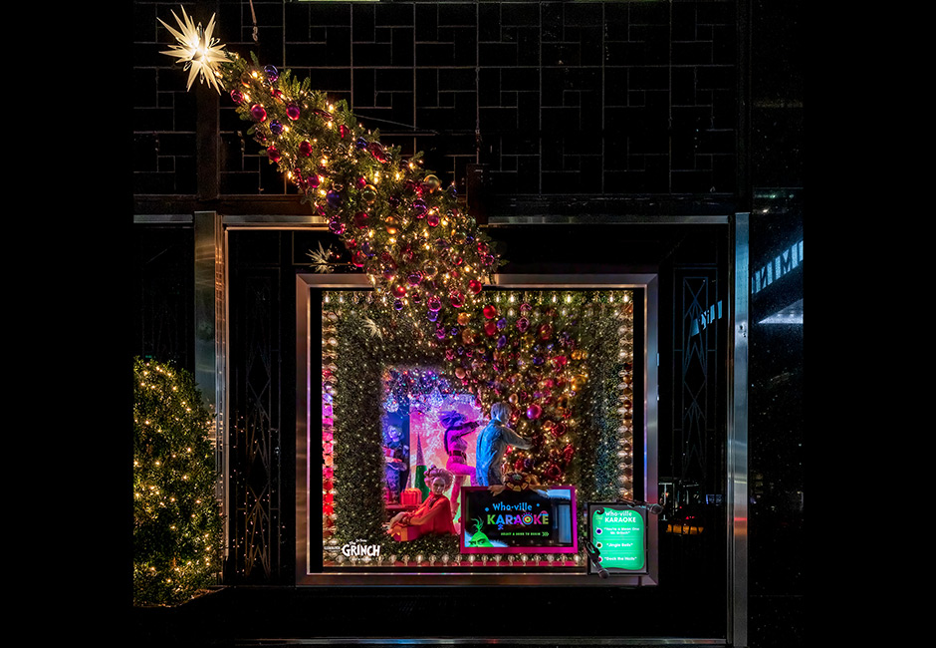 A few years back, Bloomingdales took on a Grinch theme for their holiday window. The six window retail display was created to mimic what Whoville would look like if it were a neighborhood in Manhattan.
Our favorite of the Bloomingdales' Grinch displays was this interactive window that featured indoor and outdoor decorations. It showcased the iconic leaning Christmas tree featured in the movie, as well as a statue of Cindy-Lou Who. Viewers also had the option to participate in karaoke. There was a small screen that allowed them to choose from a few songs in the movie's soundtrack. Interactive displays are a great way to give customers a memorable experience that keeps them engaged.
Tiffany & Co.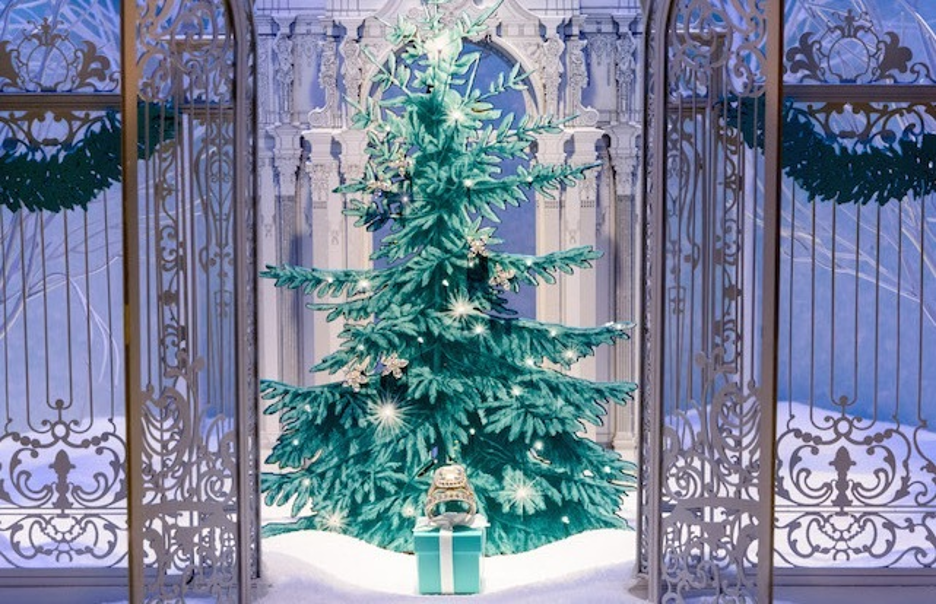 Tiffany's windows never fall short of incredible. The company keeps an emphasis on a high-end holiday look by incorporating lots of glitter and shine into each of their displays. They also tie in subtle hints of their signature Tiffany blue color, which is the perfect way to incorporate their brand. Try to implement this tactic into your own holiday look. Think of your brand's signature colors and add little pops of those colors throughout to promote brand awareness.
Anthropologie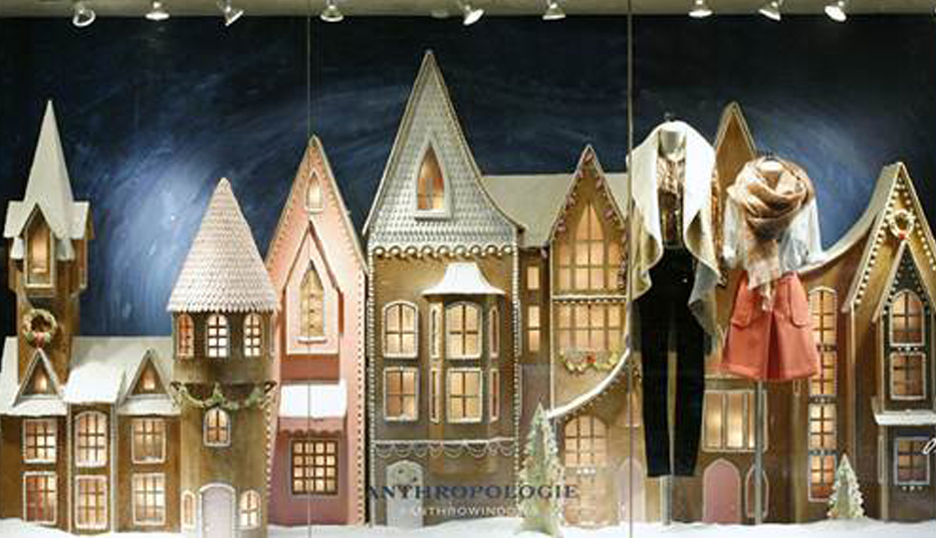 Anthropologie truly sets the standard for holiday window displays. While theirs aren't as mesmerizing as some of the big box retailers, like Macy's and Saks, their simplistic approach is still a sight to see. In this example, the company used cardboard cutouts to create a whimsical Christmas village that matched the aesthetic of their store. The store also took this opportunity to showcase some of their winter outfits front and center.
Although the light pastel colors seen were not typically associated with Christmas, they matched the store's overall theme well. Don't be afraid to go beyond the traditional Christmas color palette if it makes sense for your business; there is truly no right or wrong way to create your holiday window display.
Barneys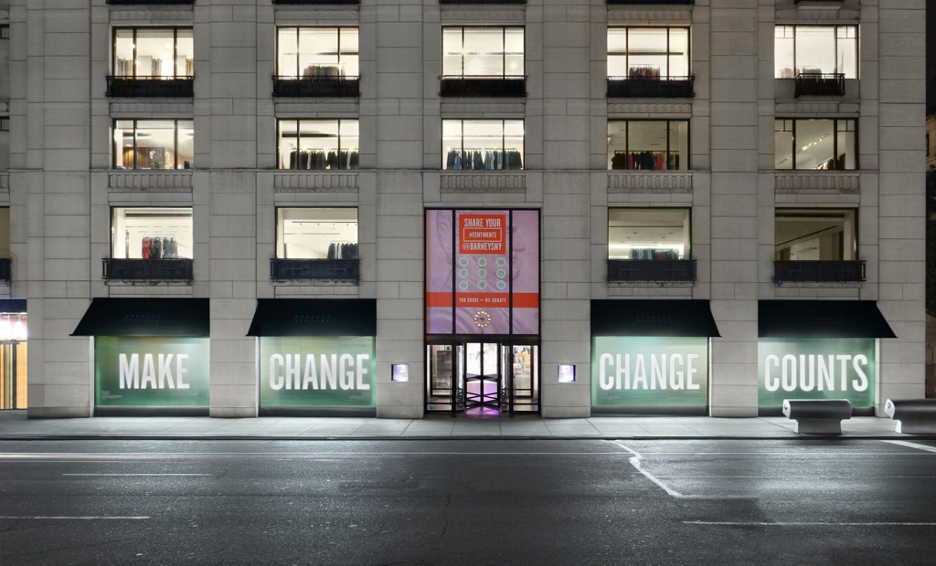 Barneys holiday windows featured an impactful statement that reminded viewers that even a small amount of change can make a big difference in the life of a child. The display advertised their "make change" campaign, which, was a collaboration with the organization Save the Children®. To represent change, it was actually crafted from two million pennies, which Barneys used as a philanthropic contribution after the holiday season ended.
Consider using your storefront window as a way to promote a great cause as well. Get creative and find an organization that your business wants to support. Then, you can make a similarly impactful statement through your window design.
No matter how small or large your storefront is, whatever you put out there will have an impact on your customers. That first impression will entice them to come in and browse for that special gift. What will you do with your holiday display this season?