Having a Labor Day display for your retail store is a terrific opportunity to attract back-to-school shoppers and increase sales. Whether you are unloading summer inventory or introducing new fall arrivals, this blog post will provide a few themed display ideas, while also giving guidance on how to balance both end of summer and early fall elements into your displays.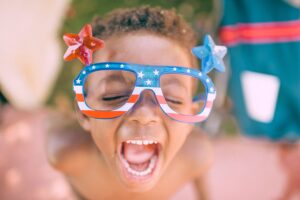 While it's technically still summer according to the calendar, kids are heading back to school, there may be a chill in the air, and pumpkin spice everything is everywhere. What's more, people are in a seasonal limbo—they want to welcome all that fall has to offer, but at the same time, hang on to those last delicious days of summer. It's a balance that carries over into your Labor Day displays as well. Here are a few ideas using products from shopPOPdisplays to create effective Labor Day displays.
This American holiday deserves to be celebrated in patriotic style so create a red, white, and blue focal point in your store. Here's how to make an easy, no-sew American flag backdrop for your displays. Tie 7 red and 6 white fabric strips (cut to the length you need) on a large dowel or stick. Next, take a blue square of fabric and for the stars, create a star stamp out of a potato, dip into white fabric paint, and use to stamp the stars on the fabric. Attach the blue square by tying two corners of the fabric onto the stick to resemble the flag.
Elsewhere in your store, use red, white, and blue pedestals for festive Labor Day displays. Keep it simple by displaying the same products on the pedestals and allowing the patriotic colors of the pedestals to create interest in the display; hang an American flag garland at checkout or on the edges of a display table; place American flags in an acrylic cylinder riser to add height and visual interest, and include a chrome countertop sign holder to announce your sales.
Labor Day is synonymous with carefree barbeques—a sort of last hurrah of summer before the crisp days of fall become more frequent. Prop mannequins at a grill, relaxing on a hammock, or lounging on a picnic blanket. Create clever sale signs using colored stock paper, such as circles of or semi-circles of red and light green for watermelon slices, light brown for hamburger buns, and light and dark brown shades for ice cream cones. Hang from ceiling or affix to a wall or window to announce the markdowns you have planned in the store. Continue to barbeque theme by throwing an end-of-summer soiree with pitchers of lemonade and watermelon slices; or if you have the space and inclination, host a cookout in your parking lot to draw traffic to your holiday sale.
For a natural fall display, scatter leaves on the floor, counter, or a display table; fill acrylic cylinder risers or trays with acorns (optional: place battery candles inside for a warm glow); and gather grapevines and suspend from the ceiling with string lights. Create a seasonal swag or a welcoming wreath using autumn foliage (dried ferns, foraged orange leaves, and ornamental grasses like dried bunny tails). Inexpensive hardy mums can fill out space in existing displays or welcome customers outside your store's entrance. To pay homage to the holiday, include late summer blooms in eye-catching bouquets and window boxes. Think red, white, and blue hues like red chili peppers, autumn crocuses, ornamental cabbages, and white mums.
The back-to-school shopping season is second only to the winter holidays in consumer spending. This year's back-to-school spending is expected to match 2021's $37 billion. Pose a child-sized mannequin with backpack in your window depicting a familiar tradition: the first day of school picture. Prop up a chalkboard sign that reads the grade and school year.
Use books to create an interesting back-to-school display. You don't need textbooks; you can wrap any book with primary color book covers or simply stack books with the spines in so they titles don't show. Stack them in piles and use as pedestals for products or place an apple and a canister of pencils on top. To show an array of products, a 6-bin double sided chalkboard display can stow back-to-school essentials like notebooks, crayons, pencils, erasers, markers, and, more while the chalkboard can announce your promotions.
A bushel of apples in a cedar barrel is a simple nod to the season that can enhance existing displays. A nine basket display can be used to stash apples amid your featured products. It's not only apple-picking season, it's peak season for late-summer produce such as tomatoes, broccoli, carrots, and cauliflower so create a farmer's market-themed display with shopPOPdisplays' wooden carts and cedar barrels.  Add stacks of hay and nested crates that contain featured items. The chalkboard on top of our display cart can carry your Labor Day greeting or announce the holiday weekend sale.
Keep the Seasonal Transition in Mind 
In some locales, the temperatures are still calling for t-shirts, not sweatshirts, so dress your mannequins and windows accordingly. Lean into fall hues (yellow, orange, red, purple, brown) to evoke the season. Lanterns in fall hues (with battery-operated candles) will evoke a summer bonfire nod to the season.
We hope this post showed how shopPOPdisplays products can support retail owners in creating effective Labor Day displays. We also offer customized display products, including our acrylic displays in patriotic or seasonal colors. Contact us if you have any ideas, we can help you develop, or if you want to speak with one of our experts.