It is no secret that taking care of the environment is important and recycled plastic plays an important role. A 2021 survey found that globally, 85 percent of people say they have changed their buying behavior in the past five years in an effort to live a more sustainable life.

Despite the pivot, plastic remains a big part of people's lives, with everything from drinks to cleaning products contained in the material. Not only does it comprise a huge amount of solid waste, but plastics also take centuries to break down in landfills or the ocean. That means finding ways to recycle plastic in all its forms is critical to the environment.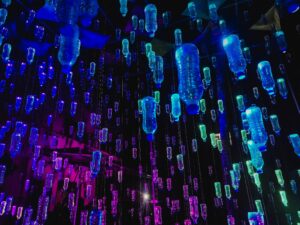 Promoting Sustainability Through Recycling 
Consumers are more committed than ever when it comes to buying and supporting sustainable brands. In fact, a survey by GreenPrint, a global environmental technology company, found that 64 percent of Americans are willing to pay more for eco-friendly products. One way to show clients that you are taking a stand on sustainability is by showcasing displays made from recycled products, specifically recycled plastic.
With that in mind, shopPOPdisplays offers customers the option to select responsibly recycled PLEXIGLAS® proTerra acrylic sheets when shopping and ordering for their business needs. Available in clear sheets or as a material option for customized merchandise like display pedestals, risers, and more. You can be effective with everyday products made of repurposed materials like recycled plastic.
Want to find other creative ways to recycle with plastic? Here are some fun DIY projects to do—on your own or with the family—with your used plastic items.
7 DIY Projects Using Recycled Plastic
Plastic Bottle Planters
Feel less guilty buying drinks in plastic bottles by turning your empties into planters. You can use milk jugs, a large soft drink bottle and even a coke bottle for this project. In just a few simple steps – cut off the top and cover the rough edge with clear or colorful tape, you can enjoy decorative planters to display flowers or herbs.
Recycled Bottle Organizer
Take six empty water bottles and cut the tops off (about halfway down the bottle). Coat or cover the cut edges with glue or tape. Stack them into a pyramid shape, using E-6000 glue or another strong holding epoxy to hold them in place. You can then store everything from lipsticks and small beauty items to office supplies in them for an interesting organizer.
Plastic Bottle Suncatchers
This super simple project is the perfect DIY to do with the kids. They can use permanent markers to create colorful designs on the bottles. An adult will then have to step in for the cutting part, and to secure it with string so it can be hung around the backyard.
DIY Sprinkler
Summer is coming and what is more fun than running through the sprinkler? All you need to do for this project is poke some holes into a two-liter plastic bottle and hook it up to your garden hose. If you want a better spray, stick a few recycled ballpoint pens into the holes.
Rainbow Mosaic from Plastic Bottle Caps
Paint or color plastic bottle caps to create one-of-a-kind works of art. Use a hot glue gun to secure the caps to a canvas that can be easily hung in your home. A recycled handmade mosaic masterpiece.
No-sew zipper stationery case
Keep pens and pencils organized with 20 oz. soda bottles, zippers, and hot glue for to make stationery cases for home and the office. Cut an opening the length of the zipper and buff, tape or rubber glue the rough edges. Next, simply open the zipper and place hot glue along each side of the zipper (zipper pull facing up). Adhere each side of the zipper inside and underneath the opening.

Jewelry Stand
Cut the bottoms of soda bottles and use to keep rings and earrings organized. We love using a green tinted botte to make the stand more fashionable. Just buff the cut edge so it is not sharp or paint glue on the edge (glitter glue is a sparkly touch). Decorate using a glue gun and your favorite beads, flowers, etc. Keep it a single or hot glue a few together for a lily pad organizer vibe.
Although plastic is a part of our everyday lives, there are plenty of ways to reuse the material both at home and the office as mentioned in the DIY projects. However, one small way to bring it into your business is with displays made from recycled acrylic. With all the characteristics of quality acrylic – crystal clarity, durability, stability – clear recycled acrylic like PLEXIGLAS® proTerra is an ideal option for custom merchandise and full acrylic sheets for practically every project. Ready to start looking at options? Check out our selections and call a representative for customization