With many shoppers choosing to buy online, making the most out of brick-and-mortar retail space is crucial in terms of boosting sales and retaining customers. In fact, research shows that retailers have on average eight seconds to grab a potential customer's attention, which is why the displays chosen to showcase products is something that needs to be carefully planned out and implemented.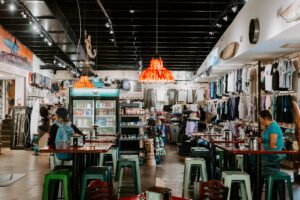 One of the best ways to utilize retail space while showing off products is via slatwall bins. While they might be small, they are also mighty, allowing business owners to save valuable floor space while keeping their inventory organized and easy to find.
What is slatwall?
Dating back to the 1960s, slatwall is a building material made up of horizontal grooves (or slats) that can hold a variety of accessories including hook, shelves, and bins. Slatwall can be set up as free-standing displays—like our small or large H-shaped merchandiser and the double sided slatwall merchandiser, or as wall units, depending on your retail space's needs.
What are the benefits of using slatwall?
There are many benefits to utilizing slatwall. Most importantly, it is both affordable and durable. The material can hold a large amount of inventory while also standing the test of time. In addition, slatwall displays are super versatile. Retailers can use them, as well as the different types of slatwall bins, to display an array of products, as well as easily change up the look of the display without ever having to break out a toolbox!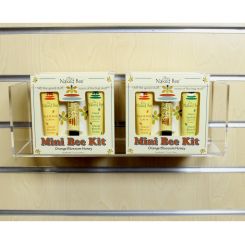 Different types of slatwall bins
No matter what your need, there is a bin that can work for your business. Some options include:
Cubes showcase loose goods on a slatwall display in a clear acrylic cube, which will make for easy viewing while keeping everything organized.
Open Front Bins have deep pockets to hold plenty of items.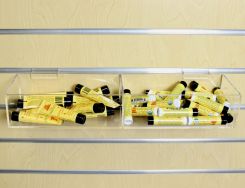 5 Tips to Save Space with Slatwall Bins
Keep products organized. Use slatwall bins to make sure items are easy to find for visitors. This will not only help to boost sales, but also save time for employees who don't need to assist every potential customer who walks through the door.
Clear floor space in your backroom. With supply chain issues causing worries throughout the country, it's likely retailers will want to keep as much extra inventory as possible in their backrooms. Slatwall bins can help keep everything in place while also clearing floor space for easy access to other merchandise.
Open up countertop space for impulse purchases. Research shows that 87 percent of US shoppers make impulse buys, so retailers don't want to miss out on these last-minute sales. Save your countertop space—especially near checkout—for these types of items, while promoting everything else via slatwall bins.
Utilize the walls to cleanly present products. Slatwall bin displays not only clear up floor space in a retail location—allowing customers to walk through the store with ease—but also work wonders for keeping inventory orderly, allowing products to be located with ease.
Use to cross-merchandise complementary items. Slatwall bins are an easy way to group items together while still maintaining order. For example, accessories can be showcased near jewelry, while beauty products (lotions, serums, etc.) can also be kept in the same vicinity.
Ready to start building a showstopping display using slatwall bins? Browse through our variety of products and don't hesitate to contact us with questions and information on customization.