December is here and that means the holidays are right around the corner.
One thing is for certain—this time of year for retailers can feel hectic and can often come with its own set of challenges to stand apart from the competition. However, the shops, boutiques, and department stores that tend to thrive and succeed the most in such hustling times are those that make it easiest for their consumers to navigate their exact shopping needs: GIFTS!
According to an article released by the National Retail Federation, "Consumers plan to spend $997.73 on gifts, holiday items, and other non-gift purchases for themselves and their families this year." All the more reason to make sure your holiday displays impeccable, precise, and geared towards the gift-givers intent. Here, great ways to ensure your product, regardless of industry, stands out in front of crowds.

Colors of the Holiday
It can be hard to help your consumers navigate the aisles of your store and get them to see the best picks for the holiday. A simple solution for this conundrum is to specifically coordinate items on holiday color shelves, tables, risers, racks, and carts. Whether you choose to paint these display pieces or wrap them with holiday color ribbon or garland, this subtle technique helps the consumer focus on the products that also make wonderful presents. Keep cross-merchandising gift ideas together in these specifically designed areas and provide accessories that complement them. For instance, if your store sells cookware you may want to have a set of frying pans surrounded by cooking utensils and oven mitts for gift-giving inspiration. According to blog.fiverr.com, "Red is an effective color to use since it tends to draw the eye, evoking strong emotions and creating a sense of urgency. It is also said to evoke warmth and success. Add in some white, silver, or green to truly set a festive atmosphere – the latter two colors are subliminally associated with prestige and wealth, making them especially useful for businesses hoping to boost the impression of their brand."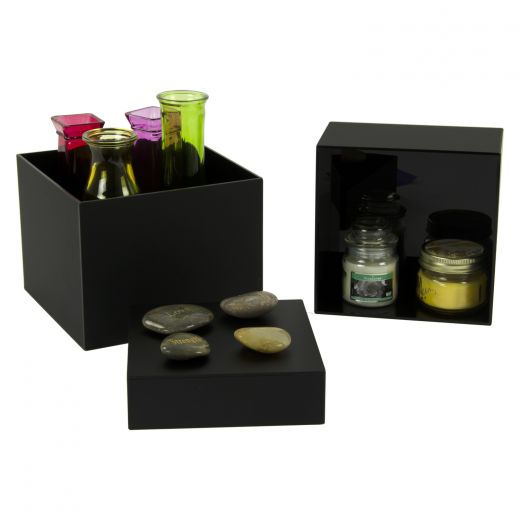 Elevated Products
Creating a holiday gift arrangement above ordinary fixtures is an easy way to show up in front of your consumer. Consider putting gift baskets, sets, and collections on pedestals around the outposts and entrance of your store to captivate crowds and make it a quick and easy process. This effortless positioning of seasonal inventory will make your sales go up and your consumer's stress levels go down— just by simply reducing the anxiety-inducing hunt.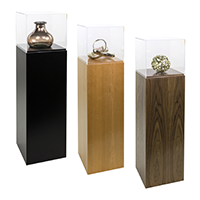 A Unique Display Fixture with Props
Perhaps in order to properly capture the attention of the holiday gift-giver is to think outside of the box—and when we say box, we just mean the regular confines of your store. The holiday season gives us all the more reason to switch things up, which may mean investing in some truly unique display pieces such as a wooden display cart that can be filled with sparkly faux snow and luxury items or floor standing basket displays that can be packed to the brim with creative stocking stuffer ideas. Create magic in ordinary places in your store with unusual fixtures that will do the sales work for you.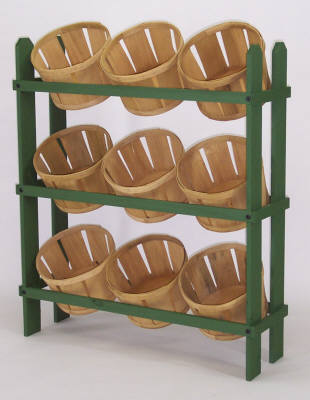 Signage that Speaks to the Season
Everyone loves a good sign around the holidays. Whether it is propped up in your shop's front window or adhered to clothing racks to catch the attention of the busy shopper. Well-designed signage is an opportunity to immediately relate to your consumer with designs of Christmas past. A chalkboard sign is a wonderful way to add artistic flair to your aisles and use old familiar logos to lure in customers with nostalgia and merriment.  Place a poster stand at the front entrance of your shop to festively announce your holiday sale or sporadically hang sign holders near shelves of pre-made gift baskets, so your consumer knows specifically where to find them. Being direct will reduce customer chaos during busy times and help you meet sales goals in the long run.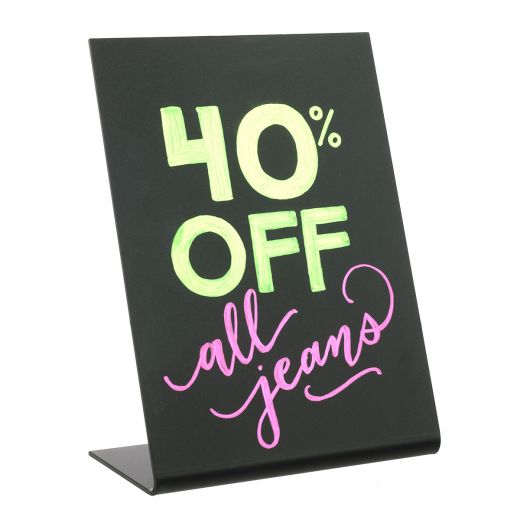 No matter what you are selling this season, there is likely someone out there who is hoping to find it wrapped under the tree this holiday. Be creative, and remember anything can be an amazing gift, it's all in the presentation!