Spring isn't the greatest retail season, and to some stores it could seem like a letdown, especially if they experienced big Christmas holiday sales increases. But keying up the right promotions as the weather changes could delight a large audience and keep sales moving in the first half of the year. Keep these six promotion tips in mind this spring to help you capture more foot traffic and eyeballs to take in your spring retail displays.
1. Start with social
Thanks to social media, your retail brand can gain attention any time of year. Keep your social channels active throughout spring, and remember it's good to have a mix of educational and advice-oriented content to add to news about upcoming sales and new products.
When you do advertise a spring sale or promotion on social media, make sure your retail displays are ready for visitors. For example, if you highlight a winter inventory clearance or talk up new products at great prices, make sure your stocked, ready and have the right signage in place. Also, try to make cross-merchandising opportunities, like the clothes racks in this display—it has winter items on clearance as well as swimsuits for summer. Clean, neat and ready for your buyers!

2. Know your holidays
It's easy to overlook them because they don't get the attention Christmas does, but springtime has a long run of holidays. The big ones are Easter, Memorial Day and Mother's Day. But don't overlook St. Patrick's Day and Earth Day, and dare we say—embrace some of the oddball and quirky ones, too. Hurray for National Puppy Day, Waffle Day and National Tweed Day!
These lesser-known, informal, days are great ways to splash around some social media fun and humor, and to offer unique one or two-day spring promotions to get people in the door.
3. Giveaways and contests
Spring is a great time for giveaways and contests to help you improve brand recognition or to highlight new inventory. You can get a feel for what works locally, too. How about an essay writing contest for kids around Mother's Day? Guessing the number of eggs in an Easter basket? The number of jelly beans in a jar? These are all winning springtime contests that pique curiosity and start community dialogue between your store and customers.
When someone does win the contest or giveaway, get some PR going and take photos or videos you can share on social channels. Make sure your spring retail displays are visually perfect, too. Be creative, but above all make sure your space is impeccable, shelves are not cluttered, and items are clearly displayed for photo opportunities at your squeaky clean store. Speaking of which …
4. Take advantage of the spring cleaning and green mindset
Spring is a time of year when cleaning up the home and tending to yard work or the garden are at a high priority. Some surveys have found lawn and garden product traffic sees as much as a 146% increase from winter to spring. In addition, 76% of Americans engage in household cleaning in the spring, according to Statista.
That doesn't mean only lawn and garden, home improvement and cleaning-oriented businesses can take advantage of the opportunities too. With a clean and green mindset, this is the time to shape your spring retail displays with colors that match the mindset. Integrate vibrant greens and blues into product or window displays and on social media, helping to associate your brand with the happy and hopeful type of imagery often seen this time of year.
5. Get involved in the community
Spring is a great time to sponsor a local youth sports team, get out and meet people at events or trade shows, and through volunteering efforts. As more people are getting out of the home and enjoying the weather, being visible pays off. It's also an important time to be a giver because nonprofits often experience a downturn in contributions and activity after a holiday push.
Don't be afraid to tout your efforts inside your stores on signs and at the check-out counter.
Think of it as an opportunity deepen relationships with your customers and the community during the first half of the year, and to rev up sales for the second half.
6. Have a sidewalk sale
Sidewalk sales are synonymous with spring-time retail activity, as shop owners take advantage of the desire to get outside. Create colorful displays, banners and flags to get the attention of passersby. You may even find other businesses around your store want to get in on the action. Make it a bigger event and have everyone work together to advertise the sales online and in other ways.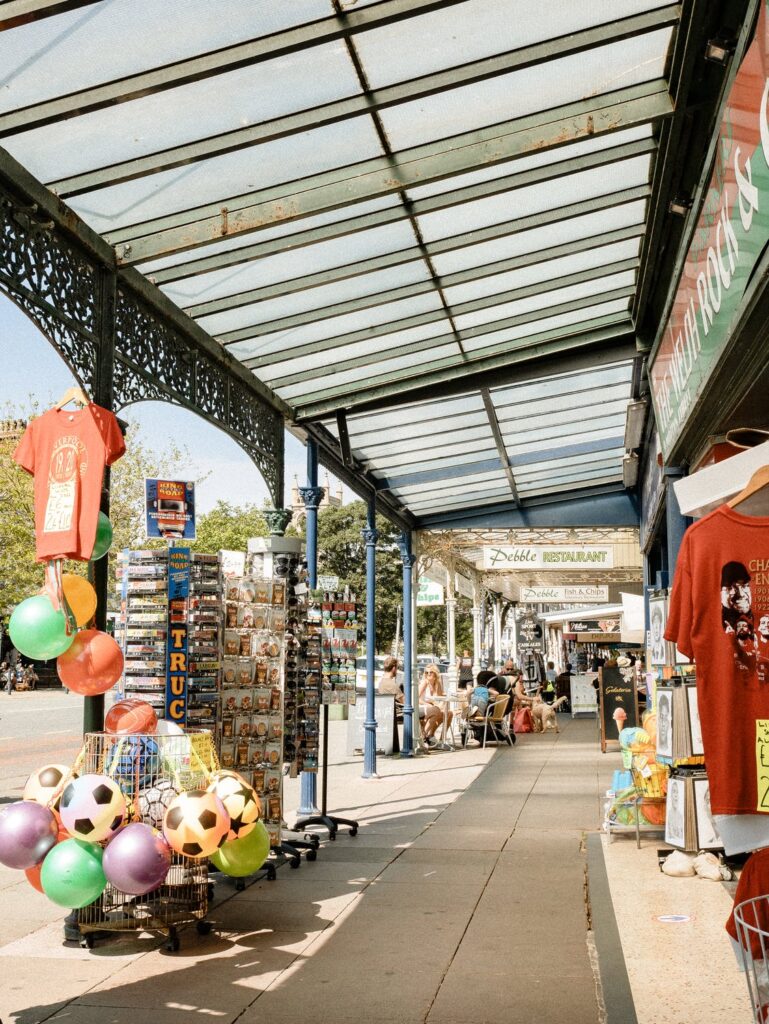 Conclusion
We encourage you to look at spring as a time of limitless possibility, instead of a time when a sales dip is expected. As the weather improves, people tend to become more optimistic as well, and the right promotion can get them into your store, where they can learn about your brand and products. Try these strategies as you map out your spring marketing plans, and if you need help coming up with that perfect spring retail display, we can help!