Acrylic boxes can be found everywhere in the retail industry, but because of their unassuming aesthetic many don't realize they're being used to display favorite items! Available in a variety of styles and sizes, versatile acrylic boxes are an ideal and cost-effective method of highlighting a specialty item. Showcase everything from fine jewelry to baked goods atop or in acrylic boxes. In the blog post below we will not only uncover where acrylic boxes can be used in the retail industry, and how to incorporate acrylic boxes in your retail setting.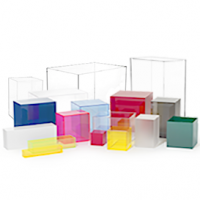 Where Can You Find Acrylic Boxes in Retail?
Jewelry Stores

Whether you are displaying a diamond necklace or a precious pair of pearl earrings, there are a variety of acrylic boxes to best showcase luxe gems. Due to their transparency, acrylic boxes with bases are ideal when it comes to showcasing valuable items. Plus, durable acrylic boxes add a level of security to more expensive in-demand products located in high-traffic areas. Mirrored acrylic boxes are often used in jewelry stores to help place a spotlight on items and add sparkle. Acrylic boxes with locks are also another popular choice for jewelers since it safely promotes customer engagement when browsing. At shopPOPdisplays we offer custom acrylic boxes to fit the needs of your visual merchandising plan. We craft acrylic boxes of all sizes to perfectly present delicate and dense items like precious gems and stones.
Bakeries
From custom cakes, pies, pastries, and cupcakes, acrylic boxes have been helping bakeries showcase delicious treats for sale for decades. Whether placed inside of a large acrylic box display or stacked on top of lofty mirrored acrylic boxes, acrylic boxes are a simple, food-safe visual merchandising tool for bakeries and restaurants alike. While offering a refined presentation, acrylic boxes entice customers to peruse and purchase pastries and other delectable around the store. Acrylic boxes are ideal space-saving merchandisers. Simply stack, then place in or atop on countertops to tempt tastebuds and add impulse buys.
Office Supplies Stores
If you need an innovative way to organize inventory, look no further than the extensive selection at shopPOPdisplays. Acrylic boxes are the perfect way to arrange, showcase, and display all your inventory. For more costly items like the latest laptops, tablets, cellphones, a custom acrylic box would be ideal to secure yet properly display these key items. For smaller office products such as printer cartridges, writing utensils, and small books and manuals, utilize acrylic boxes as dump bins and simply flip them upside-down for neat,  organized, and transparent bin displays.
Showrooms
From luxury high-end makeup to boutique handbag shops, custom printed acrylic boxes are the only way to make a wow-worthy impression on your target market. At shopPOPdisplays we manufacture a variety of colors and sizes of custom printed acrylic boxes that can help enhance your merchandise and match your store's brand messaging. Our mirrored boxes also have a standout way of highlighting items from all sides and further accentuate high-quality couture products.
How Are Acrylic Boxes Used in Retail?
Suggestion Boxes
For many retail locations, creating member reward programs or conducting the occasional giveaway raffle is an integral method of keeping customers engaged with your brand. An easy way to support this effort is to have an acrylic ballot box by the entrance of the store or near the cash wrap where customers can fill out surveys, forms, or enter contests. This is an anonymous, safe, and convenient way to collect information all in one neat spot.
Countertop Displays
From food bins, gadget collection stations, to simply organizing hot-selling items. Put merchandise within or on top of acrylic boxes and grab the attention of your customer right before they check out by putting their guilty pleasure right in front of them. There is no better use of an acrylic box than to use it for convenient storage! Transparent and versatile, it can be used across most industries for merchandise of varying sizes.
Display Stand

Use acrylic boxes for their stability, good looks, and height and make an impression on your customers. Acrylic boxes are the perfect platform to display a single item and highlight all its unique features that might otherwise be overlooked. Create a tiered effect by using or stacking acrylic boxes of various sizes for a variety of complementary items.
POS Organization

While acrylic boxes are a wonderful visual merchandising tool, that doesn't mean they have to be used exclusively for the eyes of your customers. As a retailer, you know that your cashiers require lots of bins and boxes to keep tidy many much needed items such as hole punchers, gift bags, rubber bands, pens, and business cards. Use acrylic boxes to store and organize all of these must-have retailer items and benefit from the clear transparency to avoid lost time rummaging around the back of the counter while conducting a sale and interfacing with your customers.
Final Thoughts
At shopPOPdisplays we have a wide selection of multifunctional and durable acrylic boxes that can be custom fit to meet the unique needs of your retail store. Contact our team to discuss options or for more information on how to elevate your visual merchandising plan for less!