When it comes to setting up your cannabis or CBD dispensary, an integral component are cannabis dispensary displays that entice customers to purchase and encourage repeat business.  With so many factors to consider it may be hard to determine exactly which merchandisers are best for your cannabis products. With an abundance of cannabis products on the market and a multitude of strains, concentrates, and extracts available, it is ideal to ensure total visibility with clear display containers, cabinets, and fixtures for optimal consumer exploration. However, if transparency is a top priority what makes acrylic better than its glass counterpart?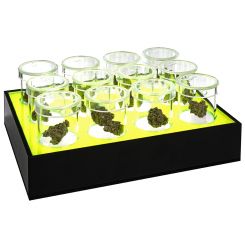 According to blog.richltd.com, "Acrylic owes its popularity to its optical clarity and transparency, its high resistance to temperature and chemicals, its light weight relative to glass (half the weight), and its significantly higher impact resistance compared to glass (17 times greater). Clear acrylic can be a great choice where product visibility is key, but colored acrylic is also very popular." Acrylic is the clear choice based on its exceptional benefits over glass. Listed below are some superior acrylic display benefits and products that will help you elevate your dispensary to the next level for ultimate business and brand success.
Safety
Cannabis dispensaries have a lot to consider when displaying their products. Above all when coordinating your cannabis dispensary displays keep in mind that safety comes first. Keeping your items out of arm's reach, behind counters, and within locked cases is the safety measure to protect against theft. Dependable and durable shatter-resistant acrylic displays ensure inventory security and may deter crimes. At shopPOPdisplays stock and custom CBD and cannabis displays promote safety first. Take for instance our locking six shelf front opening wall mount cannabis display case and our locking two shelf slanted cannabis display case, these two different case styles offer dispensaries the safety of locking while also providing flexibility of shape and size depending on unique space requirements. Locking countertop cannabis display cases are a wonderful way to keep your eyes on your valuable products while also offering your consumers an up close and personal experience. According to preventcoalition.org, "Everyone who purchases cannabis can secure it or store it in a locking device so youth are not able to access or accidentally ingest it." Just like other types of medication out there, dosage is a key factor in cannabis products and sold to those authorized to consume it.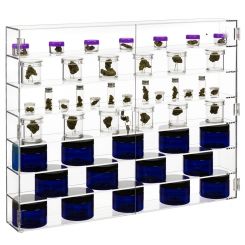 Freshness
Regarding freshness and other factors discussed, acrylic cannabis displays are hard to beat. When comparing acrylic to its glass counterparts, acrylic makes a name for itself by protecting food and plant products better. According to Buildastash.com, "The main difference between both materials is that while glass has a higher thermal capacity, acrylic has better insulation properties. Acrylic containers are less likely to become hot while, in contrast, glass containers have a tendency to retain heat." This information makes acrylic the obvious material choice and to use acrylic display cases for merchandising cannabis products such as edibles, flowers, buds, and concentrates, and more in an effort to maintain its efficacy, flavor and premium quality.
Customization
Standout branding is always a major player in the success of cannabis dispensaries. Acrylic cannabis displays are not only sleek looking but are also easily customizable. Consider attaching your logo on the side of our acrylic curved 5 slot vape display or perhaps within our 24 unit joint tube holder display with sign holder. All shopPOPdisplays acrylic cannabis displays can be easily customized with brand names, company logo, and color to fit the tone and vibe of your cannabis company.
Lightweight
As any retail merchandiser knows, in the world of visual merchandising products are constantly being repositioned for exposure or based on places based on popular demand. Acrylic cannabis displays allow employees to easily adjust visual displays without the worry of damaging these valuable fixtures. Whether you are moving our acrylic 5 slot standing vape display to the front of your cash wrap or repositioning our hexagonal 2 shelf locking display case to achieve better visibility, you can do so confidently. In high traffic environments, when consumers are engaging with acrylic cannabis displays, rest assured our acrylic cannabis dispensary displays can withstand the interaction and maintain its good looks.
Optical Clarity
Clear acrylic cannabis displays provide optimal transparency and excellent light transmission properties that highlight and showcase the beauty in your cannabis products. Whether showcasing ornate smoking devices like glass bowls, vape pens or want to use lighting to provide detail to your consumer, acrylic is always elevated by great lighting. Our black riser with LED lighting is an example of how the optical clarity of acrylic combined with eye-catching lighting introduces interest amongst cannabis products that are visually merchandised.
Cost
Acrylic cannabis displays are a more cost-effective option than glass cannabis displays based on their lightweight nature, which makes them easier to transport. Acrylic cannabis dispensary displays are also durable, scratch-resistant, and easy to clean – obvious benefits when seeking bulk inventory fixtures for your cannabis dispensary.
Final Thoughts
If you are looking for innovative ideas and methods to create cannabis dispensary displays for your dispensary, contact our knowledgeable display team at SPD to learn about our extensive stock and custom cannabis display options.