It's no secret that Americans love to both watch and play sports. While the pandemic made staying home mandatory for most, people are flocking in droves to in-person events. In fact, rising ticket prices isn't keeping fans away.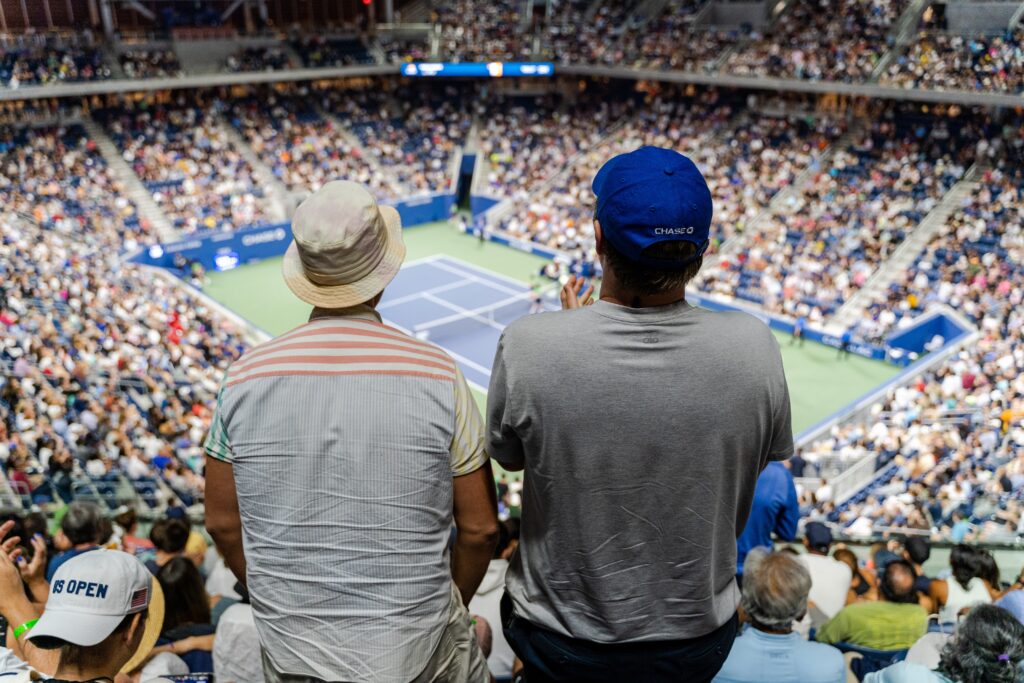 "Good times, bad times, high prices — it doesn't change consumers' behavior" around spending on sports, Dennis Coates, a sports economics professor at the University of Maryland, Baltimore County, told CNBC.
And it's not just professional sports that attract attendees. School matchups, charity events and amateur games often attract decent crowds. Of course, this type of outing takes a great deal of planning and having the right sports event displays can play a crucial role in making sure it all goes smoothly. Luckily, shopPOPdisplays has everything you need when it comes the sports event displays, and our inventory can be customized to your specifications!
Live Sports Event Display Ideas to Beat the Competition
Banners & Flags. You can help visitors find their way around the venue through the effective use of sports event signage. Banners and flags that can be customized to fit the venue and event's needs are large enough to catch people's attention, making them perfect to guide attendees to ticket sale areas, concession stands, restrooms and seating. Banners, such as the double sided custom print back wall table top display banner, would be a good option for a table handing out tickets or programs for the event, as well as an area where you're selling souvenirs.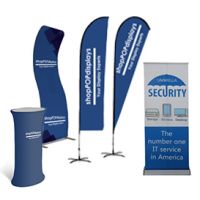 Flags – like our double sided custom print angled corner 15′ feather flag – can be positioned to flank the sidelines or benches of the home and visiting team, which would help visitors know which side of the arena to sit on.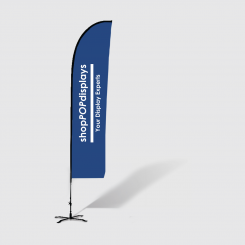 Signage. Signage can help maintain crowd control by assisting attendees in getting to their desired area. For example, you can keep ticket lines moving via well-placed signage, including floor-standing poster display stands, including our Black Metal Display Stand with Two Tiers, which is a sturdy option. Concession areas should showcase wall signage, such as the 18 x 24 Snap Frame LED Light Box, to promote items and list sale prices. And you'll also need signs to guide people into restrooms, as well as into the First Aid area.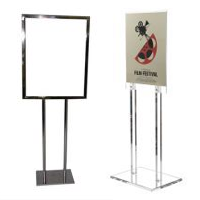 Medical supplies. Speaking of First Aid, it's not just the athletes who have to worry about getting hurt. Accidents can happen anywhere in the venue, so it's important to have basic medical supplies on hand in case someone sustains an injury during the event. Keep gloves for the staff in our Acrylic Three Box Glove Dispenser, while bandages, rolls, and tape can be kept in clear acrylic boxes, like our Acrylic 5 Sided Box, or in our Acrylic Adjustable Dump Bin Display.
Snacks. A big part of attending sporting events is enjoying food and drinks while you watch the game. Non-perishable snacks – like chips and cookies – can be kept organized with the Round Shelf Wire Racks, which comes equipped with sign holders so you can list items and sale prices. You should also check out our Black Wire Display Rack, which also comes with a sign holder and is super easy to assemble and take down. And our three nested pine crates are an easy way to hold a large quantity of snack items.
Don't forget about countertop displays. Showcase some sweet treats with the clear acrylic round tiered cake pop stand, which can hold up to 18 pops, our tiered acrylic cupcake stand, and our acrylic 10″ stacking candy bin. The 3-shelf acrylic display can also show off some special snack options, as well as our 3-piece square riser acrylic display shelf unit and a selection of acrylic risers which come in various sizes.
Merchandise. Attendees might want to go home with a souvenir from the event so don't miss the opportunity to make some extra money from the event. Keep T-shirts and jerseys organized with our spiral clothing display with round base. Slatwall displays – including the H-shaped slatwall merchandiser – can hold additional merchandise, including hats and water bottles on shelves and bins.