With in-person gallery events happening again, as a photographer you may be wondering how to create eye-catching photography displays. This blog post will help you impress potential customers by providing display tips make your print gallery stand out.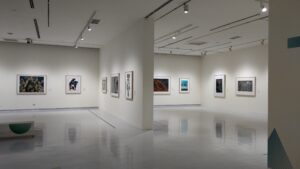 Sure, showcasing and selling images online is a given these days, but nothing beats exhibiting prints in a gallery or show for people to see the works in person. It provides clients and potential clients the opportunity to see your best work and provides you with another exhibit to list on your artist's resume. Whether you are displaying your work at an artist-run venue or at a staffed gallery, we've gathered a few décor ideas as well as shopPOPdisplays products that can help to create unique photography displays.
Choose a Cohesive Theme 
The subjects of your photographs most likely share a similar theme, such as people, animals, nature, etc. Whether you are capturing seaside vignettes, urban street life, or pet portraits, or whether your prints are developed in black and white or full of color, you still need to choose an overall, cohesive theme to pull your pieces together for a successful photography display. You can do this in a number of ways. Look for similarities in your work, such as color, light, subject, and even processing style to help guide your selection.
Choosing a cohesive theme at the start will allow you to present your work more creatively. For a gallery display, use mattes to create high-contrast backgrounds to draw attention to your work and matching frames to create a sense of cohesiveness. Arrange your art in aligned rows to make it easy for clients to view. The sequence you place your images should create a natural rhythm or tell a story, but you can alternate dark and light images, mix close-ups with long-range images, or place in sequential order (or not, if that makes it more interesting.)
Consider Color Theory 
Color theory is based on the color wheel (primary colors, secondary colors, and tertiary colors). These colors are then combined to create one of five color schemes: complementary, analogous, split complementary, triadic, and tetradic. While color theory is a tool you can use when taking photographs, it can also be used when displaying them. For instance, the matte you choose can alter how your image is viewed based on its relationship to the values, saturation, and the warmth or coolness of the different hues in your work.
Focus on Frames
Matted vs. Non-Matted Frame
Mattes are traditionally used to prevent the artwork from touching the glass. They are   also used to highlight color in the art, accent the image, or visually increase the size of the display. Choosing to use a matte or not is a personal choice, but here are a few things to keep in mind when making your decision. Smaller artwork may benefit from a matte by making it appear larger in a photography display. Conversely, a larger print may be more commanding when it takes up the full space of the frame. Non-matted artwork also lends a more modern and edgy look to the display.
Here are a few ways to use color to draw attention to your photography display. Use colorful frames to make black-and-white images more dramatic or amp up the drama of  bright, color-drenched images even more. Gold frames emphasize warm hues in the images while silver emphasizes the cool tones. Black or wood frames accent the colors in the print. Acrylic frames allow the colors of the artwork to be the sole attention.
For photography displays in a gallery, it's best to keep the frames' style, size, and color simple and uniform with neutral mattes (if you're using them). The idea is to keep the focus on the artwork. For a professional presentation, shopPOPdisplays has a collection of aluminum snap frames with non-glare poly overlay to protect your prints.
Get Creative with Photo Blocks
Think beyond the wall for photography displays. Acrylic blocks with slots are perfect for tables at art shows or at a gallery's reception desk. They are modern and sleek while providing enough stability for prints to stand straight up. You can even have your art printed directly on a custom-printed acrylic block and use to market your work or even sell to your customers. shopPOPdisplays offers them in stock and custom sizes.
Curate a Display Box
This idea requires you to think inside the box. Display smaller prints or photographs in an acrylic box. You won't have to worry about hanging the print—just place in the box facing outward (place additional prints behind it as a way to store inventory) and display on a flat surface. shopPOPdisplays can make even make a custom-sized acrylic box to your artwork's specs.
Or, use an acrylic display box to let people know more about you. Place your headshot in the box with your business card and other trinkets of interest. For instance, a pair of binoculars if you photograph birds, a Hot Wheels car for vintage automobile shots, or a seashell for coastal scenes.
Try Magnetic Poster Hangers
Another way to hang art without a frame is a magnetic poster hanger. They're great for odd-sized prints since they're economical and easy to use. Clamp the top of the print between two wood or metal pieces that have magnets embedded in them. Secure a second clamp at the bottom to keep the print straight and prevent it from curling, and hang.
Enlist Photo Shelves 
Photo shelves, or picture ledges, make it easy to display your framed prints. No need to hang the images and they're easy to rearrange until you get it just right. You can add depth to your photography displays by layering prints. Start by placing the largest print in back and smaller pieces in front. Overlap the frames just a little bit to create interest. This also is a great solution when using frames with different finishes. And, also great for unframed prints wrapped and ready for customers to choose and frame themselves.
Design a Gallery Wall 
Hanging a group of prints together makes a great impact—that's why the gallery wall format is also popular outside of galleries. There are two main types of gallery walls—a grid wall and a classic wall. A grid wall is exactly what it sounds like. Consistency is key, you use the same size frames with the same size mattes in the same color. The frames are spaced evenly between one another, say one to two inches apart, in a grid formation. This creates a modern look that allows your art to shine. The classic gallery wall mixes frame materials and/or the size of prints and mats for a more creative layout on the wall. Its free-form arrangement lends a different energy to your work.
Forget the Wall 
No wall? No problem. Acrylic easels are available in varied sizes (including custom) and allow your work to be shown without distraction. Place on tables, shelving, or even pedestals (all available at shopPOPdisplays) and you're good to go. An acrylic floor standing poster stand will blend into the background and allow 22" x 28" prints to take the spotlight. They are double sided so you can display prints on both sides making these stands perfect for a photography display in the center of a space or in an outdoor setting.
Group Photos in Odd Numbers
Pairing photos has its place but for a photography display of multiples images, go for odd numbers. A small grouping of prints works best with odd numbers as it's more pleasing to the eye. Hang one large print in the center of the wall, surround with the remaining art, or display off-center.
Strive for Balance 
When displaying images of mixed sizes on the same wall hang larger images to the left for balance. That's where the eye naturally looks first. Then group the smaller frames together to offset the visual weight of one large print.
Think About Your Proportions 
The center of your artwork should be viewed at eye level. You can place them slightly above eye level if the space has high ceilings. Work with the space when selecting the prints for your photography display. You don't want your images to look crowded on the gallery wall, but you don't want too much space either.
Final Thoughts 
We hope these photography display tips inspire creativity and help you have a successful show. For more ideas in creating custom displays for your photography prints, please reach out to our experts at shopPOPdisplays.