Thrift stores continue to increase in popularity and for good reason – they allow shoppers to find trendy second-hand pieces or unique vintage treasures at a fraction of the cost and help the planet by reducing waste. While the range of discounted merchandise and sustainability aspects certainly get people through the doors, the allure can quickly wear off if the thrift store is chaotic or difficult to navigate, which will lead to disappointed customers leaving with a bad experience and empty shopping bags. Fortunately, shopPOPdisplays knows exactly what it takes to organize your thrift store in a way that keeps customers content while shopping and encouraging them to come back time after time. Read on for our expert tips.
Showcase Your Best Merchandise in Window Displays
A customer's decision to even enter your thrift store may depend on whether they are captivated by the merchandise appearing in the window display. The best way to grab their attention and entice them to come inside is by placing a few of your best designer items or rare vintage finds for all to see as they walk past the store. A chic window display sets the tone for the experience awaiting them upon entering your store and creates a standard for the rest of your inventory.
You can use shopPOPdisplays' risers and pedestals to create dimension and elevate smaller items like shoes, books or handbags. Depending on your range of products, easels may also come in handy to showcase fine art. Plus, poster stands announcing any deals or promotions absolutely have their place in window displays, as well.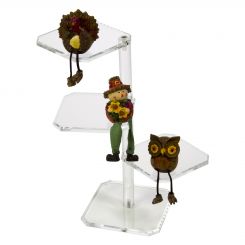 Group Product Families Together
 For thrift stores that carry an assortment of diverse types of products, it helps shoppers if you group all comparable items together in the same areas. Once customers step foot inside, they should be visually guided with hanging overhead signs that help them navigate their surroundings without a second thought. Use the signs to identify where exactly customers should look to find women's clothing versus men's, or where to go for art, books, or electronics.
Once the inventory is organized into larger categories, it's also important to consider which are placed next to each other to create a flow that makes sense from a customer's perspective. For instance, shoe racks may be adjacent to jewelry displays or other accessories, like slat walls featuring hats or sunglasses.
Smaller subcategories separated by theme help customers maneuver through larger, all-encompassing areas, too. Consider dividing women's clothing into sections like skirts, tops, jeans, and dresses, while men's suiting should stand apart from loungewear. Each of these subcategories can be placed on an individual clothing rack and organized by size dividers. Or, you can use dump bins to put all alike products in one place – graphic tees could get their own bin, while swimwear make up another. Draw attention to the subcategories with sign holders that can be attached to display racks or be mounted on the walls.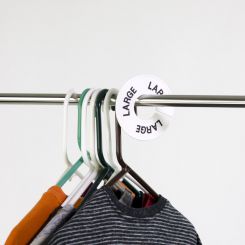 Alphabetize Inventory
Imagine trying to sift through shelves upon shelves of haphazard books to find one written by Stephen King or poring over half a dozen messy bins brimming with vintage records for the missing vinyl needed to complete your collection of The Beatles' 13 catalogue albums. It can be completely overwhelming as a customer when there's no rhyme or reason to the order of merchandise, so organizing books, records, and movies by genre and then alphabetically by title, author or artist helps customers find exactly what they're looking for in less time (and with far less frustration). Try labeling pine nested crates by letter and pick from a range of different colors to create a cohesive feel or pop of energy in these sections.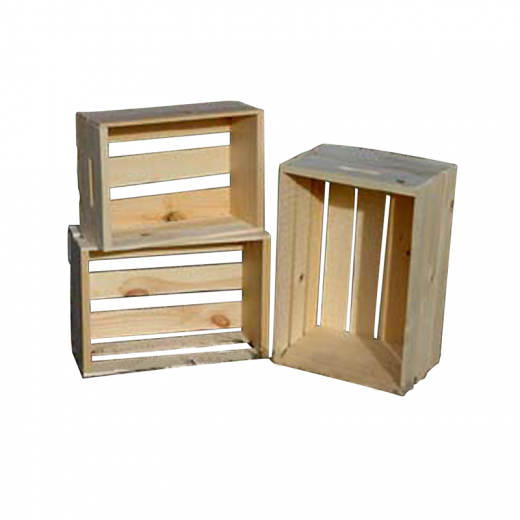 Treat Valuable Pieces with Exceptional Care
High price point items, like a vintage Jaeger-LeCoultre watch or Hermes 'Birkin' bag, should always get the VIP treatment they rightfully deserve. In order to display them safely and effectively in your thrift store, you can choose from a variety of locking acrylic shelves. They emphasize the exclusivity factor and allow you to have peace of mind as shoppers roam the store, all while allowing customers to clearly view the valuable items without physically touching them. You can always easily unlock the case for a seriously inquiring customer who would like a closer look.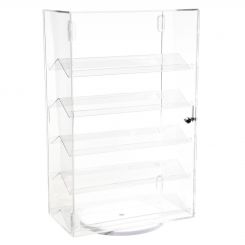 You should also consider the placement of these big ticket items throughout the store. We've already mentioned window displays strategies to entice customers, but once customers are inside, they should be able to easily spot these valuable pieces without having to search. Put luxury items towards the front of your thrift store or keep them by the register as an extra security measure.
Create Seasonal or Holiday-Themed Displays
As the seasons change and new holidays approach, it's smart to modify your inventory or the way you display it to reflect the environment or mood. Chilly weather drawing near means customers will shop for coats, boots, thermals, and gloves, so creating displays around that theme will help them find everything needed to combat the dip in temperature all in one place. Gearing up to celebrate Independence Day? Allow your patriotic home decor to take center stage and follow that up with red, white, and blue clothing or history books chronicling the Revolutionary War and other notable historical events.
Designing signage using shopPOPdisplays customization services helps create an enticing story with attention-grabbing graphics that really hone in on the holiday or seasonal themes.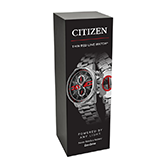 Stage Your Products
Instead of having just endless clothing racks and wall-to-wall shelving in your thrift store, it's smart to set a scene with your products and stage them in ways that paint a nice picture for your customers. While hanging art up on the walls makes wonderful use of your space, it also gives an impression of what it might look like in a customer's home as part of a collage with a variety of differently sized frames. Organizing furniture to resemble how you might arrange it in a room of the home creates a guide for customers and could also lead to upselling or cross-selling opportunities. Dressing mannequins in a head-to-toe outfit offers a visual of what clothes look like on a figure and how they could be styled. This also allows you to pull out and highlight specific products that may otherwise have gotten lost within your vast inventory.
Create an Omnichannel Approach
Just as important as making your thrift store displays visually appealing and easy to navigate is taking the same approach to your business' social media pages and online shops. Staging areas and seasonal displays are great visuals to post online and create a cohesive look across all your platforms. Even if you don't have shipping capabilities, you can use online resources to advertise and display products, draw attention to new inventory and garner excitement around big ticket items. One way to get people through the door is to showcase just how clean and organized your physical store is or ask permission from the thrifting community to utilize their user generated content that showcases how they use or wear your products.
Overall, helpful signage – stock or customized – and displays, intuitive organization and beautiful visuals are what will keep customers coming back to your thrift store ready to search for their next favorite vintage finds.