You've seen them everywhere – patchwork, t-shirt, baby clothes, you name it – there's a type of quilt available for purchase or patterns to make your own. From simple to extravagant and everything in between, quilting is an art perfected by the meticulous among us or so you may think. Not so, says Leslie, of The Seasoned Homemaker quilting is a craft many can aspire to, it is all about how to get started and the right tools, many of which you may already own. If you're just getting your feet wet in the quilting world, think about a budget before investing in professional tools with the excitement of starting a new craft. Leslie suggests a trip to a thrift store. This inexpensive shopping trip may land you quality fabric in the shape of oversized clothing that can be cut down to suit your need. Likewise, a thrift store may offer a few of the tools you may need at a fraction of the cost – sewing machine, rulers, scissors, and the like.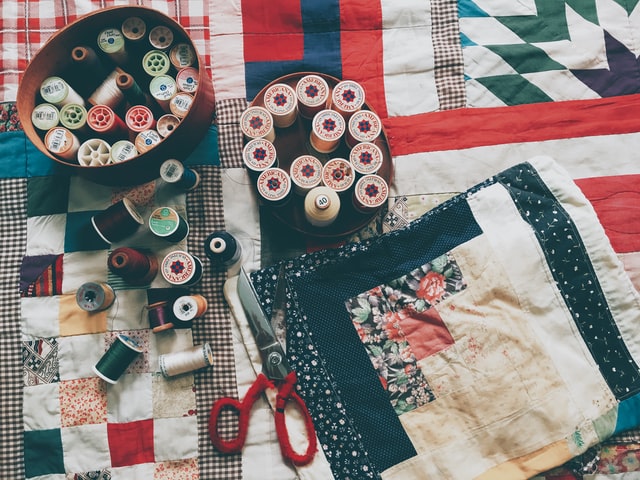 Derived from the Latin word culcita or culcitae, the word quilt translates to mattress, pillow or cushion. Created with just three components – a quilt top, batting – usually cotton (an insulation layer for warmer quilts), and a bottom layer, these traditional pieces can produce a functional item or a comfy blanket of memories. The devil may very well be in the details. Both the top and bottom layers are comprised of multiple fabric pieces that are stitched together, whether pieces of purchased fabric, older clothing, sentimental baby clothing or favorite t-shirts, practically any fabric will do depending on the desired outcome. Jamie, another quilting aficionado, suggests beginners use precuts or uniform fabric pieces to get started with the design and stitching of your quilt. Take your time and enjoy the process. Whatever the outcome, be gentle with your self critique. With every quilting project you are gaining experience, confidence and reducing your stress levels while boosting brain function. It's true.
According to an article in Psychology Today, working with your hands on tasks like crafting or cleaning gives your brain a much-needed cognitive break. Repetitive tasks like quilting, knitting and crocheting can take our minds off an issue or problem we may be perseverating over giving our minds a well-deserved timeout. It is during this downtime that stress is reduced, and, in many cases, the solution appears. The takeaway: quilting is calming and restorative. So, get sewing!
Congratulations! You have a completed work of art but what to do with it? Perhaps it is a baby gift, a college-bound child's throw made of old favorite t-shirts, a bereavement blanket of cherished memories, or a self-taught (thanks to YouTube and the internet) masterpiece you are proud to display. Whatever the quilt type or final destination, presentation is key. Showcasing a for-use or for-display-only quilt varies. A simple, yet temporary display option is storing the quilt on a rack. This is an optimal method for storing seasonal quilts that are frequently used. However, there is an art to the fold. For best results, quilts should not be stored folded for an extended period due to creases. Hence, laying-out flat on a bed or hanging a quilt using a quilt hanger frame are popular options. We love sunshine, but direct sunshine can cause color fade over time. A simple solution is a cotton sheet draped over the top when not in use to prevent excessive sun exposure. Better yet, for heirloom quilts or those made of family keepsakes showcase them on quilt hangers in a custom display case or cabinet made of durable acrylic, inexpensive options to present, protect and store sentimental and priceless memories.