We all have a to-do list we check off literally or figuratively as we complete any given task – drop clothes to the cleaners, drop-off a pet to the groomer, you get the idea but how often do you think about ways to streamline or improve your life, or more directly, yourself? Yes, you can think of it as a 365-day New Year's resolution redux – but without the stress. You see, self-improvement is more about self-assessment and how to make your life easier to navigate, achieve your desires, and enjoy. No need to stress though. Self-improvement is not perfectionism.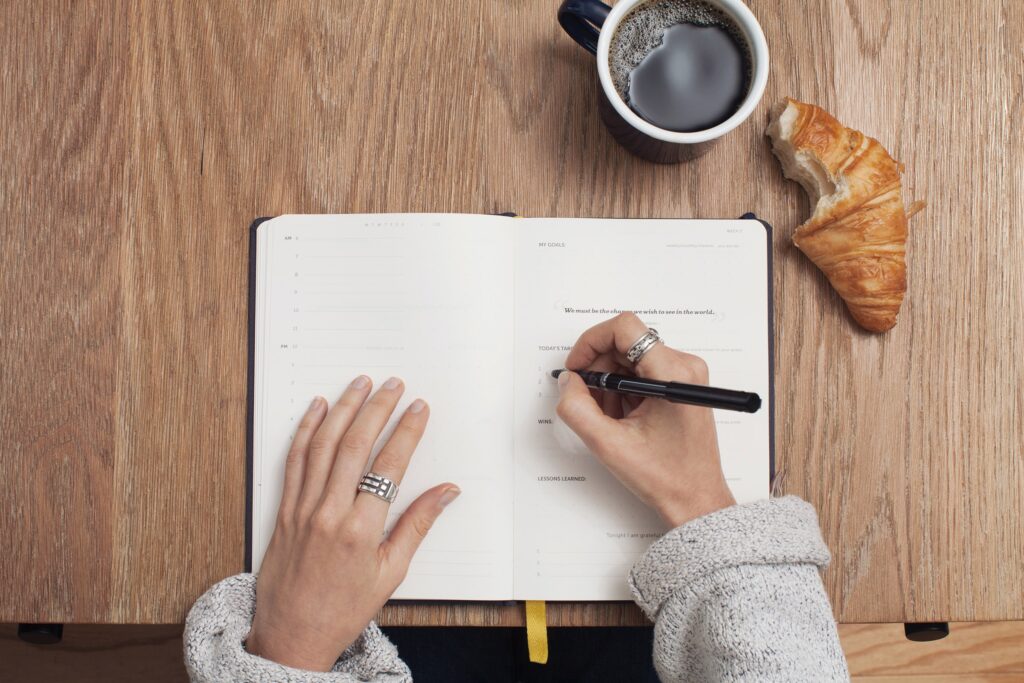 Self-help author and esteemed professor,  Brené Brown says in her book Dare to Lead: Brave Work. Tough Conversations. Whole Hearts., "Perfectionism is not self-improvement. Perfectionism is, at its core, about trying to earn approval and acceptance." Agreed. The psychological or existential approach to self-improvement is not perfectionism. Instead, let's think of self-improvement as all the things you have wanted to do but weren't disciplined or organized enough (be honest) or didn't have enough time because of (insert reason here) to commit to it. Whether it's losing weight, learning a language, starting a business (side or otherwise), or simply decluttering your home and life, the time of reckoning is here. No more procrastination. We'll tackle a few ways to ease into what self-improvement can look like without the psychological heavy lifting or hurt, unless it involves exercising.
Pick A Topic, Any Topic
There are many approaches to getting started. Sometimes the band-aid method is the way to go – just jump in. However, if success is the destination on this journey, it may be best to pick a topic. Just one. Perhaps the one that you avoid. If the topic is just too big, you may find seeking professional assistance is the best route. For more mundane scenarios, a positive push in the right direction may be in order. Jari Roomer offers a few helpful tips to jumpstart a successful self-improvement journey. Some Suggestions Include:
Focus on one area (maybe more depending on the breadth of each topic). Don't bite off more than you can chew. Set yourself up for success by committing to one area. A broad topic like "losing weight" can be a bit overwhelming, however focusing on losing 10 or 20 pounds by a certain date may be more obtainable.
Find a mentor, friend, colleague or someone whose work, attitude, position, etc. you admire, and follow their guidance. Can be in-person, online, books, courses, etc. For instance, if you have a business idea that you can't stopping thinking about but haven't had the courage to pursue, research similar ideas online then seek a free professional business advice service like score.org for guidance. It might just be what you need to take that first step.
Adopt the buddy system. It's easier to achieve goals with a friend, colleague, mentor by your side. It's the accountability factor. With a partner, you're less likely to give up when challenges arise. For example, if you don't feel like going to the gym or are tempted to stray from healthier food choices? Schedule to meet or speak to a "buddy" or friend and stay on track.
Set a goal(s) but break it/them down in increments or short-term goals so they are achievable, which helps keep you motivated. Decluttering your home and life? Follow the Marie Kondo method of selecting items that "sparks joy" and displaying them like family heirlooms and antiques, fine art sculptures, even a child's keepsake item like a Little League mitt in a way to enjoy it every day and giving away the items that don't. Alternatively, choose one room at a time and donate the goods to a charitable organization like Goodwill, Salvation Army, Habitat for Humanity, or a myriad of Veterans groups, etc. You'll free up space – both material and head – while earning good karma points!
Slow and Steady Wins the Race. Whether it's a habit we're breaking or trying to break in, recognize that it takes time. Be patient and kind to yourself while on your journey of setbacks and success.
In a study conducted by the European Journal of Social Psychology, researchers found on average it took a person 66 days to adopt a healthy habit while breaking a habit can take anywhere from 18 to 265 days depending on the person and habit.
Whatever the self-improvement direction or journey you decide to embark on, just remember:
"Always be a first-rate version of yourself and not a second-rate version of someone else."
– Judy Garland