If you're a bride or groom planning your big day, you may be looking to add that perfect element to your event that makes it memorable for guests. A wedding photo booth is one way to do just that.
Some people will hire a company to set up and oversee a booth, but many will actually create their own. If you'd like a photo booth at your wedding, use these seven steps to help you pull it off.
Step #1: Start with a simple backdrop

Aside from knowing where you want to place the booth, creating your backdrop is probably the most important part of building your photo booth. You can buy or rent a portable backdrop stand, or staging system to hold it in place. Some will build their own systems.
For a long time, white, gray and black were the standard backdrop colors; a single color is a great place to start. With a single color, you have the option of emphasizing props or furniture. If you have a lot of props, you might just stick with a single color for your backdrop.
You can also add more. Silver and gold glitter curtains can be found inexpensively and are used often. Many couples will also incorporate florals from the wedding into their backdrop.
You can make it a little more authentically you. Photos and art that speak to who you are as a couple can work well. It can be eclectic, traditional, Old World, techie, or whatever illustrates your personality or the vibe you want to create for your wedding day.
Step #2: Consider using furniture
Furniture works well in some booths. You may have a couple stools that can be moved around or choose to incorporate a love seat or couch. With a couch, you encourage multiple layers in your photos because larger groups can have people sitting, standing and some even laying across the floor in photos.
If you want to include a couch or love seat, have fun with your choices. With a classic or vintage theme, go with that Mid-Mod, Mad Men-inspired couch with thin wooden legs or find that second-hand store Victorian loveseat with swooping arms. Furniture adds both character, functionality and amusement to any photo booth.
Step #3: Props, accessories, display pieces
Beyond furniture, there's so much more you can add. If you have a Western themed booth, for example, you can integrate old photos and signs with old sayings. Use a cedar barrel for a farmhouse look. Add wall-mounted sign holders with silly sayings that go with your event.
You can also incorporate props for guests to use. A custom printed display pedestal can be used to lean on, hide behind, or in other ways for fun photos. And don't forget to add costume pieces, silly glasses, hats and wigs!
Step #4: Get some lighting tips and set up your camera correctly
You may not know a lot about how to light a photo booth. So, tap your wedding photographer or someone else who knows about this subject. Some questions to consider: Will the light change throughout the event? Will you have any ambient light? You should also count on probably renting a light or two with stands. You'll want to experiment with different camera settings and take plenty of practice shots.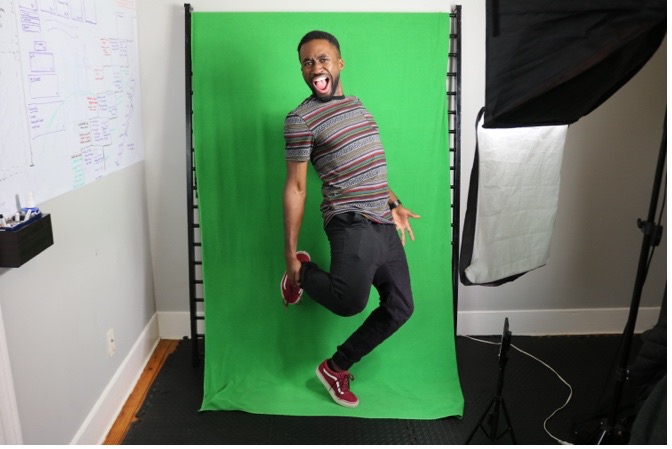 Step #5: Recruiting help
If a family member or someone in your wedding party is up to the task, appoint them as your photo booth attendee. A self-service booth with the camera attached to a tripod or a selfie stick is an option, too. That's fine, but just know that the larger your wedding, the greater the potential for problems. You're better off with someone helping to oversee it at least part of the time. You can also split the responsibilities up between several people who are willing to each take shifts.
Step #6: Tap a pro if you need to
If during the planning stages you realize that the effort may be too much for you to handle, you can always enlist a pro to set up a booth for your wedding. It will cost more, but you'll have the peace of mind in knowing you'll have quality photos and a lot of other responsibilities will be lifted from your shoulders.
Just because you hire someone doesn't mean you can't personalize the space to your liking. Most pros will have some of their own props, but some will allow you to use your own props and decorations as well. You also have the option of setting up your booth the way you want and just hiring a photographer with his or her own equipment and lighting.
Step #7: Don't forget signage
Whether you hire someone to create your booth or do it entirely yourself, signage is important. Drop a sign into a poster stand outside the booth that invites your guests in. Use small acrylic sign holders on reception tables to remind everyone to visit the booth, and you should also have other signs around the event space to direct people to it.
And remember, if you need help planning your booth experience, contact the experts at shopPOPdisplays. We've designed thousands of unique customized spaces for clients and we can help make your special day even greater!