When it comes to successful visual merchandising tactics for jewelry, the sheer number of possibilities can lead to confusion when starting out on creating new jewelry displays. We suggest keeping in mind your ultimate mission to highlight the aesthetic beauty of your jewelry pieces in a manner that maximizes their inherent, individual qualities—and making them hard to forget. The obvious intention is to increase sales, but you also want customers to remember your displays—as they may be browsing more than one retail outlet before making a purchase.
Creativity in the look and feel of your store is so important, and when retail displays are done right, your jewelry offerings will connect with your customers and elicit an emotional response that will help drive their buying impulses.
Here are some important points to remember when displaying jewelry in your retail outlet so that your displays stay top-of-mind for a long time to come.
Attract And Engage With Each Combination
One of the best ways to keep customers visually engaged with all of your jewelry line is to ensure that at least one best-selling piece is placed prominently in each retail display. You want to avoid placing all of your most popular pieces into one area. It is better to have an even and equitable distribution, which will keep your customers enthralled and engaged as they browse your jewelry. It will make their shopping experience like a discovery and feel spontaneous, like all great things in life. The stars will align and they will see the perfect piece, made just for him or her.
You can help that happen with retail displays that group items together, but enable you to put popular jewelry items front and center. For example, acrylic interlocking 4-way risers, that are offered in clear and black, as well as 5-shelf round knockdown displays. A group of solid display blocks for rings combined with several solid clear acrylic blocks will create a fantastic tableau within which you can spotlight items from a well-coordinated collection, and that feature some best-selling jewelry pieces as centerpieces to anchor the overall display.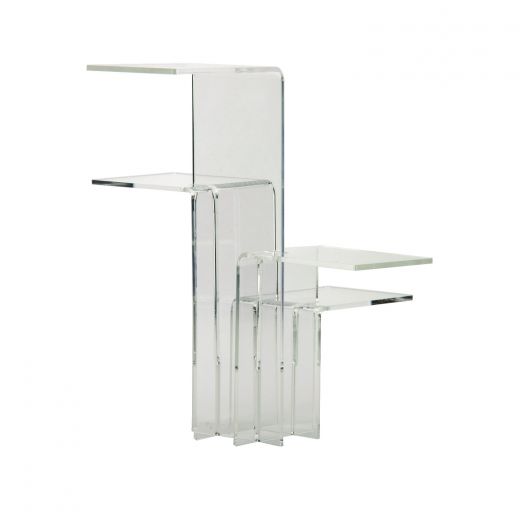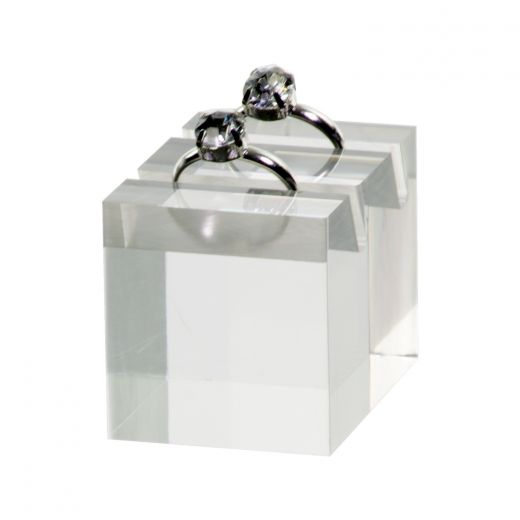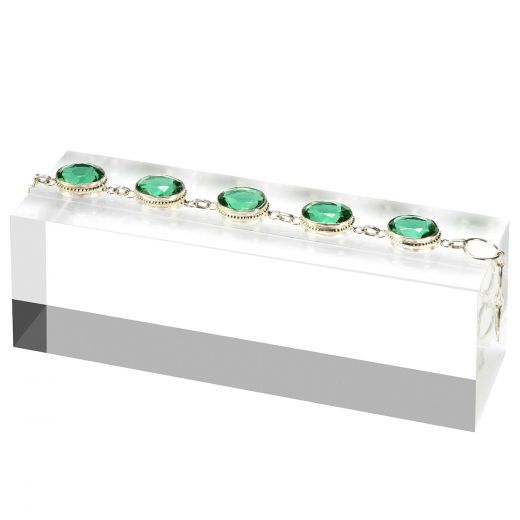 Add Color And Dimension to Your Jewelry Displays
Customers notice color first when they browse jewelry, and you want to enhance this characteristic of your pieces in order to establish a certain mood. Romance, love, passion and excitement are emotions that come to mind as customers browse red stones, for example. You can use color to either dominate a particular display, or mix it up to draw the eyes to particular pieces within a larger group.
Our self-standing necklace busts are available in felt black or white leather, and also select models that give the appearance of a finely wrapped twine piece but without the fray or fuzz. They all have weighted bases and streamlined necks and the polystyrene twine texture provides some great accents that you can use to add some textural diversity to your jewelry displays. If you display a cross-section of jewelry pieces from each of your collections together in one display, you can leverage the multiple color and texture options of these necklace displays in a coordinated manner to provide a visual pop.
Black felt is ideal for jewelry with precious gems and stones to make the jewelry pieces sparkle and shine. Also, because of the texture differences between the felt and the finely wrapped twine display options, the combination really does something to elevate the jewelry that is displayed in a way that complements the jewelry pieces. Against the felt, you can get a really clean and sophisticated aspect, while the raised bumps of the twine texture provide a unique background against your jewelry pieces that attracts the eye. Using a combination of the display options together will provide your jewelry collection with a very nice and cohesive look.
When combining different display options together in one ensemble, make sure to think outside of the box to highlight the uniqueness of your jewelry items. Bring together multiple colors and textures in order to add some unforgettable dimension to your jewelry displays. This will make a visual impact that customers will surely notice—and it is little touches like these that make the difference.
Necklace bust displays also ensure organization, which is important for your sales staff when helping customers. Frustration can undo a successful sale if necklaces get tangled, and these displays are easy to straighten up regularly and maintain over the course of the day.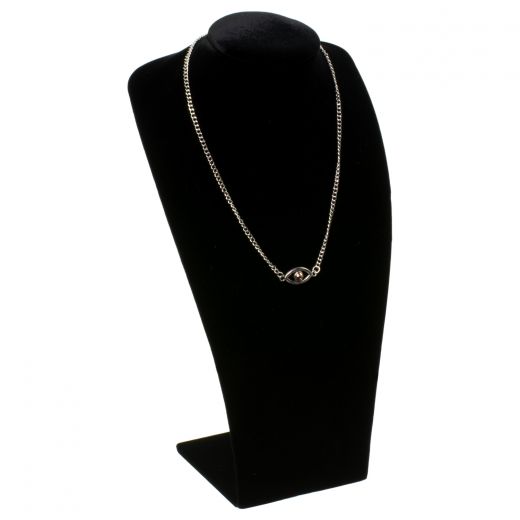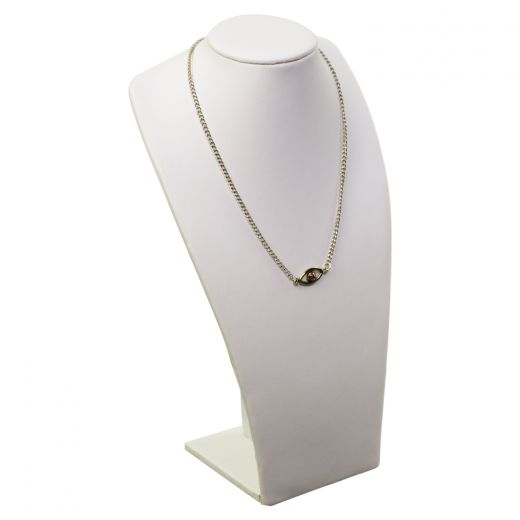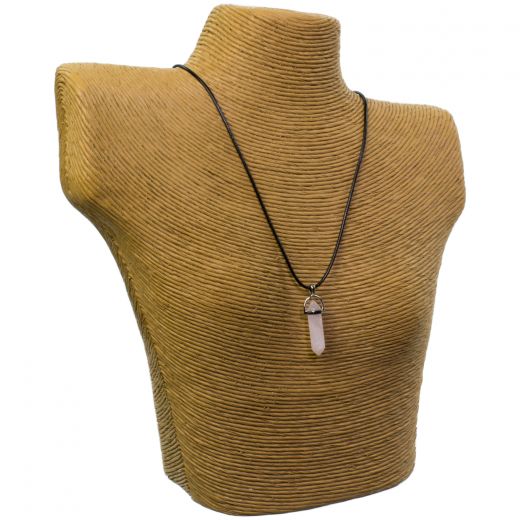 Allow Full Visibility For Each Item
When you use retail display aids like self-standing necklace busts, it is best to use medium-sized retail display types in the foreground, or on either side to help increase the visibility of the main centerpieces within each jewelry combination. T-shaped earring, ring and bracelet trees are great options for ensuring the line of sight is not impeded. Slotted bracelet ramps are also a great choice to place in the foreground, and these come in black and white felt options. Mix up the style by adding several half-round bracelet displays as well to create visual variety. Remember to place these retail display items at a slight angle, which will enhance the visibility and visual attractiveness of each item even more.
Our jewelry T-shaped Earring displays and our acrylic ring display stands feature ample bases to provide easy weight distribution. We also feature T-shaped slatwall displays to give you the option to display necklaces and bracelets on a wall display. Additionally, for rings display we provide single ring finger displays and multiple finger displays, on which you can display one piece or several pieces of jewelry at a time.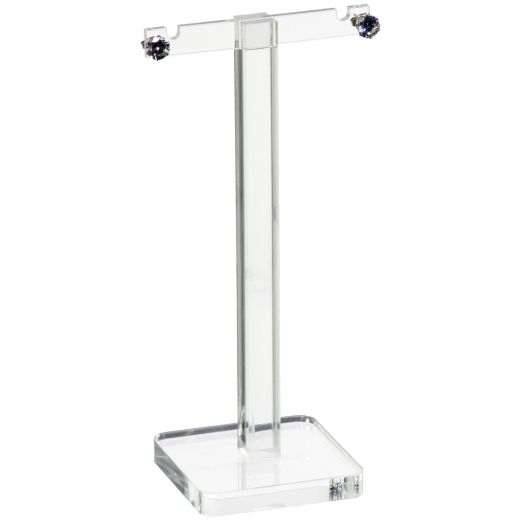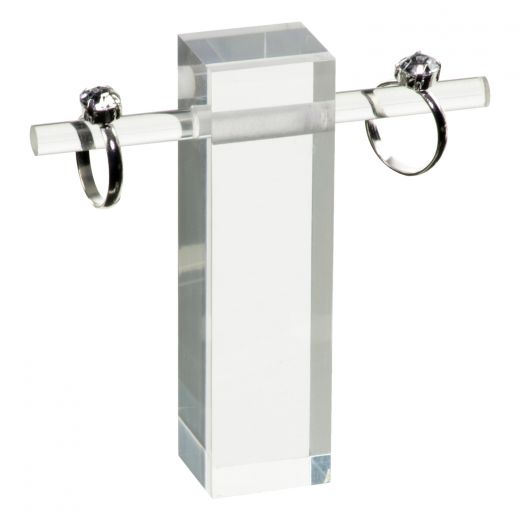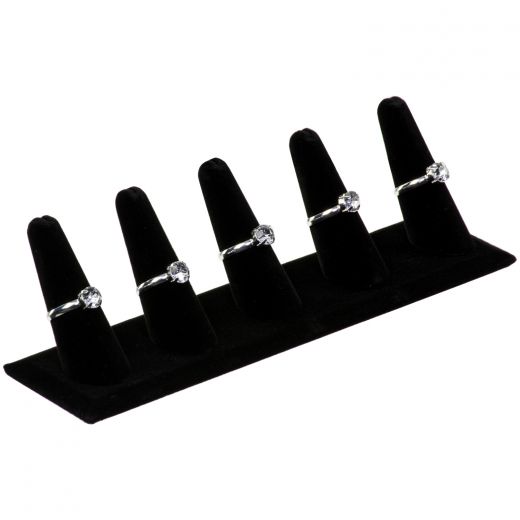 Secure In Style
If you have jewelry items displayed that are required to be put away at close of business, you may want to keep these items in retail displays that are secured with locks. The advantage of using lockable display types is that they showcase the jewelry items in a visually interesting way without compromising the convenience of easily locking them up at closing time.
Watches are a perfect example that come to mind, and we offer great ways to display watches securely, like our locking watch display case. For necklaces and other hanging jewelry that can be draped from a bar, we have a special case with arms inside the secure, lockable case. And for medium-sized display items that can be locked we have a range of clear acrylic boxes that are versatile and secure. These lockable box displays can also be customized for an added visual appeal.