There are many benefits to focusing on customer retention; In fact it actually costs 5 times less to keep your current customers than it does to obtain a new one. And even better, the gift of loyal customers keeps on giving; Your brand reputation will increase, and in the age of social media, word will travel fast. But how do we keep these customers loyal? Well, a retail company successful in keeping its current customers happy has exceptional customer service.
Good customer service is essential to building long-lasting, quality customer relationships. Let's take a look at companies that go above and beyond with customer service, and explain exactly what makes their initiatives work so well.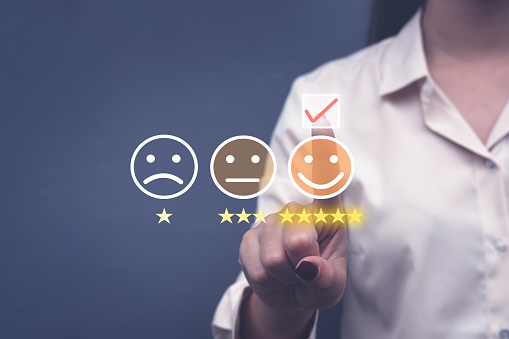 Warby Parker: Supplying Convenience
Warby Parker is a retailer of both prescription and non-prescription lenses and glasses. They provide both an excellent online and in-store experience to ensure that their clients are able to find what they are looking for easily.
Consistency is a big part of supplying convenience. All of its stores share a similar layout, that gives off a clean, clear feeling – similar to a good pair of glasses. You can expect a Warby Parker in New York to look like a Warby Parker in California. From the moment a customer walks into their store, they step into its strategically laid out floor plan. Along the walls are glasses displayed by type, shape, and product line. Dividing each of these columns is a sleek clean mirror that allows the customer to properly view how the frames fit their face.
While Warby Parker is careful to keep floor space clean and open, it does place display cases in the center that show off their featured products. With Warby Parker, convenience goes beyond product placement. Its retail clerks are uniformed, open, and ready to assist. Beyond the sales process employees will resize glasses free of charge and select locations have an optometrist that can provide a customer with an eye exam.
In addition to the in-store convenience, Warby Parker's website is as sleek, organized and well laid out as it's brick and mortar stores are. It also offers a home try-on program, which allows online users to test up to 5 frames for 5 days, with free shipping. For those with busy schedules, this screams convenience. This allows potential customers to test the fit, look and feel of the frames all from the comfort of their own home.
Trader Joes: Sales Staff With Knowledge
Trader Joe's is a specialty foods grocery store. Due to its focus on the in-store experience, it's able to offer a great deal of benefits, priority in-person interactions and strong customer relationships.
Trader Joe's is often on the shortlist of a company example of excellent customer service. This is due to having knowledgeable employees. Not only are they trained properly, but they are also equipped, able, and willing to help with any question a customer may have. Being able to suggest and point their customers in the right direction is crucial to not only their business model but also the grocery shopping experience.
To properly be able to serve its audience, its employees need to be well versed in products and the audience. And because it provides specialty foods – fair trade, vegetarian, vegan, gluten-free, and organic – employees need to be knowledgeable about food and health trends. In addition, Trader Joe's navigation ist easy to follow and its food displays encourage users to browse their various specialities.
CVS Pharmacy: Personalized Retail
CVS has always known for distributing long receipts, but there is a method to its madness. CVS analyzes the previous purchases and prints coupons for related items. If you have an Extra-Care card, it analyzes your previous purchases, used coupons and other customer data. They use this information to continue to send unique deals and offers.
CVS translates this to the pharmacy as well. While they are not able to provide discounts on prescription medication, they are able to provide other personalized experiences. CVS will remind you, through texts and phone calls to make sure that your prescription is filled. If a prescription needs to be approved by a doctor, pharmacists do the courtesy of contacting them first. Utilizing its app allows customers to make the pharmacy experience even more discrete. The app integrates a prescription pick up and delivery service that allows the user to avoid the wait.
Dylan's Candy Store: Maximizing Signage
Similar to Warby Parker, Dylan's Candy Store is another great example of a company that successfully utilizes displays and signage. On any given day, a potential customer can pass a Dylan's Candy Store and be amazing with its abundance of signs that displays the current deals and new additions. It strategically places their signs to add to the vibrant fun feel of the store while avoiding an overwhelming experience.
Dylan's Candy Store takes signage and displays to a whole new level. It is easy to get lost in a candy store with all of the delicious mouth water options. This store makes it easy for its customers to find what they need. Each treat is clearly defined, but beyond that, the store is lively and colorful. It gives a very youthful and fun feel that any candy store should give. One of their most notable signs is actually their colorful Lollipop Tree, which helps create a fun and lively atmosphere for the store.
Amazon: Experience The Brand
Amazon has built its brand through their focus on the customer experience. Amazon offers a streaming service, book service, e-commerce products, and even groceries. This can be a lot to juggle, yet whether you are on desktop, mobile, Firestick, or an Alexa enabled device, they make sure to have the transitions be seamless and smooth. Your shopping, browsing, or streaming experience will pick up right where you left it.
The brand has also realized the benefit of an in-store presence. Amazon has taken a step towards Brick and Mortar locations and has also acquired Whole Foods, a large grocery retailer. This has allowed Amazon to increase their profits while giving Amazon the chance to create deeper relationships with their customers.
Final Thoughts
Excellent customer service is more than just smiles and courtesies. It is assisting the customers before they ask for help and before a problem arises. As a retailer, you should listen to the needs of your consumers and overdeliver on what they want. If you want to create a loyal customer, focus on creating a memorable experience. For more information or to see how we can help you, contact our team.