The first day of school is a rite of passage experienced across generations, bringing to mind memories shared of backpacks loosely fitting on narrow shoulders, painful new shoes that need breaking in, a friend made on that first day, the bell and announcements, and the fear of starting out into the wide, wide world all on one's own.
COVID-19 changed all that. It is hard to comprehend the scale of disruption the pandemic had on education, forcing kids to open their laptops and learn from home. Students have been physically apart, but virtually together—watching, listening, interacting and learning on their devices while most schools and many activities remained under lockdown to keep them safe.
Once again, change is coming. As coronavirus vaccinations have started to gather pace, the US government is planning to reopen schools safely in order to facilitate much-needed, in-person instruction for the nation's youth. However, with the pandemic still not eradicated, schools will need sufficient resources to comply with strong state and local public health measures.
Safe School Opening Strategies
The Centers for Disease Control and Prevention (CDC) and the US Department of Education (ED) have provided recommendations based on scientific evidence to support school and district leaders in meeting the evolving challenges of reopening, and getting K-12 students back in the classroom by April 30, 2021.
The recommendations include masking and physical distancing practices, and guidance on how to best utilize signage and school announcements to remind students and staff to wear masks and maintain safe distance. In addition, schools can now reopen safely by reconfiguring spaces that allow for 6 feet of social distancing, mandating frequent hand washing and cleaning of school facilities, and establishing testing and contact tracing programs.
The following outlines some of the key CDC and ED recommendations and suggest some ideal classroom sneeze guard solutions to comply with the regulations in your state.
Group students into pods
It is recommended to group students into a pod that will always stay together all day with their core teacher, as best practice for ease of contact tracing, should any infection occur. This includes keeping the pod together for lunch and recess as well.
Once school administrators have students grouped for safety, it is important to ensure the safety of each individual student in the pod. This is where U-shape school desk sneeze guards make the perfect solution, as they are equipped with protective panels that lock in the front and on the sides easily, so that assembly and take-down can be done in merely seconds.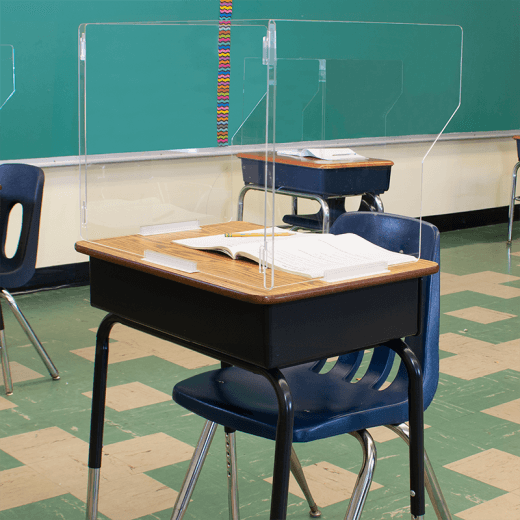 No tools or special equipment needed to install these classroom sneeze guards, and if required, each one can be attached firmly to an individual desktop with specially included adhesive mounts.
Our shields are made from high quality clear plexiglass in order to offer unimpeded visibility for your students. The U-shaped front and side-panel combination provides greater face coverage allowing for more of the desk space to be utilized for student work.
Use cafeterias for classes
The CDC is recommending that schools use cafeterias and auditoriums as classrooms, as these are large spaces that can accommodate many more students in safely spaced formats, allowing for teachers to maintain physical distancing measures while still providing group instruction and facilitating discussion and collaborative learning.
The ideal solution to maintaining individual safety in cafeteria or auditorium environments is the highly versatile table divider shield. It can be used to partition a cafeteria table into 4 separate, isolated seating areas! This will enable more students to be accommodated safely within a cafeteria in following with the CDC guidance.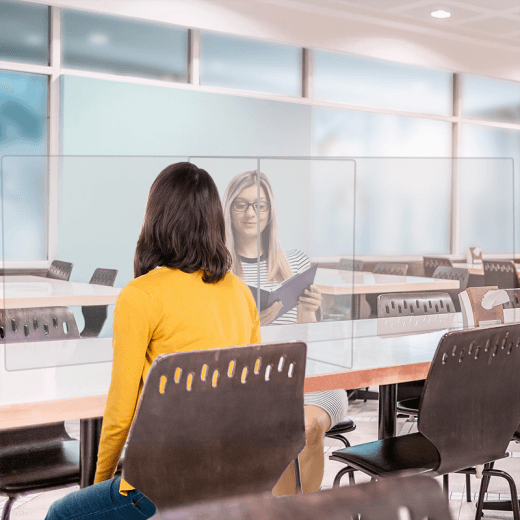 This divider shield classroom sneeze guard ships flat and assembles in seconds by sliding the 2 clear panels together. It does not require any special installation and can be moved easily to other locations wherever and whenever you need to. Breaks down in seconds and stores flat too!
Stagger use of communal spaces
Besides classrooms, schools have common-areas that are used for a wide variety of administrative and logistical purposes throughout the course of the school day, and these will once again get heavy foot traffic as facilities reopen. The authorities are recommending that school administrators reconfigure all bell timings to minimize foot traffic within the common areas of schools, including not only in the hallways and libraries, but also offices and staff lounges, where people go during intervals between classes.
Barrier sneeze guards placed on counters and individual desks are perfect protection for faculty and staff in offices, libraries and break areas. Side panels are adjustable from 90 degrees up to 125 degrees, enabling the creation of a larger, or no gap partition, as required. These barriers are U-shaped in design with tall front and side panels that help to provides wrap-around physical separation. There is also a gap under the front panel making it perfect for exchanging paperwork.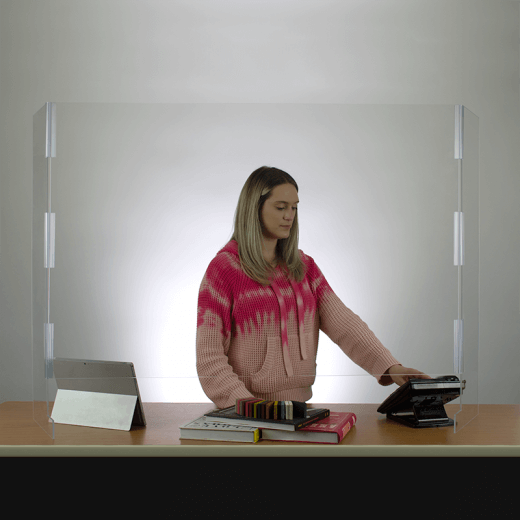 Finally, ensure that your teachers and administrative staff are well protected with these economy clear polycarbonate U-shape desk shields with wrap-around sides. These highly versatile barriers are great for many desk sizes and arrangements. Once again, no special tools required to assemble these, and simply adjust the angle of the hinge joints to fit the shape of the workspace. They are also break and crack-resistant and fold-up flat for easy transport and storage.
Conclusion
The coronavirus will not be going away any time soon, and until the vast majority of the world's population is immunized, school administrators will want to be prepared to maintain social distancing measures with the ideal classroom sneeze guard solutions. If you don't find what your school needs in our catalog, please reach out and we will customize a classroom sneeze guard solution just for you!
All shopPOPdisplays classroom sneeze guards, barriers and shields are made in the U.S.A., in stock and ship in 1-2 business days directly from our New Jersey warehouse. Volume (quantity) discounts are available. We have been doing this for more than 40 years, and our designers, engineers and craftsmen are the best in the industry. They'll make sure your order is done right, with attention to detail, modern manufacturing processes and precision technologies.