Even though it does take a tremendous amount of planning and market research to help nail down your target audience, opening a retail store is an exciting experience. Once you have a business and marketing plan in place, you'll need to find the right retail space that suits your needs and can offer the best experience for your customers.
When it comes to setting up and opening a retail store, you're going to need certain basic items for merchandising, enticing passersby, and making sure customers get the most out of their time on your sales floor. Here's a quick checklist of the seven most important merchandising and display tools you'll need when opening your first retail store.
#1: Floorplan basics: Shelves, racks, display pieces
When creating your store layout, you'll want to make sure you have the right mix of shelving, racks and display cases or boxes. What you sell can dictate what type of merchandising tool is better for you. A clothing store may need more racks, but some stores also use retail display tables for neatly folded shirts or tops that may better illustrate colors or logos.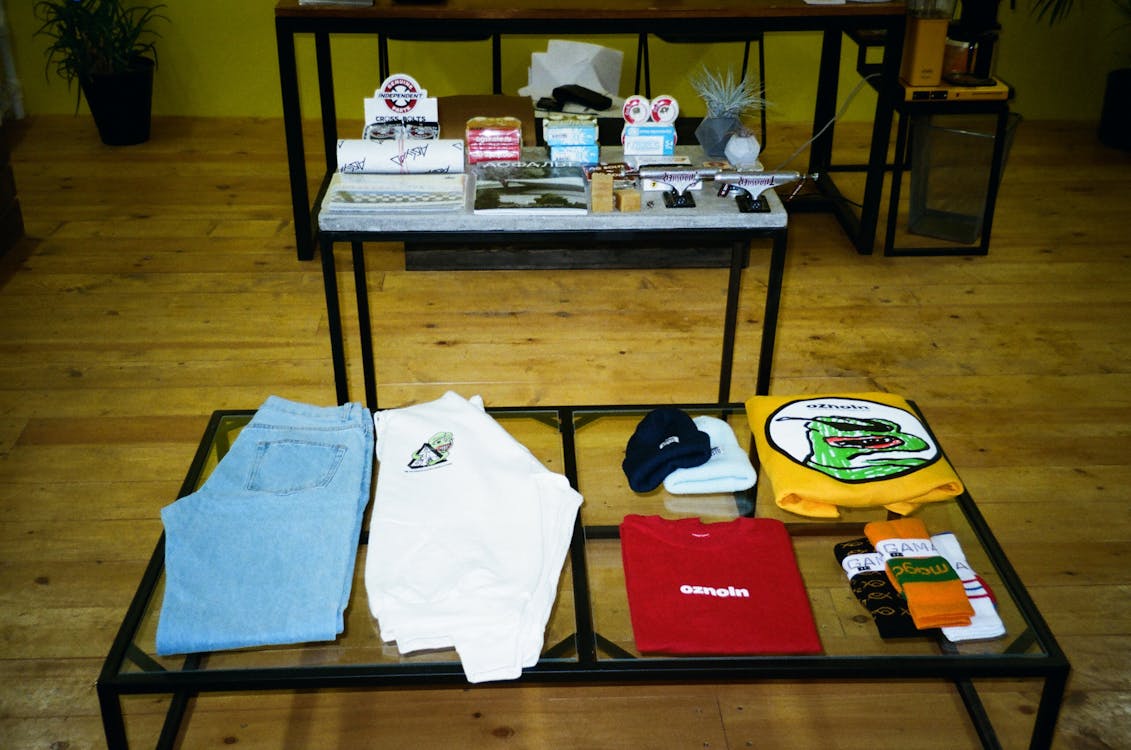 If you have more of an open floor layout and know you'll be displaying products along the peripheral walls, you'll need to understand which shelves or displays are best. You may opt for wooden shelf displays for items such as small toys, soaps or other bulk items in the middle of the sales floor. On the outside walls of the store, standard wood or vinyl shelves may do the trick. You may also want to use center store displays, putting smaller pedestal racks on top of tables, as seen with the hats in this photo.
It's always a good idea to study your competitor's layouts for ideas so you can create your own unique variations.
#2: Point-of-purchase display pieces
Point-of-purchase (POP) displays focus the customer's attention and get them curious about a specific type of product or line. Some manufacturers may actually offer you their own pre-made POP displays that highlight a particular product, but you'll quickly find that in retail life you'll always be experimenting with different ideas for ways to display items on your floor.
So, it's a good idea to get a wide range of display pieces to help you create new POP displays. You can also pull from tables, racks and other items mentioned earlier to help you.
#3: Window display items
Think about what types of window displays you may be creating throughout the year. You might have certain seasonal displays in mind or holiday sales to feature. There may be times when you just want to highlight a hot seller.
Window displays allow for the interaction of a lot of different display pieces. You can rotate them to the general sales floor or promotional areas, too. This type of display may require mannequins, pedestals, racks, shelves—even blocks and other props. Your best bet would be to sketch out a few ideas and then do an initial inventory of what you'll need. You can then add other pieces, but you may be surprised, after your first four or five window displays, at how much you can reuse.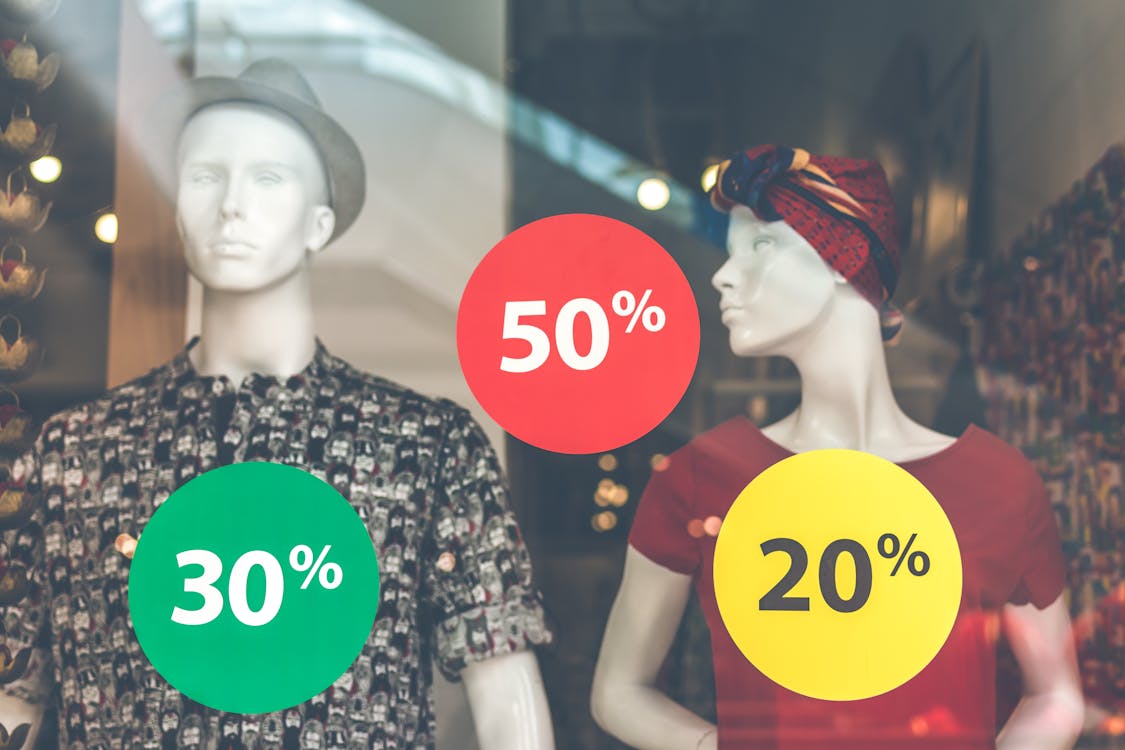 #4: Signage
You're going to need store-front signage, but you'll also want to consider what other types of signs you'll need. You'll need small signs for product pricing on shelves, floor stand signs, larger acrylic sign holders that allow you to slide information cards into them, and larger pedestal and hanging signs within the store to guide customers.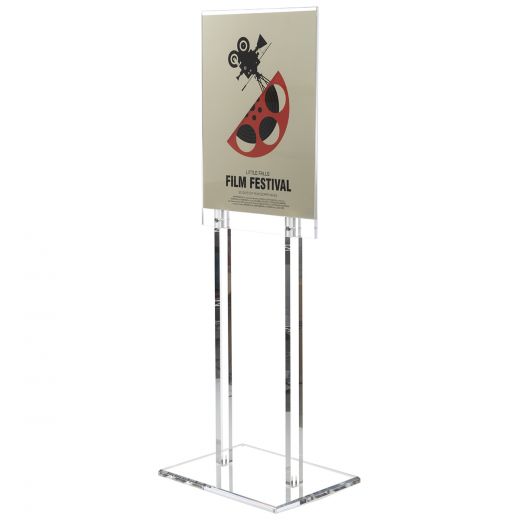 #5: Cash wrap furniture
Your cash register is an important area where today's customer expects a frictionless experience. That doesn't mean they aren't open to adding items to their shopping basket, too. Pay attention to what you put on display near the cash register. You can also create a cash register wrap or retail display counter that piques interest, asks the right "did you forget" questions and adds to the sale. Choose fixtures and display pieces that help you earn the sale and a little more.
#6: A POS system
At checkout, your point-of-sale (POS) system is a key component of your retail business. You'll need a system that processes transactions quickly and has the flexibility to add information about your customer to create contact lists that can support future marketing efforts. You also want to weigh processing fees, and initial and ongoing costs. It's a good idea to figure out which POS systems other retailers in your industry are using.
#7: Shields and sneeze guards
For the foreseeable future, you'll still want to outfit your store with the appropriate barriers, shields and sneeze guards to demonstrate your commitment to customer safety. Areas where customers engage with staff, such as the checkout line and at information counters, are common spots for these barriers. Make sure you find guards that are easy to install and remove for cleaning and adjusting.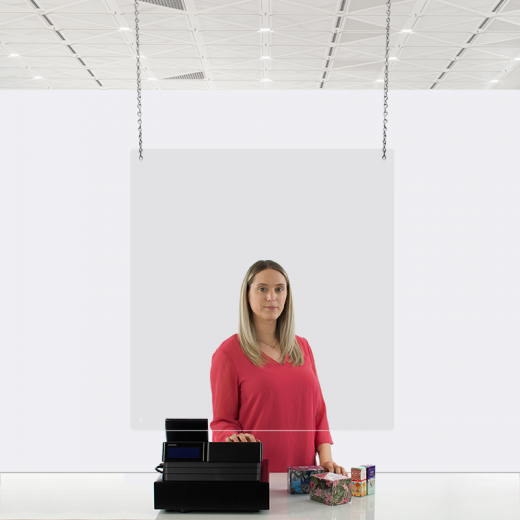 When you open your first retail store, as you think of the many merchandising and furniture pieces you'll need, keep interchangeability in mind. Consider an item's many different uses before purchasing it. Single-use items will end up spending the majority of the year in the stockroom. And, if you need help figuring out which furniture and merchandising pieces your retail store needs, contact one of our shopPOPdisplays experts to help you.