The shoe industry is one of the largest in the US, and shoe retailers provide an essential item that every man, woman and child needs. One of the largest hurdles faced by shoe retailers is creating shoe displays in an attractive manner that encourages customers to buy products. Luckily, there are several great shoe display solutions available, and we are going to present some here that are sure to drive more shoppers through your doors and boost your revenues.
1. Acrylic Shoe Risers
These multi-tiered platforms made of transparent acrylic material are the industry go-to shoe display fixture, because of their versatility and ease-of-use in so many different store environments. Presenting shoes just couldn't be easier than with acrylic shoe risers. You simply place them on top of the platform, allowing shoppers to see them easily from a variety of angles. Another benefit, they keep footwear off of the floor by lifting the product slightly above, and preventing customers from walking right by without noticing. If you combine risers together as part of a larger display, they can very effectively showcase the latest products of a branded line of shoes side-by-side, for example. These inexpensive displays will make a huge difference by inspiring interactivity with shoes, and inviting customers to touch and feel the merchandise. Acrylic shoe risers will not only help to get shoppers' attention, but also encourage them to try the shoes on, which will make customers even more likely to buy.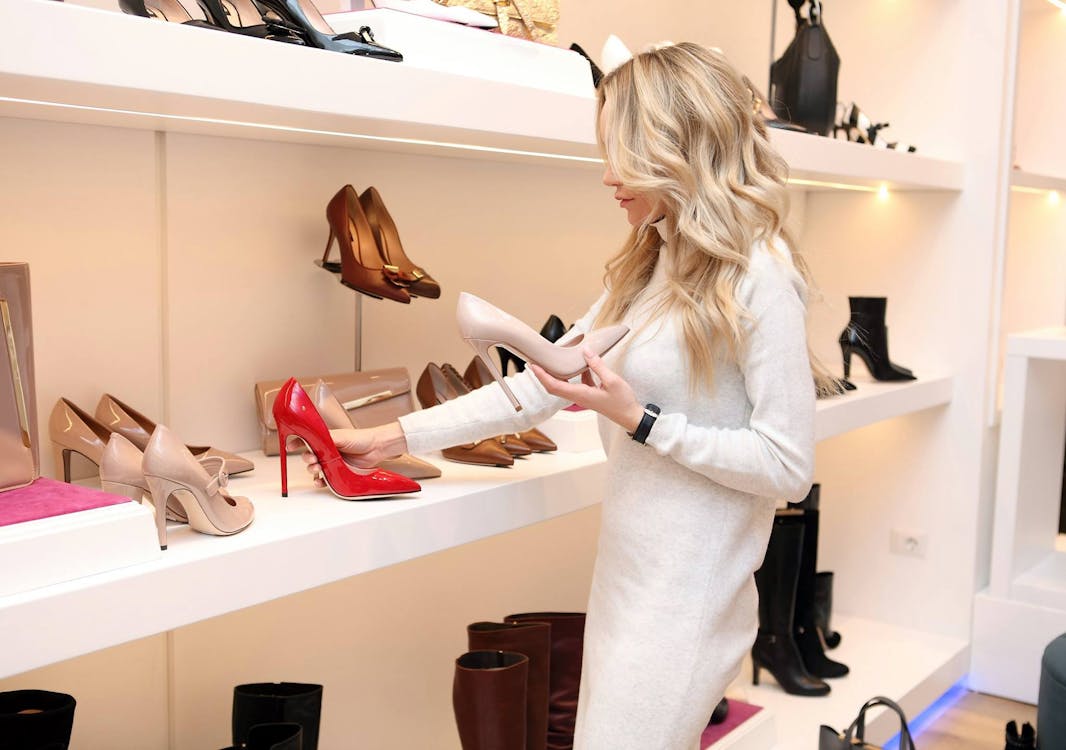 A very successful shoe display technique is to place top-selling shoes on risers, and the remaining footwear stock on shelves—which brings us to our next recommendation…
2. Slatwall Shoe Shelves
Another great option for shoe displays is slatwall. It's probably the easiest solution, and it's a great way to feature a large number of shoes in a way that will maximize a store owner's available space. Slatwall shelves placed on a neutral-colored wall display, as in the image above, and that are fitted-out with your choice of high-quality slatwall accessories that come in a range of sizes, colors and shapes, will let the diversity and range of your products pop out and attract customers to reach in and feel the merchandise. Insert the shelves into the slatwall, and display the shoes on top—it's that easy! If you place the shoes at or just around eye-level, more shoppers will see them. Slatwall shelves are an incredibly smart element of a successful visual merchandising strategy for footwear.
3. Pedestals
Sturdy and trendy pedestal shoe displays are all the rage in shoe merchandising today, especially for fashion footwear as in the image. Acrylic pedestals are very safe and made from thick and durable prime grade materials to withstand retail shoe store environments, and will not damage easily if knocked over or moved. Place them under directional lighting, like spotlights, to highlight key products and create an elegant, chic and exclusive look and feel to the overall shoe display. You can place shoe pedestals anywhere in your store, or even in the window display, and customers will get a great view of your footwear products easily. There are plenty of pedestal sizes to choose from, multiple colors and even customizable with graphics. Pedestals are an extremely versatile way to exhibit all kinds of footwear products.
4. Boxes
For a very convenient, quick way to display fast-moving, especially lower cost footwear, like flip-flops or sandals—acrylic shoe boxes are a great option. These boxes are made of transparent acrylic, giving customers the ability to see what's inside while also being sturdy and strong. Most ideally used as dump bins for display of loose shoes or shoe accessories. They can be made in a wide variety of colors and come with lids to aid in storage. Custom sizes are also available.
5. Tables
The ultimate showcase for a shoe retailer is by far the table display. Obviously, a table requires the most space of all the other options, but the effect is worth it. A table-top arrangement of shoes is the perfect way to focus on your most popular styles, and the height is ideal to inspire customers to reach over easily and interact with products. There is also the additional space available, allowing merchandisers to keep other displays or promotional signage on the table-top as well. Tables are available in 17 different stain options, including a natural wood finish.
In addition to the above shoe displays, it is important to provide adequate lighting when presenting shoes in a retail store. Make sure you have enough light to bring out the subtle details of each product, for example, by using track lighting to illuminate specific areas. Track lighting can directly shine a light down onto specific elements of a shoe display to enhance details and make products even more attractive to customers.
And also, a final word about mirrors. When customers are trying on shoes, they absolutely value when retailers provide them an accurate view of the product on their feet. Generally, shoe mirrors are rectangular shaped, and table-top mirrors placed on the floor can do the trick. These are essential shoe display accessories and will prove to be very useful and appreciated, leading to more sales.
If you have any specific questions about shoe displays, please feel free to reach out to us, and we will be happy to answer your questions.