This historically patriotic holiday has developed over recent years into the first really big retail shopping promotion of the new year, making it an important day for your store. Make your in-store promotions count with these  President's Day display tips.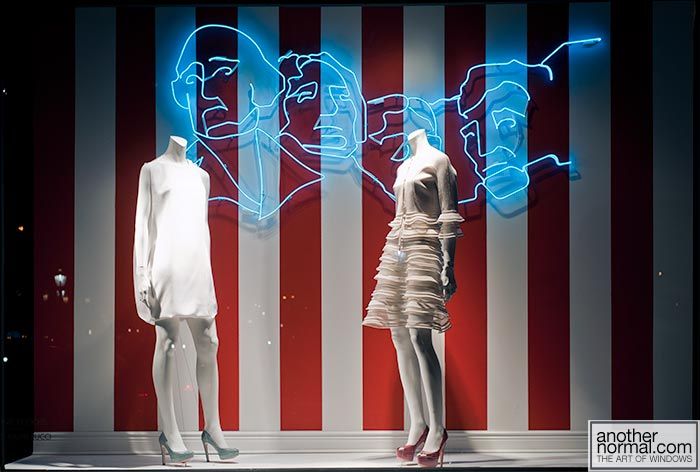 President's Day is traditionally a day that most retailers offer sales and promotions that have begun expanding even beyond the long weekend and into the weeks that follow. So, even if the busiest shopping season of the year has recently passed, there's no time for retailers to rest! Shoppers will still be in a buying mood, so if you are keen to move more products and ring in more profits this year, here are 4 Presidents' Day display ideas you can use to make your holiday weekend a great success.
Use table-top displays to move bulk
Some of the best bargains to be had on Presidents' Day are on winter clothing. Lots of apparel retailers use the Presidents' Day weekend to clean out their winter inventory in preparation for the spring season, and smart shoppers use this holiday as a chance to stock up on winter clothes for next year. We recommend a strategy using large Presidents' Day displays that help get as much stock as possible out on the sales floor and, by the end, your inventory should be nearly sold out. Stage your clothing items on tables and larger acrylic or wood fixtures in order to set out every size, because parents are going to be looking for clothes of varying sizes to fit their growing kids in time for next winter. Trigger curiosity by placing eye-catching garments within the customer's direct line of sight, and on the same level, attracting customers so they get curious enough to walk through your entire store and look around at other items too.
Grab customers' attention with visual vibrancy
While most retailers opt for red, white and blue colors and patriotic motifs in their Presidents' Day displays, here's another suggestion for you to consider—why not select a handful of products you want to highlight for this holiday promotion, and feature vibrant colors that complement those products in signage throughout your store? Sign holders and poster stands are a great way to get shoppers to slow down their pace as they walk through your store, and to draw their eyes to specific Presidents' Day displays that you want them to focus on. Floor standing sign holders, like metal or acrylic poster stands, are ideal for grabbing attention at eye-level. They can be placed with relative ease, and you have the freedom and flexibility to position them anywhere throughout your store.
Set up POP displays to encourage upselling
An immediate way to increase sales revenue is to merchandize related add-on products within your Presidents' Day displays, and these should be products that your customers will logically connect to the main product they intend to buy. A great way to do this is to offer special Presidents' Day packages to encourage shoppers to buy bundled deals, instead of just the one product. Use counter top display cases to show off products that are popular and/or ones you have inventory to clean out, and place these next to the cash counter, which is the ideal place for upselling with Presidents' Day displays. Dump bins are also very effective at upsell merchandising, especially as stand-alone displays for small items, since they are large, less organized and a great way to feature small, individually packaged goods.
Attract with Presidents' Day posters
Drive customers to your Presidents' Day displays and promotions with strategically placed posters featuring promotional messaging that will entice customers to spend their holiday cash at your store. If your store is located in a popular mall, you can get maximum impact by using poster stands in front of your outlet so passers-by will see them, or out in front of in-mall competitors who share your target market. Put your posters out several days before Presidents' Day to build momentum for the long shopping weekend.
Conclusion
This Presidents' Day, take advantage of the popular shopping fervor with display ideas that inspire impulse buying. Some of the Presidents' Day display ideas above can help trigger holiday shoppers to make an emotional purchase. All it takes is a little inspiration and preparation!