Designing and decorating a wedding venue can be both exciting and overwhelming. With so much space to personalize for your perfect day, it's important to consider a range of decorative options. To help get you started, we've arranged seven beautiful and impactful design considerations to dazzle your guests and make your wedding day unforgettable.

Use Creative Signage
Creative signage can help direct guests around the reception space while adding to its aesthetic appearance. Signage can be made in many different styles and colors. One popular material to create signage out of its acrylic since it can be formed into creative shapes of any color. However, chalkboard signage is also becoming increasingly sought-after, since it allows for an intimate, personal touch.

The variety of signage available for purchase allows a great amount of creative liberty when decorating the space. Usually, decorators put signage in high-profile locations such as the entrance or cocktail bar. To make your creative signage pop, consider draping it with greenery, flowers, drapes, or other decorative accents. For additional creativity, choose a chalkboard sign and furnish it with beautiful calligraphy!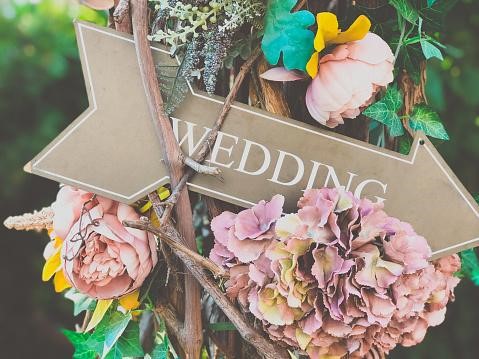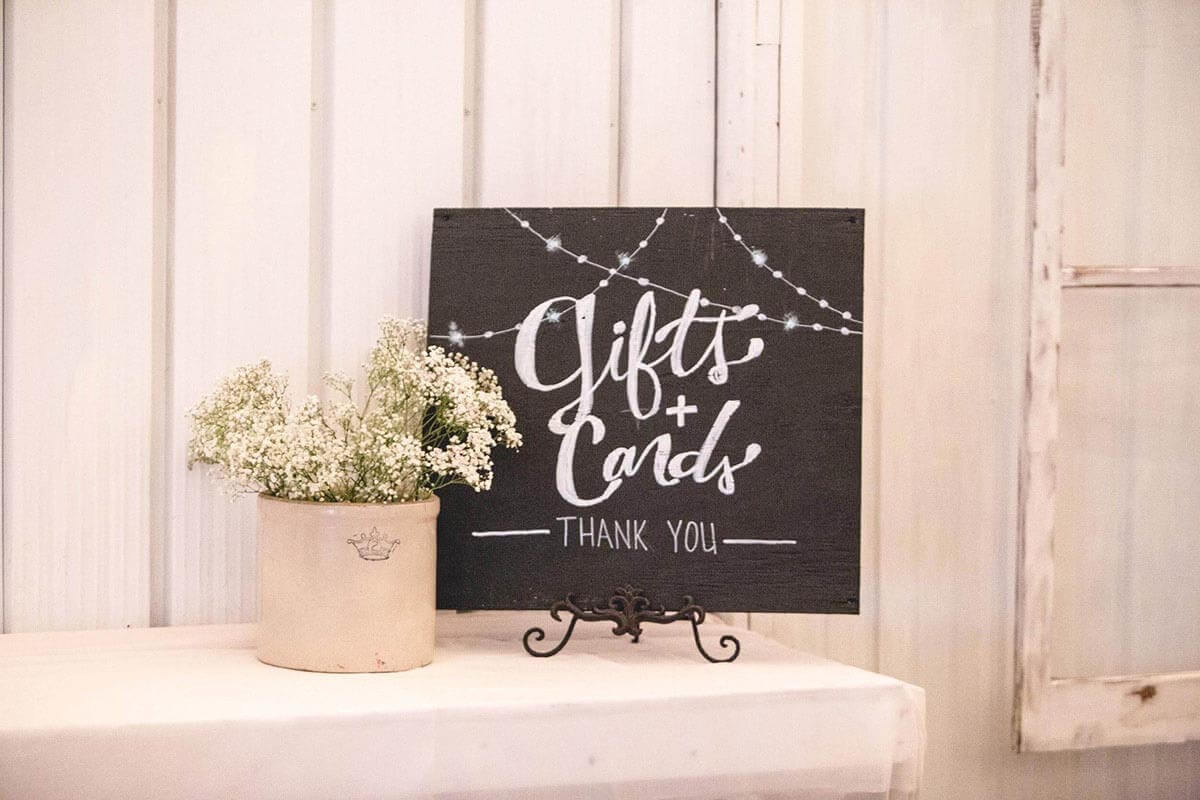 Decorate From Above
When decorating a space for a wedding reception, it's important to ensure the ceiling has a dynamic interesting appearance. This will subtly encourage your guests to look up and around the entire room, instead of focusing on the floor. In addition to this, it will also save valuable table space—which can often become overcrowded with decor and plating.

 
There's no single item that's ideal for hanging in your reception hall, but here are a few popular ways to decorate the ceilings:
Flowers and Greenery: Plants are an extremely popular choice for wedding receptions. Unfortunately, flower and greenery displays often take up a lot of flood and table space. By suspending many of these decorations from above, your reception hall will appear much more spacious. Additionally, you can complement this decor throughout the room. Consider placing flowers across the tables in acrylic vases to create a cohesive look.

Lighting: Hanging lanterns or string lights is a great way to create ambiance in your reception space. Similar to flowers and greenery, lighting can consume a significant amount of floor and table space. Hanging lights also have the additional benefit of hiding cords that could detract from the space's appearance or cause a tripping hazard.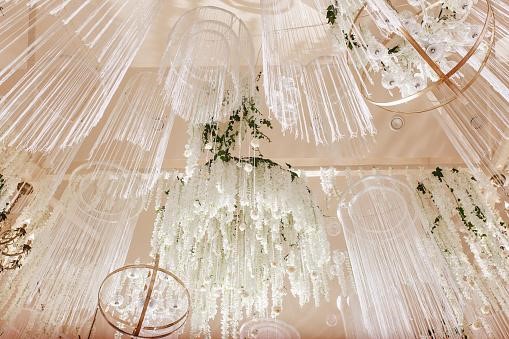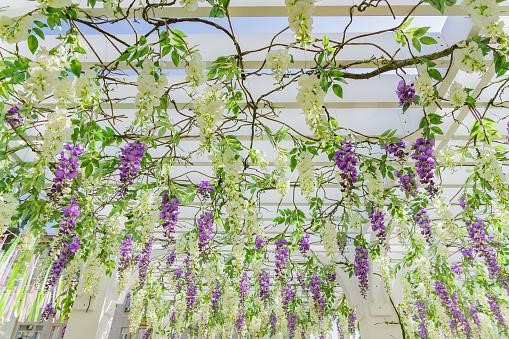 Display Family Photos in a Picture Block
Whether its showing off the bride and groom's family tree, or showcasing treasured moments from the bride and groom's life together, picture blocks are sure to start a conversation.

To get the most out of picture blocks without crowding the rest of the venue, consider placing them on the peripherals of your hall. To add a personalized accent to the picture block, consider using laser engraving to etch a special phrase or design onto the block.

Use Acrylic Boxes and Barrels for Flowers and Greenery

If storing flowers and greenery in a simple vase seems too passe for the design of the reception hall, using display boxes and wooden barrels can add a unique, creative element. Display boxes can be any color and any degree of transparency of acrylic boxes also allows them to be stronger, more durable alternative to glass. Even if the acrylic box happens to break, it will not shatter into sharp shards that could injure your guests, or otherwise disrupt your wedding day.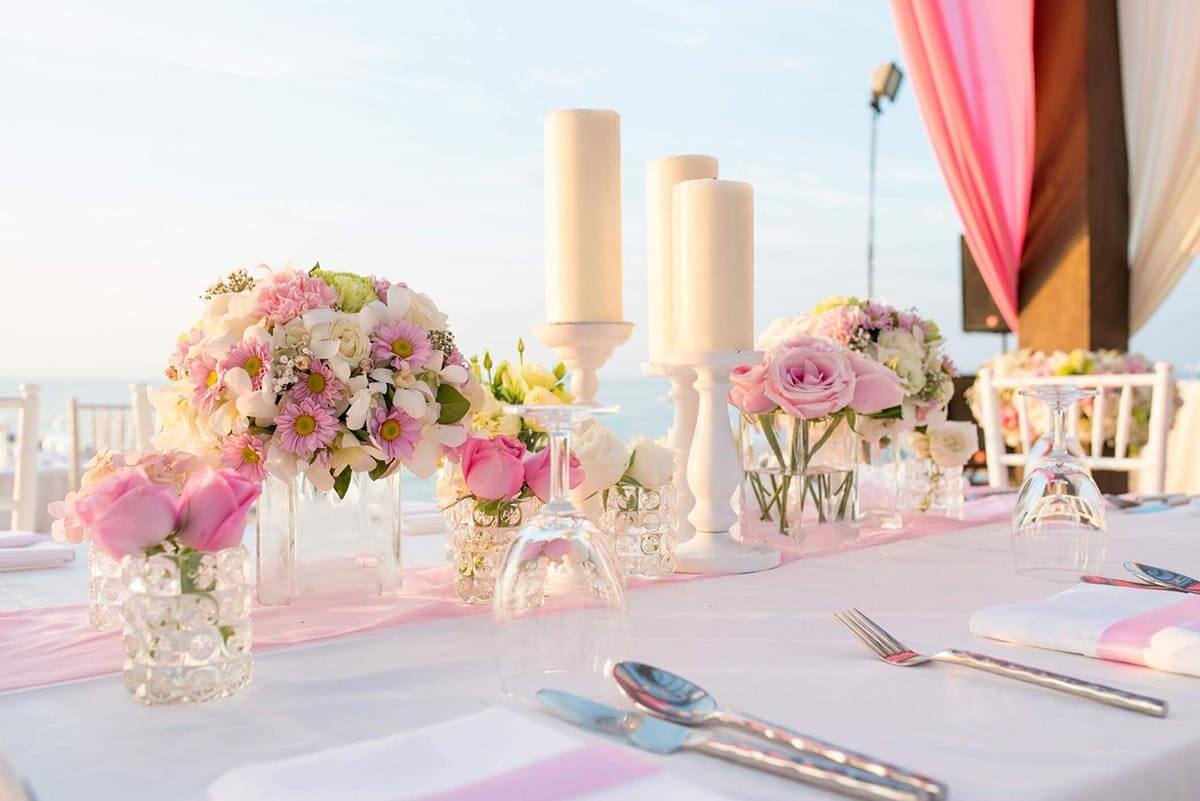 If going for a more vintage look, consider using a classic, rustic wooden barrel, or wooden boxes. Since these barrels use tones of brown, the barrel will complement almost every type of flower or greenery. Consider laying wooden boxes on their side, and allowing flowers and greenery to grow outward. Or, use a hollowed-out wooden barrel as an aesthetically pleasing planter.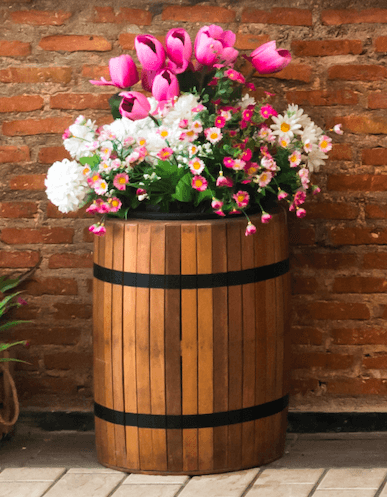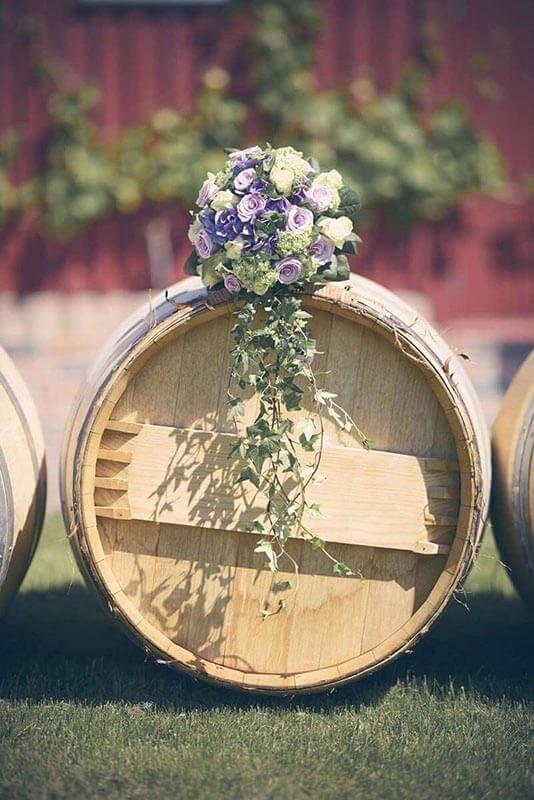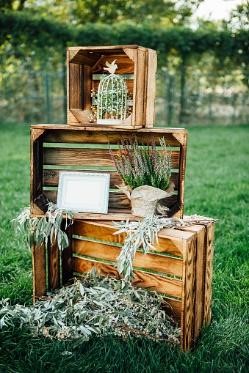 Turn Loose Fabric into Beautiful Drapes
Drapes are a simple way to add elegance to your wedding reception. This plain, billowing fabric can be used in a multitude of ways—such as hung from the ceiling, used on the underside of tales, or an accent for creative signage. Not only do drapes add beauty, but they can also be used to conceal edges or less aesthetically appealing aspects of the wedding venue. By using drapes, guests can enjoy a more warm, intimate setting without adding too much visual clutter. These drapes would also be a great compliment to wooden baskets and barrels for a more rustic wedding.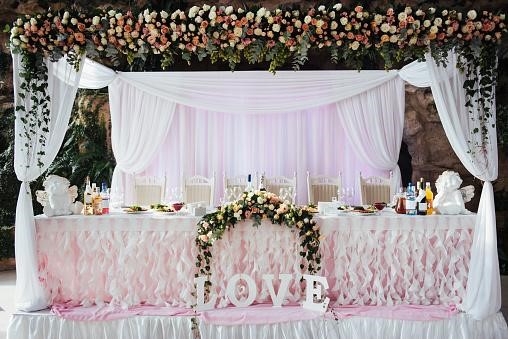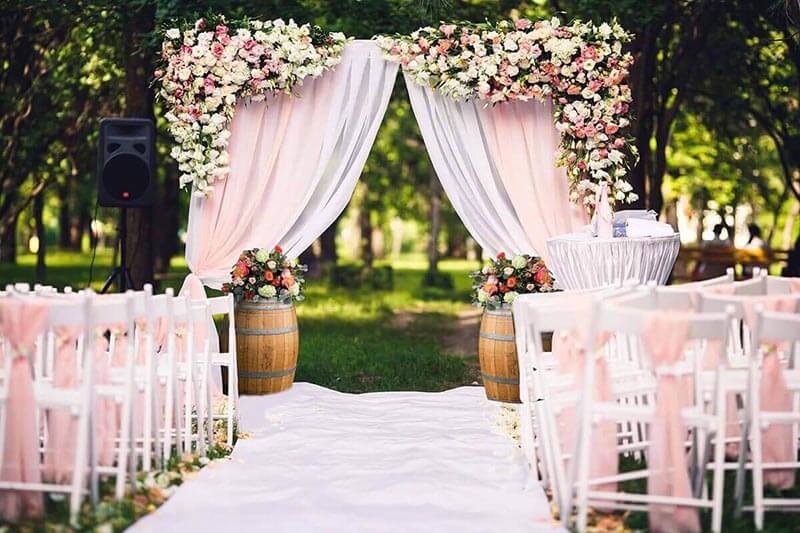 Use Acrylic Mirrors
Mirrors are very popular for use in wedding receptions since they can give an illusion of space to a wedding venue, or just be used as stunning creative accents. Since mirrors reflect light, they can be turned into eye-catching signage. Acrylic is typically the ideal material to create these decorative mirrors out of. It can easily be laser engraved, written on with a paint pen, or stuck with printed decals. Best of all, acrylic mirrors are shatter-proof, so there's no need to worry about a guest getting seven years of bad luck on your wedding day!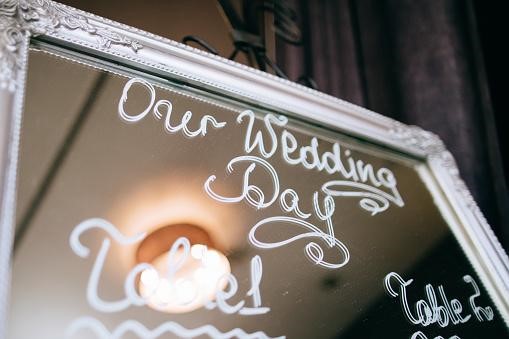 Mirrors can also be used to enhance the appearance of floral arrangements since they give the illusion of depth. This design choice looks particularly appealing when combined with a clear acrylic or glass box.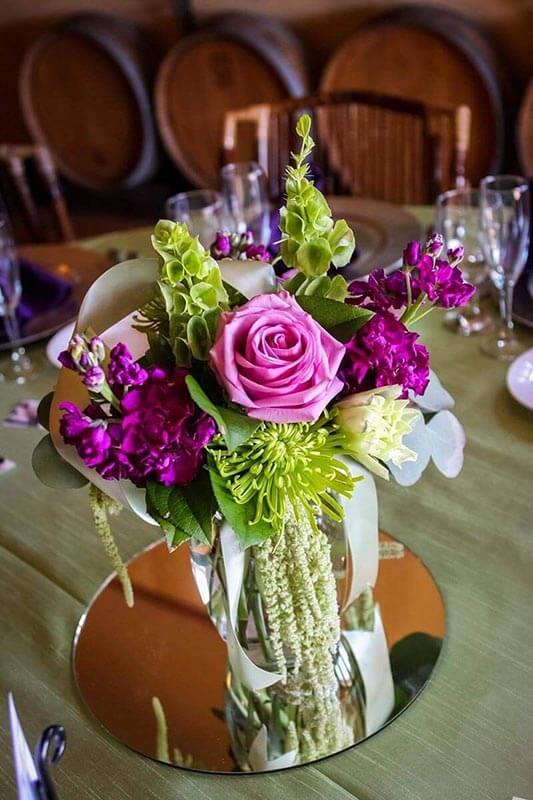 Use Acrylic Risers for Wedding Favors
Wedding favors are a perfect way to show appreciation for guests at your wedding. Instead of delegating someone to pass these favors out, consider using a decorated acrylic riser to store them near the entrance or exit. Risers and pedestal risers come in a variety of shapes, sizes, and colors, allowing for a great amount of flexibility with how wedding favors are arranged and displayed. To make the most of your table space, consider using acrylic shelf risers.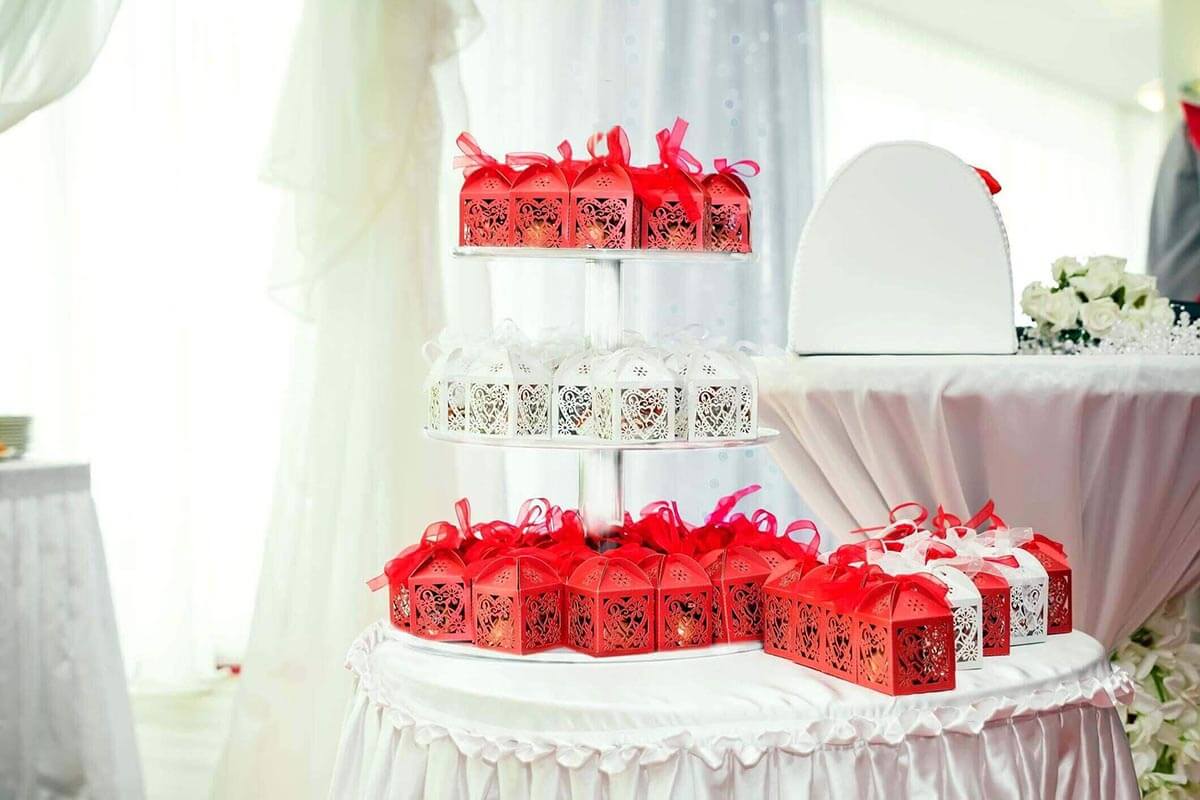 Final Thoughts
With these ideas, your wedding decor can be perfectly personalized and create a stunning, unique wedding day experience. To learn more about our offerings for weddings, visit our category page for wedding supplies and decor. For assistance with custom colors or custom engraving, contact us.