Trade shows are a great way for organizations to find high-quality leads within a well-defined market. While trade shows are generally very beneficial to organizations, they require a great amount of planning and creativity to be successful. With most trade shows requiring a large investment, it's important to ensure that your booth is driving high-quality traffic as effectively as possible.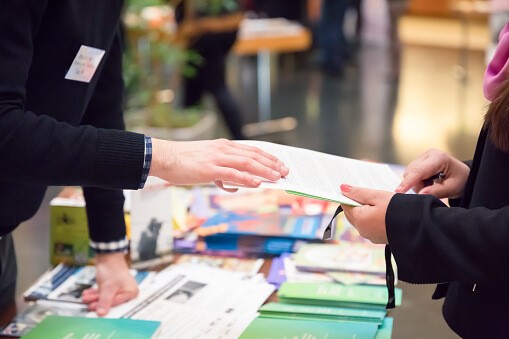 To get more traffic and avoid losing leads to competing booths, organizations must take a few key considerations into account. Read on to learn how to drive quality traffic to your trade show booth.

Plan Your Trade Show Booth Accordingly
The first step to having a successful trade show experience is to know how the space is set up. When looking at available booths, identify main entrances. These primary entrances are excellent locations for a trade show booth since your team can capture leads the second they walk into the show. This is to ensure that your organization is contacting guests before they experience burnout. If all the spaces near an entrance are taken, don't fret! Examine the floor plan and try to reserve a spot on the corner of an aisle, which is another high traffic area.

Next, determine why your organization is interested in being at the trade show. Are they planning to announce a new product or service, or are they spreading awareness about the brand? Or, is your organization simply seeking to collect leads and generate more sales? Identifying your purpose for being at a trade show is important for setting specific quantifiable goals, which will determine if the trade show was a success or not. These goals should revolve around conversions, revenue, or other KPIs. Then, work with sales, marketing, and other stakeholders on the trade show team to ensure that they have all the resources and knowledge necessary to complete those goals.

 
Finally, don't forget to promote your booth. Generate ideas for social media posts that can be shared before, during, and after the show—and don't forget to include your booth number and an event-related hashtag! To generate additional interest for followers, be sure to take photographs of each stage of the trade show process. Then, send out well-crafted awareness emails to your organization's mailing list. This will encourage people that are already in your sales funnel to learn more about your brand.
Create Eye-Catching Trade Show Displays
Once you understand where your booth will be located and how large your space will be, it's time to forge your own branded space in the show. It's important that your brand's space is completely distinguished from other booths, which can be accomplished with a range of branded displays.

Branded Banners
These are particularly useful to create a strong, branded visual effect and share marketing messages. When choosing custom banners, decide whether you'd like retractable banners or non-retractable banners.  Retractable banners are lightweight and durable, with the ability to be stored and moved with minimal effort. On the other hand, non-retractable banners are available in a diverse ranges of shapes and sizes—but must be folded to be moved and stored.

Branded Backdrops
To set the scene for your booth, a backdrop is imperative. Without a booth backdrop, attendees will likely not notice your brand. Not only that, but your booth will look visually unappealing without one since the booth behind yours will likely hide cables, additional promotional materials, and other items behind their own backdrop. This will create a busy, unappealing appearance for your brand's booth. For a comprehensive brand experience, a backdrop is necessary.

Custom Table Covers
A plain, white table is unlikely to create any visual interest for your trade show booth. to help with this, consider purchasing a branded table cover. These tight-fitting covers will create an aesthetically appealing visual for your trade show booth while helping promotional materials on top of the table stand out. When choosing a table cover, consider one that neatly reaches the floor. This way, the area underneath your table can be re-purposed for storage.

Tablet Stands and Pop-Up Counters
To encourage interaction with your brand, consider using tablet stands and pop-up counters. Tablet stands are a great choice for tech companies, or organizations with interactive demos or videos to show off. For organizations that like to have more personal engagements, consider a pop-up counter. These floor standing fixtures can be used to display promotional items, or even double as a checkout stand. Both of these fixtures are easy to disassemble and transport.

Leverage Promotional Items and Events
Preparing Your Team Before the Trade Show
Some conferences will allow sponsors to send out a pre-show email as part of a package deal or for an additional fee. This option can allow you to drive traffic to your booth and encourage in-person meetings. Additionally, your company can consider placing an advertisement in the pamphlet to highlight speakers from your company or encourage booth traffic.

Before the trade show begins, be sure to create a booth schedule and a plan. You may be able to get a list of companies from the show providers before the event, so you can become familiar with the kinds of people attending. You will also want to designate who will stay at the booth to interact with prospects while other members of the team explore the conference for networking opportunities.

Driving Leads to Your Booth During the Show
Once the trade show begins, it's time to encourage visitors to engage with your brand. Generally, fliers and pamphlets are extremely popular for this. However, promotional content can also be useful items that are distributed to guests. Two popular suggestions are branded pens and tote bags—but organizations may see greater success if they distribute useful items that are related to their offerings. For example, a brand that sells products for pet owners should consider distributing branded nylon leashes.

Another way to attract consumers is with promotional events. Consider a raffle for a complementary product or service offering, or create a guess-how-many-game. Games like these are a great segue to getting lead information—with the proper disclaimers, these tickets can be used to collect contact information. Just purchase an acrylic ballot box, and leads will willingly place contact information inside.

Your team can also consider hosting an in-booth event. Some trade shows allow you to book an hour where you can cater drinks or coffee. Hosting an event like this can give your sales team time to connect with prospects and establish those in-person relationships.

Final Thoughts
Once the trade show comes to a close, don't forget to follow up and measure your success. Think back to the goals that your team set before the show—did they exceed these goals, or fall a bit short? Determine whether or not the leads you collected were generally high quality and responsive, too. When looking for areas for improvement, consider optimizing promotional materials or finding new ways for your booth's design to truly resonate with trade show attendees.

Looking to stand out at your next trade show? Take a look at our extensive collection of customizable trade show display and supplies. Or, contact us to speak to an expert today.