Acrylic furniture is more than what meets the eye. Besides having a natural, stylish, and modern edge, acrylic furniture brightens and lightens a room, allowing other furniture to comfortably surround it. It's favorable to integrate acrylic furniture among your other furnishings for its transparency, minimalism, and adaptable way of transitioning into any style. However, even though it is meant to blend, that doesn't mean it will go unnoticed.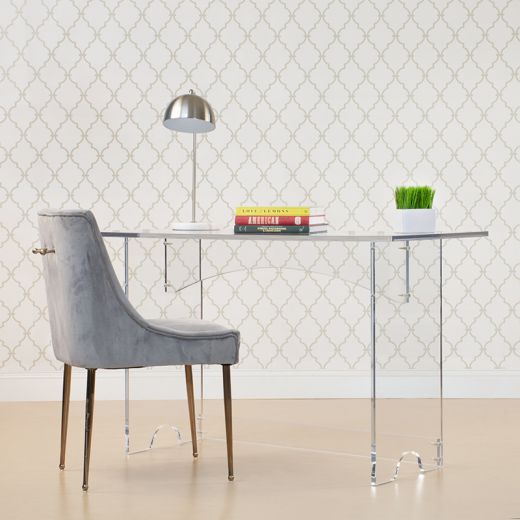 Each versatile piece can provide flawless style and easy function to your space. Learn about ways acrylic furniture can enhance your home.

Declutter Your Room
Popularly chosen wooden or metal coffee tables, desks, and console tables often take up a lot of space in any setting, which can greatly diminish a room's ambiance. However, when you opt for an acrylic piece of furniture, especially one that is completely transparent, you immediately create a sense of airiness to any atmosphere. In small settings we must think outside of the box and add transparent and reflective elements to create the illusion of extra space. Acrylic furniture is key in making this impression.

 
Add Color or Texture to Your Environment
Creating eye-catching and contrasting combinations is one of the paramount rules to great design. Upholster an acrylic chair with beautiful graphical patterns to bring attention to vivid details or add a lustrous table runner across an acrylic console table to further accentuate novel household items. It's a simple and clever way of drawing attention to a specific design element without overpowering the rest of your decor.

Add Light to Dark Spaces
No one likes a dreary setting, however sometimes we are not in control of our surroundings. In rooms with limited windows or light, it is best to avoid dark furnishings that can make the space feel small and drab. A perfect solution to creating a spacious, bright feel is to adorn it with beautiful pieces like Lucite end tables or book shelves that offer a simplistic and transparent touch, thus keeping your room feeling fresh and inviting.

Browse Our Collection Now
Browse shopPOPdisplay's unique selection of plexiglass, Lucite, and acrylic furniture today to add a modern and unique style to any room.