At shopPOPdisplays we offer a wide selection of hand-crafted LED pedestals. Versatile in design, these LED pedestals are available in a variety of finishes including wood veneers and laminates. They can be made to order and are instrumental in safeguarding and beautifully illuminating products, artwork, collectibles, antiques, and more. Listed below are 5 popular venues where our lighted pedestals can be used to enhance your products or prized possessions.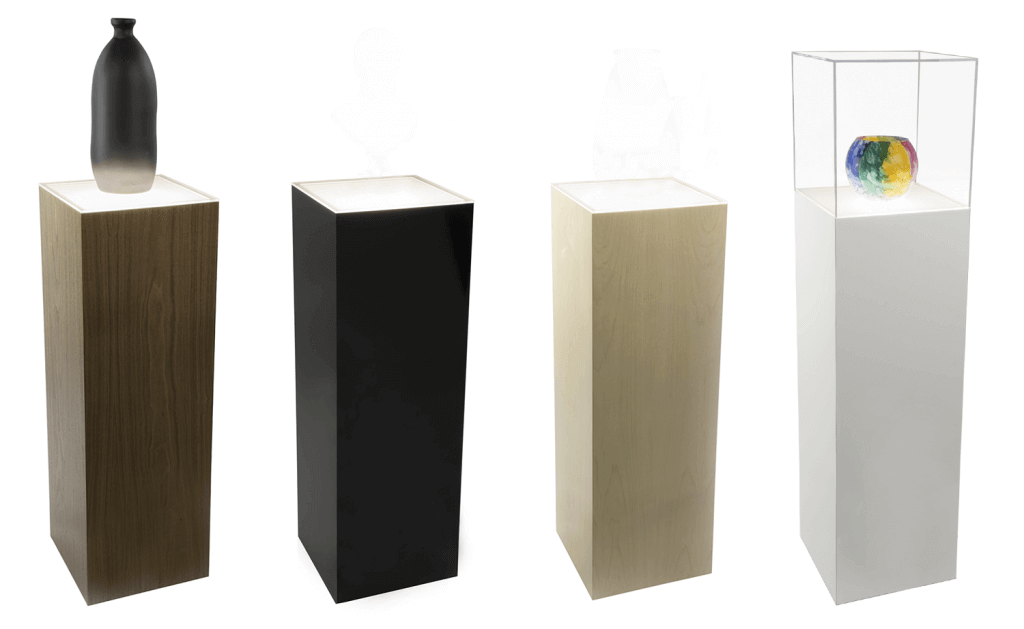 Galleries
From displaying sculptures and statues, to ceramics, art galleries and exhibitions are on a constant hunt to highlight artists' work using the most effective, modern methods. LED pedestals make an ideal display base for these items, elegantly accentuating the brilliance and details of each individual piece.

Special Events
Using LED pedestals for special events such as, weddings, bar mitzvahs, birthday parties, fairs, galas, and fundraisers offers a sleek enhancement to the event's ambiance. LED pedestals are often used to spotlight decorative accents such as floral arrangements, plants, centerpieces, and sculptures. Easily transportable, lighted pedestals are a practical and stylish solution to your propping needs.

 
Schools
From art shows to debate club, there are a plethora of school activities where lighted pedestals can be useful. Cool and contemporary in design, these cost-effective pedestals offer an ambient light that can properly show off student work or help set the stage to a school event. Available in a variety of wood or laminate finishes and sizes, they can be customized to your requirements and come with or without an acrylic cover.

Your Home
Whether you want to show off your favorite sculpture, plant, vase, or cherished heirloom, using an LED pedestal offers the perfect dramatic touch to your living space when highlighting a prized possession or decorative accent. Select a pedestal with a finish that coordinates with the rest of your decor and situate it in front of a window, staircase landing, or alcove for the perfect sophisticated touch. Make the pedestal a part of your furnishings, while enhancing the objects you love.

Retail Stores
Highlighting top-selling merchandise is a major priority for retailers big and small. Whether you are a jeweler looking to display lush diamonds or a mom and pop house-ware shop looking to showcase handmade ceramics, an LED pedestal will catch the eye of your consumer. Made in a variety of sizes with optional acrylic covers, our LED pedestals are a charming match to your products.