When people think of LEGO®, they often visualize the massive sets that builders spend hours putting together. But LEGO® fanatics know that LEGO® minifigures play a vital part in a builder's collection, whether they're accompanying a large set or simply standing on their own. With that in mind, you might be looking for some LEGO® minifigure display ideas to showcase your favorites and also keep them dust- and fingerprint-free. Fortunately, we have some advice for you.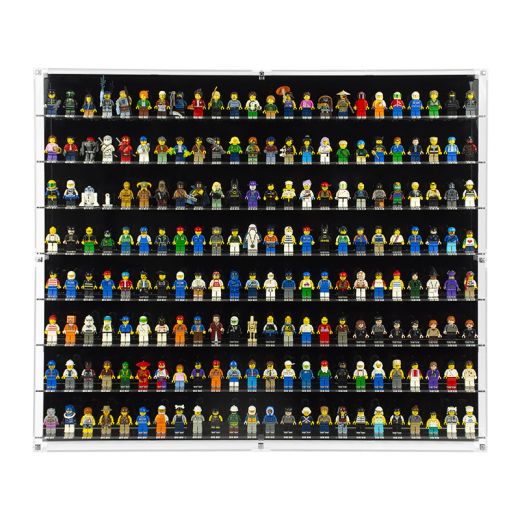 LEGO® Minifigure Display Ideas
Keep them behind glass
LEGO® minifigures come in a variety of shapes and sizes. One of the easiest LEG minifigure display ideas for your more prized minifigures is a display case from shopPOPdisplays. These clear acrylic display cases are specifically crafted to enhance the beauty of your minifigs while keeping them safe and organized. Each one has a magnetic front panel to easily add or change your collection, and every case is multi-tiered with a series of clear official LEGO®® studs to securely accommodate your minifigures along with all their accessories.
Use tiers
Another great LEGO® minifigure display idea is placing them at different heights with stair displays, like this Three Step Stair Display and the Wide Acrylic Three Step Riser. The clear acrylic puts the spotlight on your LEGO® minifigures and it's sturdy enough to keep them all upright.  Want to keep them away from other's hands? You can easily place the risers in a glass cabinet or a bookcase with glass doors.
Mount them
The right LEGO® minifigure display idea comes down to how you plan to use them. A shadow box can be a great option if you just want to look at them. You can glue the minifigures into place and then mount the shadow box to the wall to save counter space. Shelves are also a great space saver. Hang them at different levels and glue LEGO® base plates to them to keep your minifigures in place.
Create a scene
A fun LEGO® minifigure display idea is to position your LEGO® minifigures together to create scenes from your favorite shows and movies. Luke Skywalker can take on Darth Vader, while Harry Potter battles it out with Voldemort. You get the idea…
Frame them
An open-door frame can hold our minifgs in an eye-catching way. Paint the frames in different colors to complement your assortment of minifigures, which can be attached to base plates positioned within the frame. It's an easy and fun DIY project.
Tips to Preserve Your LEGO® Minifigures
Position out of sunlight
The sun's UV rays can damage your LEGO® minifigures so it's best to keep your displays away from windows.
Handle with care
While you certainly want to enjoy your LEGO® minifigs, each time you pick one up you transfer the oils from your hands onto the minifigure. Make sure you wash your hands well before handling your minifigures. If you want to go that extra step, you can also wear gloves when holding them.
Store them safely
If you want to keep your minifigures tucked away, be sure to store them properly. Use clear plastic containers so you can easily find your minifigures. Some ideas include a tackle box so you can put one in each compartment or place each LEGO® minifig in a sealable plastic bag and then place them in the container.Top of Form
Check out shopPOPdisplays' selection of LEGO® displays for your minifigures, as well as your larger sets.