People of all ages spend hours building with LEGO® and when all of their hard work is done, they want to proudly display it in the best way possible. But your LEGO® display isn't just about showing off your build—it can also add a unique touch to your space's overall décor. Whether you want it front and center in the family room or want to keep it in a safe place in your home office, there are plenty of creative ways to display your LEGO® sets. From large builds to action figures, here are seven creative ways to display your LEGO® treasures.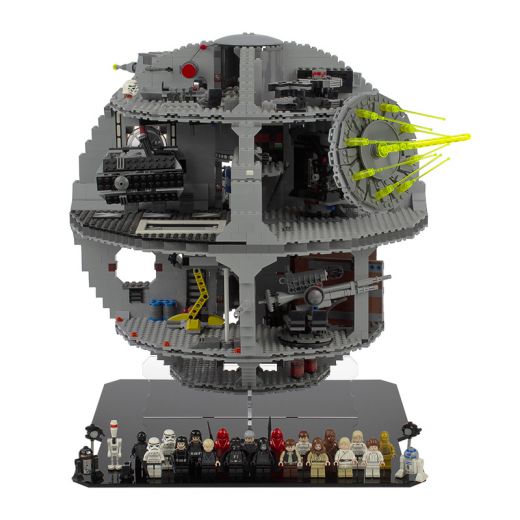 Display Cases: The Display Cases for LEGO® sets at shopPOPdisplays are an easy—yet stunning—way to give visitors a 360-degree view of your LEGO® builds. We offer assembled and ready-to-assemble case styles in various sizes and styles, so you'll find one that can perfectly spotlight your creations.We also have standing display cases that will allow you to showcase multiple builds. Our 3′ Wide Wooden Lighted Floor Standing Display Case has sliding glass doors to keep all of your work safe, as well as a mirrored back to give your displays more depth.
Bookcases: A sturdy bookcase with adjustable shelves can enable you to set up LEGO® builds of different shapes and sizes. Put your most prized sets on the top, or even better, invest in a bookcase with doors so you can keep your builds safe from harm (and fingerprints!).
Display Shelves: Place your LEGO® sets on shelves at varying heights to create eye-catching displays. Of course, you can buy shelving, but you can also create one-of-a-kind shelves with extra LEGO® pieces!
Acrylic Risers: Have particular LEGO® builds that should stand out from the rest? Put them on acrylic risers. shopPOPdisplays has them in a variety of sizes, so you can set your builds at different heights. And the acrylic material puts the spotlight on your set—not on the riser.
Floating Shelves: Buy floating shelves and paint them in different colors for bright and bold display options for your LEGO®. Want to get even more creative? Hang wooden crates at different levels and we offer them in various colors to complement your builds and décor.
Ceiling Hangers: If you're an avid LEGO® builder, you probably have quite a few sets to show off, so you'll want to utilize all of the free space you can. Hanging your larger builds from the ceiling with not only save floor and wall space, but visitors will feel like they're stepping into an actual toy store when they walk through the door!
Lego Stands: Our selection of LEGO® stands allows you to position your LEGO® build for optimal viewing. Whether you want to place it on a display pedestal or behind glass doors, these stands will be able to dynamically and securely hold it in place for a flawless display.
Want to learn more about our Display Cases for LEGO® sets? Check out this YouTube review and don't hesitate to reach out to our customer service team with any questions.