The COVID-19 pandemic has changed office spaces as we know them. Back in March, many companies made the difficult decision to move employees to a work-from-home platform for safety purposes. Now, some companies are starting to consider the idea of transitioning back into the office. From safety barrier installation to permanent sanitation signage, the office is going to look far different upon return. Keep reading to learn about some major changes we expect to see in offices in the coming years.
Permanent Barriers Between Desks
The reopening of offices post-COVID will likely call for permanent barriers between commonly used areas, such as personal desks. Since employees typically sit at their desks for the majority of the day, this is one of the most likely areas for transmission of viruses. 
In some smaller offices, cubicles are tightly packed together to conserve space. This can be problematic when it comes to social distancing due to the close proximity of employees. Our cubicle wall extenders offer a simple solution to this problem. These cubicle extenders help to protect your cubicle and desk area without reducing the visibility of those around you.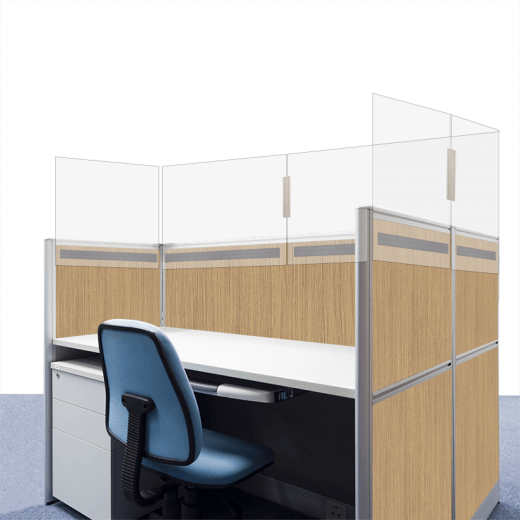 Push Toward Touchless
The CDC has discovered that the COVID-19 virus can survive on some surfaces for several days at a time, which means high contact surfaces can pose a huge risk in the workplace. One high contact area that will soon be phased out is door handles. Employees will likely move to a card entry system for all doors so there is no contact required. This has the potential to help decrease the transmission of COVID-19 and other viruses.
Similar to doors, the kitchen is a high contact area. From the coffee maker to the refrigerator handles, there are many surfaces that are frequently touched. Similar technology will likely be used in the kitchen, moving toward appliances that are controlled by an app to limit the amount of touch needed in these areas.
Widely Available Sanitizing Stations
While most offices had hand sanitizing stations installed even before the pandemic, they are typically not widely available throughout the office. Offices will begin to add hand sanitizing stations to just about every corner to encourage their employees to keep up with best hygienic practices. Although this method is not as effective as hand washing, it is more convenient for busy individuals on the go. Our hand sanitizer holders are a simple way to offer sanitizer throughout your office space. This sleek holder fits an 8 ounce bottle of sanitizer and can be mounted to any wall within a matter of minutes.
Flex Schedules Will Become More Common
Remote work has become far more common due to the COVID-19 pandemic. Many offices have moved to an entirely remote platform to protect their employees against the virus. Others have chosen to take safety measures within the office to make their employees feel more comfortable returning. Either way, the traditional in-office 9 a.m. to 5 p.m. will likely begin to be phased out this year in many companies.
A majority of businesses are hesitant to switch to a fully remote workplace because of the fear of lower productivity and fewer collaboration opportunities among coworkers, which is where flex schedules come into play. A flex schedule is where employees are assigned certain days of the week where they are required to come into the office. On the other days of the week, they are allowed to work remotely. The purpose of a schedule like this is to keep your team members on opposite schedules, which prevents your office from ever being at full capacity. Flex schedules offer a happy medium that allows for social distancing and safer collaboration.
Meeting Rooms with Social Distancing Barriers
Meetings make up a big chunk of the day for many employees. After all, they foster collaboration and are often where innovative ideas are created. Many businesses are struggling to adjust to solely virtual meetings. Unfortunately, they just can't offer the same personal connection that in-person meetings do.
Meeting rooms will likely become a place where barriers are installed so in-person collaboration can be a feasible option. Our modular clear table divider features four-way division that creates four seating pods for your meeting table. This allows your employees to sit close by and have a conversation while still taking extra precautionary measures. The transparency of the plastic divider allows for great visibility and face-to-face interaction while still maintaining the necessary physical separation.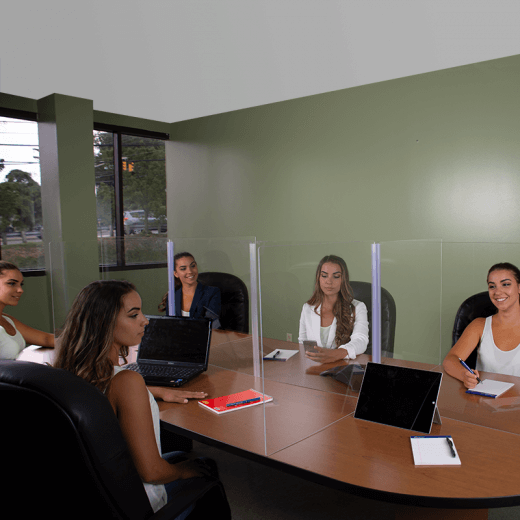 Common Areas Will Look a Little Different
In the past, common areas were one of the most frequently used spaces in the office. With the prevalence of COVID-19, this has changed entirely. For the companies that have made the transition back to in-office work, most are blocking off common areas entirely or have limited their occupancy.
Common areas will likely become sectioned off to promote social distancing. We expect social distancing barriers to be added in any frequently used spaces, such as your office break room. Our cafeteria table divider is perfect for your break room. It divides your table into six isolated seating areas, which makes it easy for employees to still gather around for lunch while maintaining physical separation.
Signs are Here to Stay
With the pandemic has come plenty of signage that promotes social distancing and appropriate hygienic practices. With a long-term social distancing plan in mind, we expect signage to stick around for the long haul. Signage provides a constant reminder to follow guidelines such as those for distancing and handwashing that prevent the spread of viruses.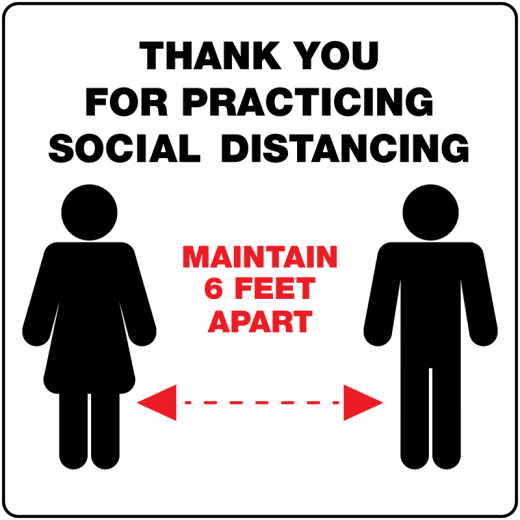 Flexibility Will Be Key
At the end of the day, we can never be entirely sure what the future will hold for office spaces. While the COVID-19 pandemic has certainly changed how we view traditional office settings, there's no denying that an in-person work environment still serves an important purpose that is valued by many companies. Although remote work has recently boomed in popularity, we don't see offices being eliminated anytime soon, so it's wise to prepare your space for whatever the future may hold.