Display pedestals are viewed by artists and designers as an important element in creating interest for their art display. Since provoking interest in the piece of art is so important, choosing the right pedestal for your display can make all the difference. Display pedestals are being used more than ever, for both function and design. They are chosen by designers in a variety of sizes, shapes, and materials to create striking displays. Wood and acrylic display pedestals from shopPOPdisplays offer a wide array of benefits for curators and art collectors alike who are looking to add valuable art in a museum, gallery, or home. Listed below are 5 benefits to showcasing your artwork with our wood and acrylic display pedestals.

Height
Our wood and acrylic display pedestals bring art closer to eye-level for audiences, which makes it easier and more enjoyable for individuals to view art. Pedestals and pedestal risers are designed to solve problems, creating an accommodating and elegant way to display. At shopPOPdisplays, our wood and acrylic display pedestals are available in a multitude of sizes and heights. We understand that every environment is unique, and every display has its own specific set of requirements to reach maximum potential. Our expansive inventory allows you to choose the right pedestal to showcase your art.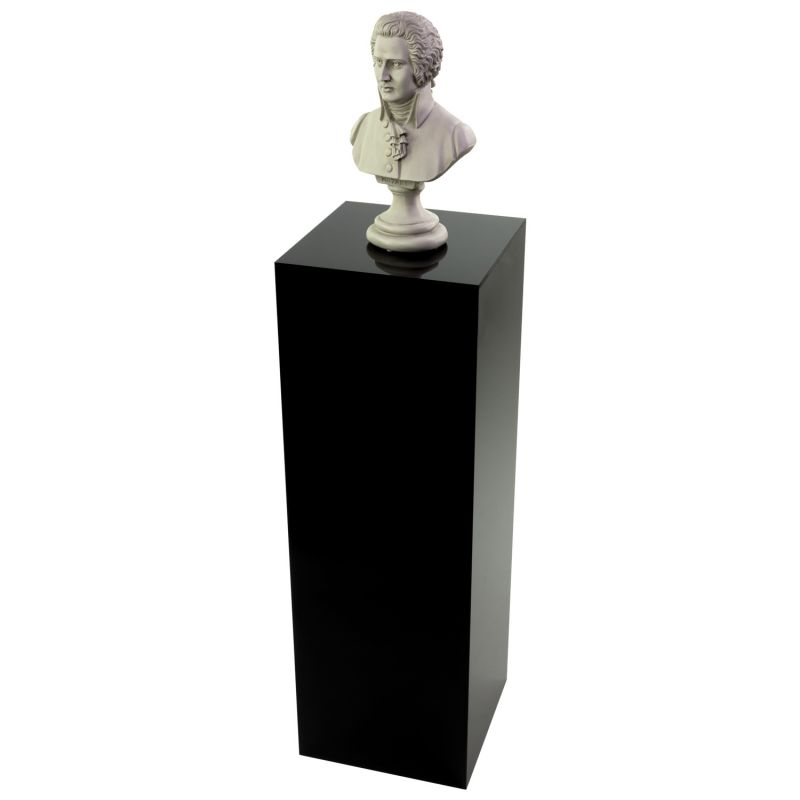 Durability
Our wood and acrylic pedestals are designed to be long-lasting and durable so your artwork and valuables can be securely placed without worry. Available in varying materials, we have pedestal options that suit every need. Wood pedestals support heavyweight items whereas our acrylic display pedestals support many items, but are better suited for objects less than 75 lbs.

 
Design
Pedestals not only highlight art, but they bring a sense of architecture to a room. As items of furniture pedestals are versatile, take up little space, and come in a range of styles that offer a beautiful aesthetic that will complement any decor or environment. A pedestal can add depth to an awkward space or can be used to help divide small areas to make space appear larger.

Additionally, minimalist designs love acrylic display pedestals for their clean and simple aesthetic and ability to subtly blend into any environment. Transparent and mirrored acrylic display pedestals are popularly used as part of focal points in living spaces as well as galleries and professional environments whereas wood pedestals are a favorite feature inside of retail environments as sleek POS (point of sale) stations.

Presentation
Our wood and acrylic display pedestals offer a striking presentation for your artwork in any atmosphere—offering a warm and elegant aesthetic that adds a sophisticated presence to any professional or personal space. Our transparent, mirror, color, and frosted acrylic display pedestals offer a sleek, minimalist touch and make perfect accent pieces inside of our apartments, studios, galleries, and retail environments. When choosing to display artwork on the glossy surface and high transparency of our clear acrylic display pedestals it not only adds elegance to your work but also allows individuals to view objects at any angle.

Color and Lighting Options
LED-illuminated display pedestals elegantly highlight any piece of artwork on it. Our selection of lighted pedestals offers both beauty and versatility to your exhibition or display. LED underlying can provide white light to prevent shadowing; truly drawing attention to your pieces in an effective, eye-catching way. Our lighted display pedestals are perfect for galleries, museums, educational art events, and professional exhibitions.