Is Retail Dead? Well, if you ask us, and we ofered our opinion on business.com, our answer to the question is NO. With more than 50 combined years of retail, digital and communications experience, the eCommerce team at shopPOPdisplays.com is embracing the mantle of thought-leader in the business space.

Retail Dead? Not, but in Need of Transfusion
While the "glory days" may be over, at least according to Forbes.com, what remains is "a chance for many others to right size, and re-imagine their role and purpose in a rapidly changed world."
The article goes on to say that with
"Skyrocketing retail rents, the crippling costs associated with failing to appropriately strategize inventory optimization and supply chain strategy coupled with customers being less than satisfied by insufficient in-stock inventory, if you're not Walmart, what's a business owner to do? "
Transfusion=Reinterpreting our Roles
Click the image to see the full-size infographic.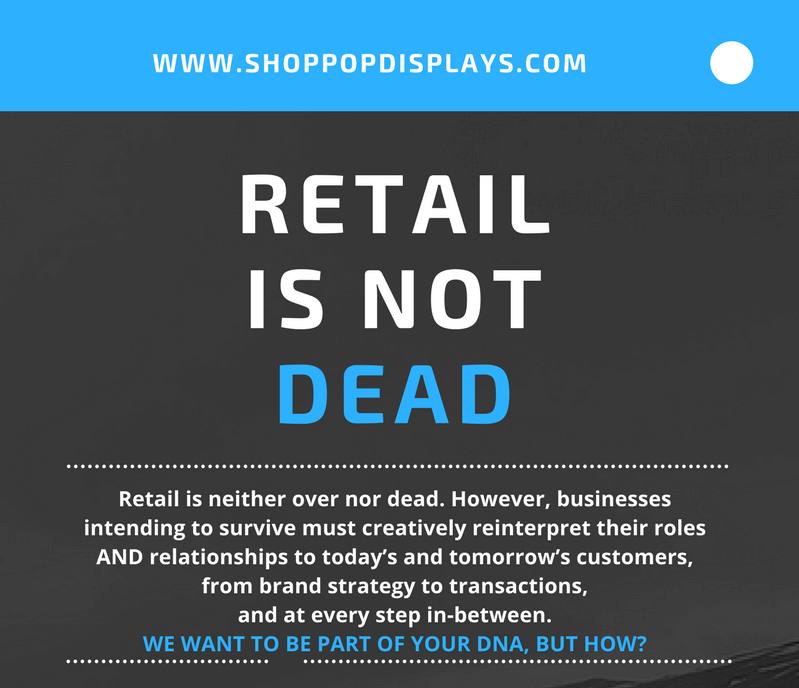 Click the image to see the full-size infographic.
"From the article, "Retail is neither over nor dead. However, it is incumbent upon businesses intending to survive to creatively reinterpret their roles and their relationships to today's and tomorrow's customers, from brand strategy to transactions, and at every step in-between. It's about value proposition and about brand."
We've created a handy infographic with tips from the article. Want to read the article? Click this link, and feel free to share.