Imagine a pedestal as the stage for your sculpture. The pedestal calls attention to your sculpture and tells onlookers that the piece atop it is special or significant. While pedestals assume a subordinate position to the sculpture, they certainly can make a sculpture stand out. By negotiating the area between the ground and the sculpture, the pedestal plays an important part in the comprehension of space. That is why it is important to choose a pedestal that will complement the sculpture and create the most harmony within the theme of the room.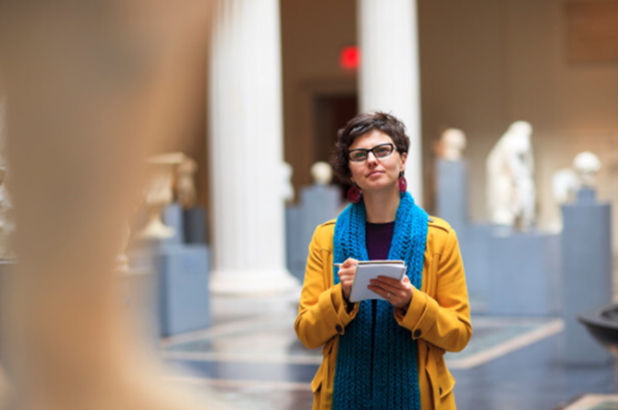 There are several factors to be considered when choosing sculpture pedestals.

Selecting the right variety of pedestals can at first, seem like a daunting experience. The choices can seem overwhelming—rectangular pedestals, rounded pedestals, and wall pedestals are just a few pedestal varieties to consider. The ideal pedestal will be different for each sculpture, depending on what will be on display as well as the traits and features of the display space. Some pedestals are better suited to presenting certain sculptures than are others.

Since every sculpture is unique, it is important to ensure that you select the correct display pedestal for your sculpture out of multiple styles and sizes of display pedestals available. Let's look at some of the choices you will want to consider.

Consider the Sculpture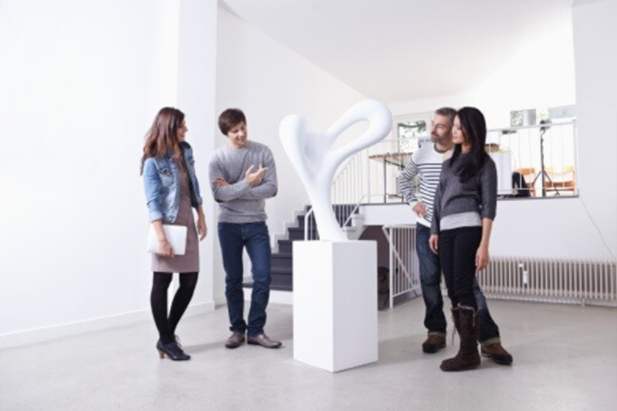 The primary goal of a pedestal is to add visual interest to your sculpture. When choosing how to best display your favorite sculptures, pedestals ensure that the viewer's attention is focused on your piece, while adding a classical style to the sculpture on display. Instead of choosing a pedestal simply to complement the room, designers should also choose a pedestal that will match the color scheme of their featured artwork.

The first step in choosing the right display pedestal for a sculpture is to closely examine the piece that will be displayed. Take note of the color and form of the sculpture, as this will help suggest potential colors and styles for the pedestal. It's extremely important to ensure the pedestal complements your sculpture's colors without taking attention away from the piece. The pedestal should enhance the artwork, not overpower it.

For example, a sculpture with muted, copper-toned colors should not be paired with a glossy, fluorescent-colored pedestal, as the pedestal will take attention away from the piece. Try to examine your sculpture and isolate one dominant neutral tone. This will create harmony between the pedestal and the sculpture.

Historically, the color and the style of pedestals were chosen simply. Sculptors would create their artwork, and then rest it upon a block of the same material from which the piece had been sculpted. For example, a shining marble statue would rest upon a polished block of marble from a similar quarry. Over time this norm has become much less strict. Today, there is much more artistic liberty when choosing display pedestals for your sculptures.

Consider the Pedestal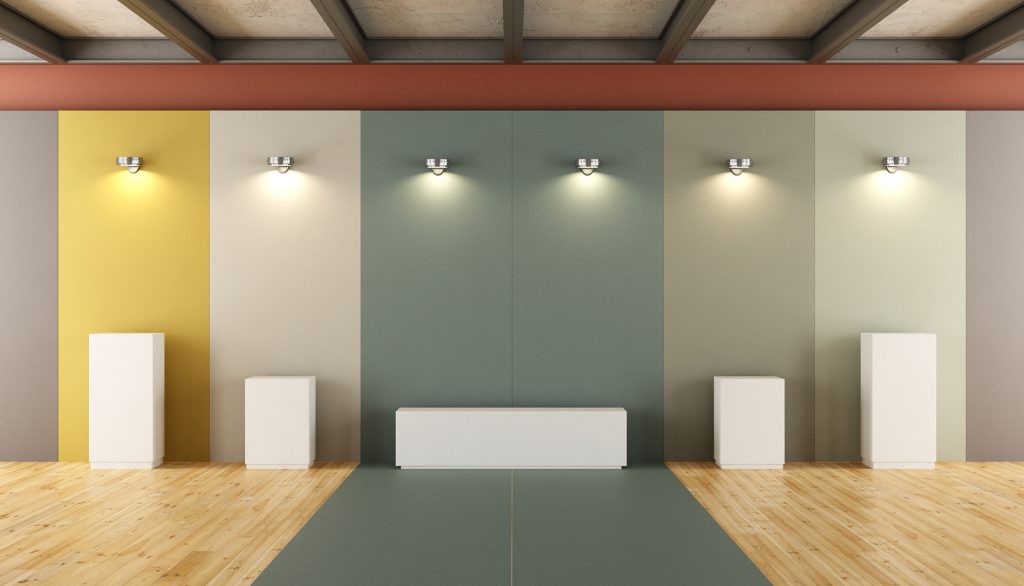 Placement
It's important not to overlook the impact that a pedestal can have on a space. Creating a space for the sculpture to be enjoyed is an important component of displaying any artwork. According to the International Journal of Tourism Research, viewers want the ability to have a personal connection with the art they view. Curators can create this personal connection by providing viewers with enough space to enjoy the artwork and working to improve the contextual nature surrounding the art. The placement of the pedestal, the colors of the pedestals, frames, and walls, as well as the number of items in each room, should be taken into consideration.

Decide where your display pedestal will be placed by performing a walkthrough of the room and take note of which paths are convenient to move through. It's popular to place pedestals either along these walking paths, in the center of the room, or a corner of the room. This widely depends on what perspectives and angles are most important when viewing the sculpture.

Consider which artwork will be the main focal point for the space and how many pieces to include in a gallery space. This will help you place the pedestal in the perfect location. For example, a bust could be best enjoyed in a corner, while a detailed piece should not be placed adjacent to the wall. Consider how your viewer wants to interact with a given piece and tailor your layout accordingly.

There are several factors to consider when determining the right dimensions to your display pedestal. It is necessary to determine which angle or level the sculpture should be viewed at, how it integrates into existing features of the display space, and also how wide the desired sculpture will be.

Read the Room
It's also necessary to ensure that the pedestal and sculpture are in harmony with the rest of the room. Choosing a color for your pedestal is an important component of that harmony. It's important to ensure your pedestal's color doesn't clash with the wall color, furniture, or floor.

When choosing the color for your pedestal, it is important to imagine the color scheme of the room it will be placed in. Color schemes for the pedestal and the room should be chosen simultaneously. This will help your pedestal give a unified look to the room and offer a smooth transition from the design elements of the room into the sculpture.

White or light greyscale walls can support a wide variety of pedestal colors and finishes. Many collections utilize white and off-white walls, which pair exceptionally with a white pedestal, a very popular color for curators.

Depending on the theme of the room holding the pedestal, some unconventional color and style choices can add even more visual interest. If a pedestal differs from the rest of the space due to its color or material, then it will become separate and distinct from its surroundings while still calling attention to the art piece resting atop it. Depending on how much focus you would like on the pedestal and sculpture versus the rest of the room, this may or may not be desirable.

One example of this is a showroom for Krueger International designed by Eric Bartelt. While designing a showroom, he decided to use green turf-style carpet to coat the floor. On top of this carpet, he placed a red, plastic laminate pedestal that took on an abstract shape. This complementary pairing created a daring visual contrast and created an art piece out of the sculpture itself. While this pairing makes quite a visual statement, these bold pairings are for niche situations only. For a space that is not trying to make such a strong artistic statement, it will generally be better to use muted colors.

One of the simplest ways to choose the correct color and style of the pedestal is by examining the floor. Since pedestals exude from the floor, use a color that matches a piece of the floor's color scheme or design. This will create a seamless transition from the floor, to the pedestal, to the sculpture. For example, a floor made from white laminate would pair well with a white pedestal with wood veneer derived from a similar species of wood. Remember that a neutral tone will almost always be simpler to pull off as opposed to be a bright and bold hue.

You could choose to eliminate color entirely and opt for a ghost pedestal. Ghost pedestals are made from clear acrylic, and their transparent appearance will let them blend in with almost any room. In fact, clear acrylic offers better clarity than glass! Clear acrylic pedestals can also help to play up a modern and minimalist theme in the room, making them a popular choice for collectors everywhere.

Finding the Viewer's Perspective
When deciding on the best display pedestal for your sculpture, you will want the pedestal to be the proper height to show off your sculpture. A sculpture on a short pedestal may be overlooked, but a tall pedestal will have viewers craning their necks or missing important details about your piece of work.

To help determine the proper height, Identify your audience. Your audience should be able to view the focal point of the sculpture at eye level when standing, which for the average height adult is about 62 inches high. When sitting, the average adult eye level becomes 29 inches plus the height of the seat, which usually totals approximately 48 inches.

If the sculpture is meant for children or other people that deviate from an average adult's height, you may approximate eye level by measuring the distance from the horizon, which is likely the floor, to the bottom of the subject's eye. Keep in mind that for the average standing adult, the focal point of the sculpture—not the pedestal itself—must be about 62 inches high. As a result, the pedestal selected should be shorter than 62 inches to elevate this focal point. Don't fret if your sculpture doesn't fully rise to eye level! Acrylic blocks or acrylic pedestal risers can be used to provide a bit of variation in height.

To assist with choosing the approximately sized pedestal, here's an at-a-glance guide to selecting a pedestal for standing adults:

A sculpture with a focal point that is 12 to 24 inches tall should go on a 42-inch pedestal
A sculpture with a focal point that is 30 to 36 inches tall belongs on a 36-inch pedestal
If the sculpture is over 36 inches, consider a 24 inch or shorter pedestal
Most sculptures are best displayed at eye level, but some sculptures will not follow this norm. Some less conventional sculptures are better viewed at an upward or downwards angle, meaning your pedestal should be taller or shorter to account for this. Taller sculptures or statues with several potential focal points may demand additional attention. For these sculptures, take time to determine the main focal point of the piece. Then ensure the pedestal will elevate this focal point to eye level. By ensuring that guests can view your sculpture at the ideal angle, your pedestal will add a considerable amount of beauty to the space.

Be sure that the pedestal is not the same height as other nearby surfaces in the room. This means that to maximize interest in a room, your pedestal should not be the same height as a nearby couch or table. Similarly, if pedestals are grouped together, they should also be of differing sizes.

It is also important to determine the pedestal's height relative to the ceiling. The ceiling places a hard limit on how high your sculpture can be placed. For smaller pieces meant to be viewed at eye level, the ceiling is less of a concern compared to larger pieces. For larger sculptures, a low ceiling can make the space feel cramped, which can make the entire room less visually appealing and squander the potential of the large sculpture.

Determine the Right Width
Even though height is extremely important when choosing your pedestal, the width should not be ignored. A pedestal of the optimal width will lessen the pedestal's total footprint in the room, which is important when the sculpture should be the main focal point.

Pedestals should be slightly wider than the piece's widest point. For example, imagine a vase that is thin at the base that then flares out and becomes wide at the top. This vase should be placed on a pedestal as wide as the top portion. This will help to create a sense of balance.

Choosing the Right Styles
Round Pedestals
If the display space is quite small, consider rounded pedestals. For some crowded spaces, the conservation of blank space is a primary concern. In these situations, rounded pedestals are a prime choice. These display pedestals minimize their own appearance, lending more attention to the piece that sits atop them.

They can also help improve the aesthetic of the sculpture or display space. For example, a sculpture with a rounded base may blend into a rounded pedestal much better than a rectangular pedestal, creating greater harmony between the piece and the pedestal. Round pedestals can also help "soften" the appearance of a room. If the room contains a lot of angular shapes or harsh lines, round pedestals will counteract this effect and add a little more balance to space.

Wall Pedestals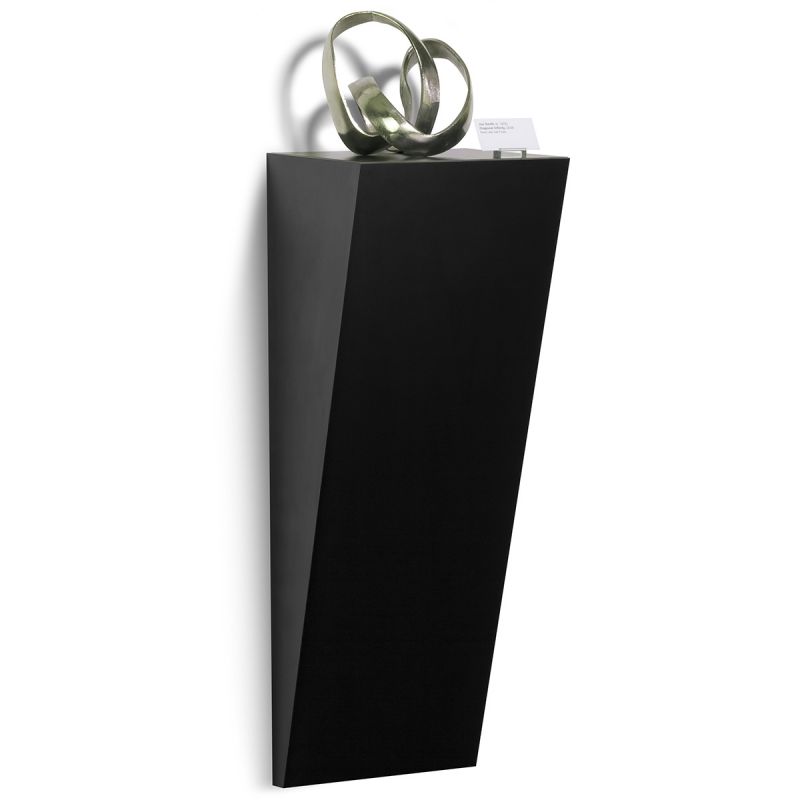 When floor space is extremely limited, wall pedestals truly shine as they don't consume any floor space at all. Wall pedestals accomplish a similar task as shelving would, except these pedestals can often support more weight than shelves and they also create a sleeker presentation for your artwork than a simple shelf could.

In addition to saving floor space, wall pedestals are also able to be affixed exactly at eye level. This makes them extremely adaptable to a range of audiences and art pieces. Many pedestals must be selected with a specific sculpture in mind, but wall pedestals are a bit more flexible. For example, imagine replacing a small bust with a tall, full-body sculpture. These pieces have two completely different focal points. Typically, to ideally frame this new sculpture, a new display pedestal would also be needed. With wall pedestals, the pedestal can simply be moved closer to the floor, bringing the focal point to eye level as needed.

Portable Pedestals
Portable pedestals have a collapsible design, making them easy to move and reducing the risk of breakage. Reassembly is typically quite simple and only requires a flathead screwdriver as a tool. However, be aware that these pedestals cannot support as much weight as a standard rectangular display pedestal. While a rectangular pedestal can support about 100 pounds, portable pedestals should only hold 30 pounds of weight.

Rectangular Pedestals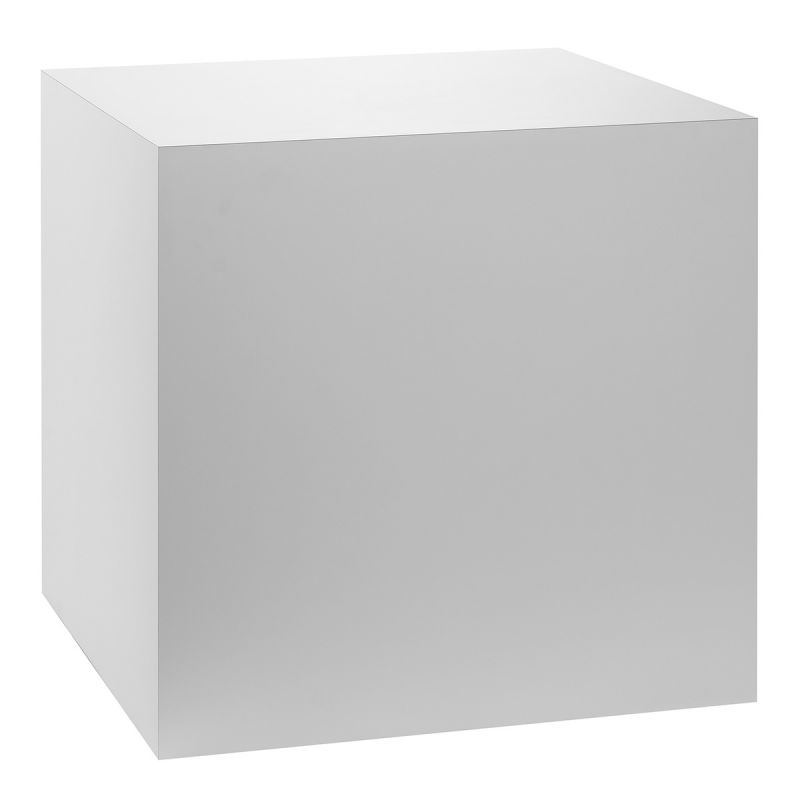 Rectangular pedestals are an extremely popular choice among collectors. This is due to their sleek modern appearance that is available in a range of colors and finishes. Rectangular pedestals can bear much more weight than other pedestal styles. These pedestals are a great choice for any sculpture with a squared base, and often will easily blend into the background of any room, while highlighting the artwork. For that reason, rectangular pedestals are a popular choice for collectors.

Lighted Pedestals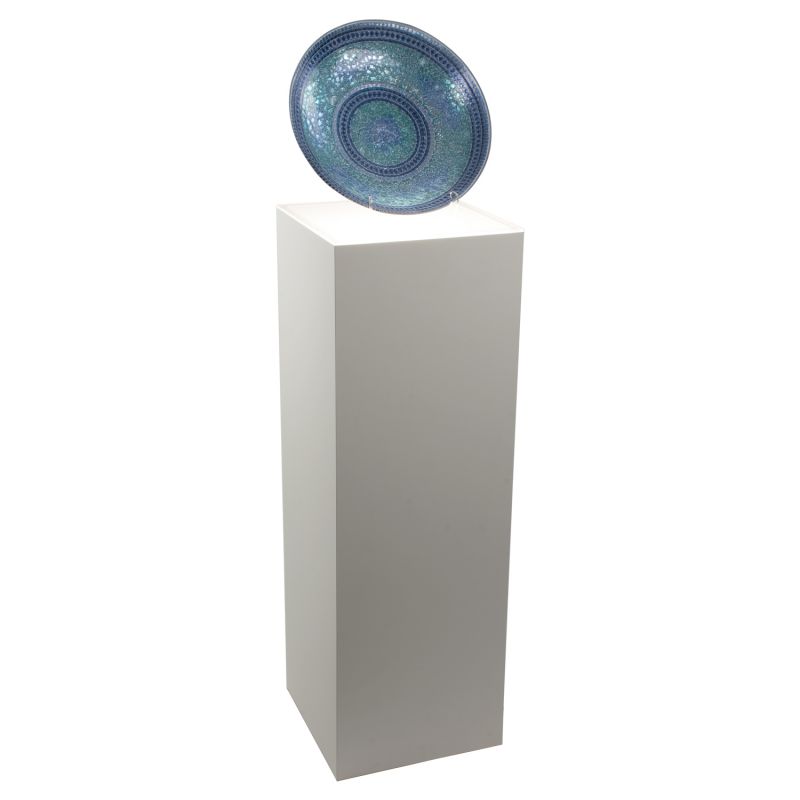 Lighted pedestals displays typically have built-in LEDs which will highlight your pedestal from below. LEDs are the ideal light source for these pedestals since they emit low amounts of heat. As a bonus, LEDs are extremely energy efficient and have a long life! When done correctly, a pedestal that is lit from the bottom can call far more attention to the sculpture than ambient light alone.

Some sculptures will look more appealing on lighted pedestals than others. If your sculpture is transparent or semi-transparent, the lighting from the pedestal will allow it to shine and be more conspicuous in the displaced space. In many other sculptures, underlighting is not commonly seen in the natural world. For collectors that wish to create a striking, unconventional look, lighted pedestals are optimal.

Consider the Fine Details
When deciding on a display pedestal for sculpture, it's important to consider small details that can make a big difference in presentation. Good lighting is extremely important for proper presentation, as it allows the curator to control how shadows fall on the piece. Some pieces look best with their shadows minimized, but some sculptures become more stunning when their shadows are played up. Keep in mind that selecting the right lighting is quite subjective. Consider the following:

Small to medium structures will often benefit from lighted pedestals, especially if dimming options are utilized.
Large sculptures often require a dedicated light source exterior of the pedestal or rely on ambient lighting.

Last, don't forget about the array of add-ons and features for pedestals. For example, a turntable can add a dynamic element to your display pedestal, allowing the viewer to explore new angles without touching the piece. This also allows for greater flexibility with pedestal placement. A toe kick may be a favorable design choice for some collections. This look is often inconspicuous but adds elegance and allows viewers to get even closer to the decor. Lastly, locking mechanisms may prove invaluable to some sculptures. Locking covers will help protect high-value pieces from not only dirt but also thieves looking to pilfer your prized pieces.

Final Thoughts
Pedestals provide an excellent and aesthetically pleasing way to display your sculpture inside of your home, office, or collection. A well-chosen pedestal can even be appreciated as a piece of art.

With a wide variety of colors and dimensions for your display pedestal, determining the ideal height, width, and style for your pedestal will give your sculpture its best possible presence in a room.

By following these tips, you will be able to effectively choose the perfect platform to display your favorite sculpture.

Be sure to select a pedestal with the important features you require. To learn more about available varieties of pedestals or request a custom pedestal, visit our wide selection of pedestals or contact us for a custom purchase.