It's official: LEGO flowers are TikTok famous. And it's no surprise that creators and influencers have been sharing their builds on the social media site. LEGO flower displays are a creative and sustainable way to preserve the beauty of bouquets indefinitely. Plus, they can be built as a solo or group activity; displayed at home or in office settings; curated as part of a collection or singularly as a piece of décor. There are numerous ways to show off a LEGO flower display. They can be arranged in a vase like real flowers and placed on a desk or windowsill. They can be used as a centerpiece on a table, displayed on a mantel, or even on a wall as part of an artwork gallery. But wherever the LEGO flower display is being seen, you can protect by keeping it in an acrylic case.
Following are a few LEGO flower displays for five builds from the LEGO Botanical Collection, including a few of the custom-designed LEGO display cases from shopPOPdisplays.
Flower Bouquets
The best-selling, 756-piece LEGO Flower Bouquet includes stems with a mix of leaves and flower varieties, such as roses, daisies, and asters. The LEGO Icons Wildflower Bouquet (939 pieces) has blooms such as poppies, gerbera daisies, and lavender. After you've finished building each set, you can pop the finished bunch into one vase or separate the stems into multiple bud vases. You can even mix the two bouquets together. If gifting a finished flower bouquet, present it wrapped in Kraft paper and raffia for an authentic touch. Or, for an ambitious project, create a flower wall like this TikTok creator did (we would recommend placing custom acrylic over the LEGO flower display to keep it dust-free!).
Dried Flower Centerpiece
With Thanksgiving and the fall holidays just around the corner, a LEGO centerpiece in warm autumn hues is just the right build for you. The completed build can be a carefree centerpiece for a holiday table, shown off on a fireplace mantel, or used as wall decor. You can even build as a family activity on Thanksgiving. If using as a holiday centerpiece, consider placing a custom size 5 sided acrylic box over the LEGO flower display to keep it safe from gravy splatters.
Orchid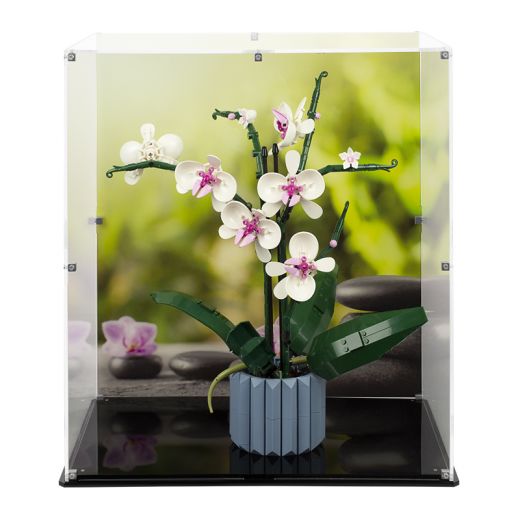 The LEGO Orchid set looks beautiful displayed on a desk, tabletop, or windowsill—on its own or clustered among other plants (brick, faux, or real). But placing the build in a custom-made display case for LEGO Orchid not only protects it from dust, but allows admirers to see the plant from all angles. An optional in-house designed printed background can make your LEGO flower display stand out even more.
Succulents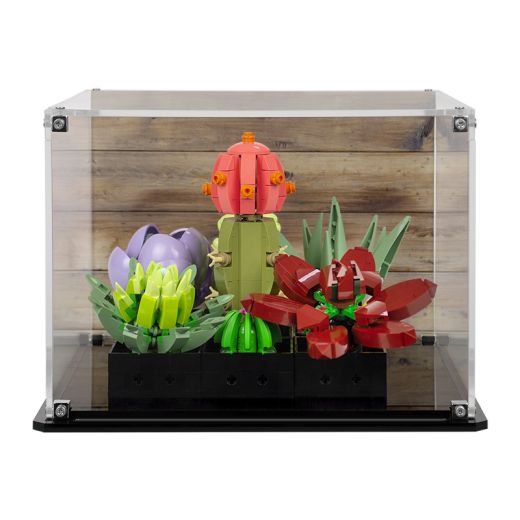 Succulents have become quite popular over the past few years, thanks their unique looks and being easy to maintain. So, it's no surprise that succulents are offered as part of the LEGO Botanical Collection. Once built, LEGO succulents are even easier to maintain and versatile as LEGO flower displays. Display all 9 together, arrange/break out in small groups, or display individually. While they're pretty much maintenance free, the LEGO version will need to be protected from dust. That's where shopPOPdisplay's display case for LEGO succulents comes in. Available in two styles: Ready-to-Assemble and Permanently Assembled—the clarity of the cases allow the succulents to be seen without being damaged.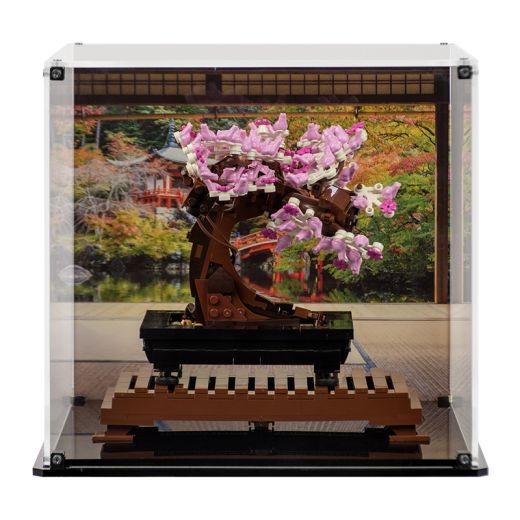 Bonsai Tree
Cultivating Bonsai trees are a symbol of peace and harmony. It's not unlike the calm, stress-relieving benefits people report while building LEGO. So it makes sense the LEGO Bonsai tree is another popular choice. In real life, the trees are grown in a shallow container and are pruned into desired shapes. This LEGO flower display, which features 878 pieces and stands over 7 inches high, is a stunning build. Display it in shopPOPdisplay's display case for LEGO Bonsai Tree. Its lacquered base coordinates with the build for an elegant presentation.
The LEGO Botanical Collection provides creative build experiences in addition to lasting floral displays. To keep them dust free, consider shopPOPdisplay's  LEGO flower display cases. They come with complementary cloth gloves and Novus cleaning wipes for acrylic. They are available in two styles: Ready-to-Assemble and Permanently Assembled. The permanently assembled display cases for LEGO are hardware free and cost a bit more, but both options are sleek and durable. If you don't see what you're looking for, please contact us. We'd love to help with your LEGO flower display!