Visual merchandising is key to enticing your customers to get into your store, stay longer, engage with your brand, and hopefully buy, buy, buy. Effective visual merchandising involves creativity and good decision making to fuel that first burst of purchasing desire and then keep the attention long enough for a sale and even recurring sales. Here are four common visual merchandising display techniques that can help many different kinds of retail businesses.
Visualize a store path
The most visually appealing displays also benefit from being in the right location inside a store. Initially, you may think you know how your customer wants to travel across your retail floor plan, or you may simply set out a path to best maximize sales. Over time, more data will inform your layout and you can make changes to optimize.
To help you start developing an effective path for your customers to travel across your retail floor plan, it's important to learn as much as you can about them. You can use data from surveys, online marketing tactics, and shopping information from your ecommerce store, along with qualitative data you get from customers and store associates.
Once you understand the best path through your store to get customers to the hot sellers and in front of other products you think they'll want to try, you'll need all types of retail signage and displays to keep them curious and excited about your brand. Stay open to new ideas. Your best path and signage may also shift slightly as a result of seasonal business and changing customer needs.
Create memorable window displays to increase foot traffic
A customer's in-store journey starts with discovering a product or idea. After that, it becomes a journey of comparing options before a sale. But to kick-start the sales process, you need to get your customers in the door, first, and a can't-miss intriguing window display does just that.
Creative and imaginative window displays embrace a theme, sometimes even at the expense of products displayed in it. If it's summer camping season, for example, the campground you envision in the window can have a few products on pedestals, or somewhere else in a scene, but being authentic to both your brand and the subject matter should take a higher priority. That's what makes the display memorable.
That's the reason holiday displays are so popular. Some don't even have a single product in them, but their ability to celebrate a subject is what brings people in. This under-stated Anthropologie display is an example of how to capture the vibe of your brand, the season, and even drop a hint of product into the mix as well.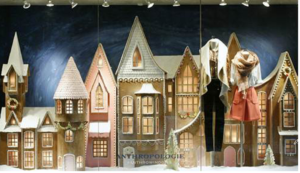 Tell a story with signs
Signs are important visual merchandising display tools that help guide customers on their brick-and-mortar journey. But they are far more than informational pieces. One common visual merchandising technique involves using signs to tell a story. That story can be about your brand, or to highlight a section of your store, or simply to entice the mind into asking questions about products or your brand.
Signs that tell a story may highlight a part of your company vision, history or philosophy. The "1969" in this photo, for example, could be the year the retailer opened, or it could signify an era the brand cherishes or that is a part of its identity.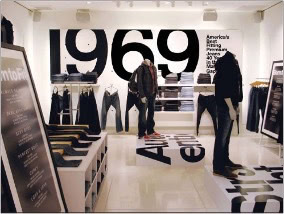 Other signs, such as the ones around the jeans displayed here, can educate your customers on your approach to quality and what separates your brand from competitors.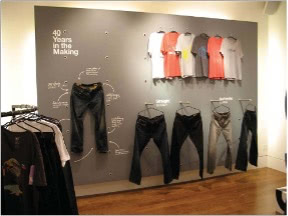 Get the most out of point-of-purchase displays
In most stores, point-of-purchase (POP) displays tend to be the real eye catchers. They are most often the reason your customers stop and browse and spend more time with you. An effective POP display often has vibrant colors; some may also embrace surprising shapes or sizes.
Keep a few basics in mind. First, you don't want a POP display to be so eye-catching or oversized that it impedes traffic flow; second, it still needs to be clean, neat and easy to browse, and third, make sure to put bright packages or popular items at eye level.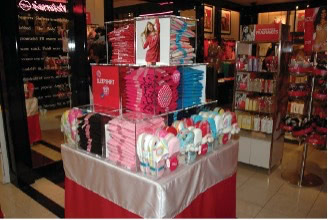 And don't overlook the power of more subtle displays either. For example, a cedar barrel  wooden display, or a basket display can break up a lot of colorful, vibrant pieces. Something as simple as a wooden crate or barrel sends the message that there's a lot inside and that's enough to stir some people's curiosity and make them to want to sift through the products.
Wrapping it up
As your store layout evolves and you make changes to optimize your retail space, you'll have more visual merchandising display techniques of your own to add to the basics mentioned here. If you have questions about how to create better visual merchandising displays for your store, we're here to help!