Whether you are a collector of antiques, sports memorabilia, or want to showcase a unique piece of art, picking the right size display box is essential to the success of your display. At shopPOPdisplays, we carry a wide range of acrylic display boxes that will perfectly complement your items. Below we have compiled some basic guidelines and suggestions to help you determine what type of display box and base is right for your item.

Determining the Right Size for Your Custom Display Box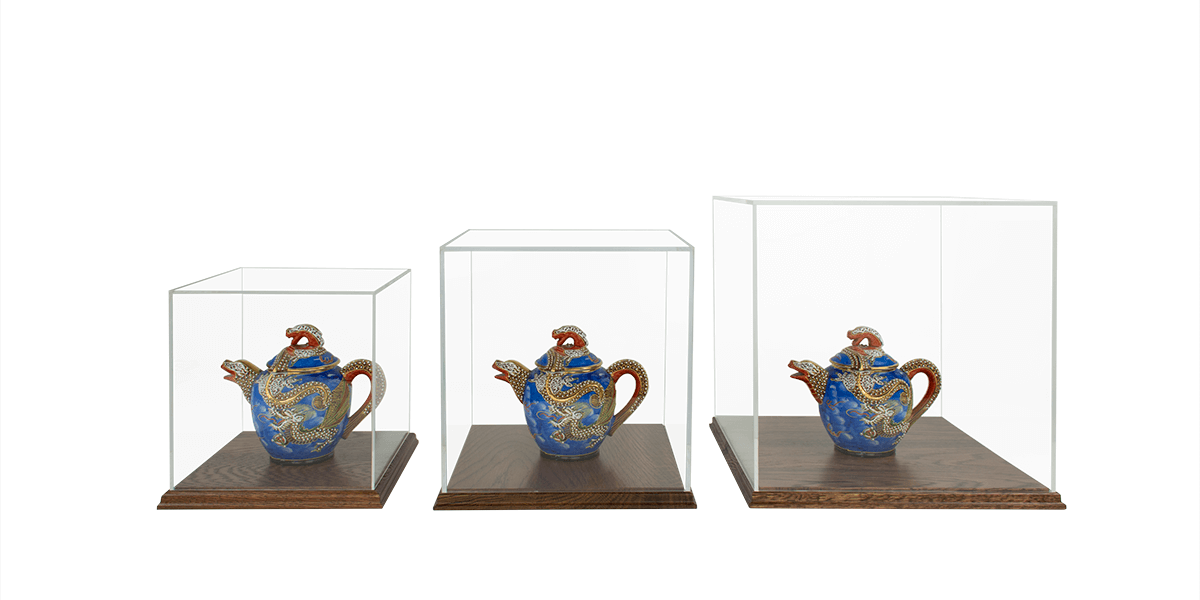 To accurately determine the right size for your acrylic display box, you will need to consider a few key factors. Always start with measuring the item you want to display. For items that are 16″ or less, we recommend adding 1 to 2 inches of height and width from the item you wish to display to arrive at the perfect dimensions for your acrylic box. Please note for items that are larger than 16″; you may want to add 3 to 4 inches on each side to arrive at the ideal size box. The goal for your acrylic box should be to provide an ideal space to highlight your object that offers both clarity and balance.
In the photo above, we have chosen an antique teapot that measures 6″ H x 7″ W. Starting from the left to the right you can see that the teapot perfectly fits into the 8″ x 8″ box, is slightly too small for the 10″ x 10″ display box, and becomes lost inside of the space of the 12″ x 12″ display box. In our opinion, the teapot looks best inside of the 8″ x 8″ size.

Different Box Groupings
However, depending on what you are showcasing, you may want to eventually add a coordinating piece or two to your display box. Whether you are planning on crafting an ever-changing display or happen to own a larger display box already, there are plenty of ways you can or improvise using different size acrylic display boxes.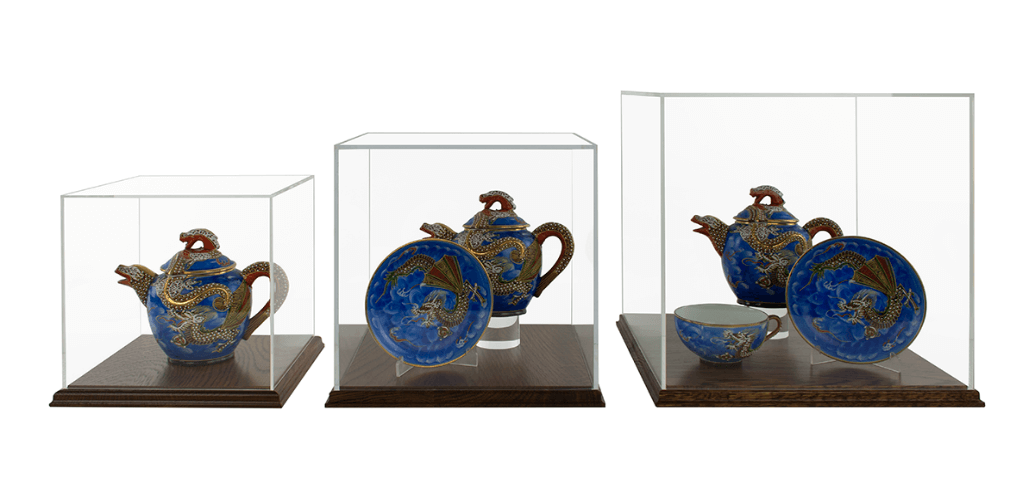 The same 6″ x 7″ teapot that works entirely solo inside of the 8″ x 8″ display box can be accompanied by a coordinating saucer in the 10″ x 10″ box and can be paired with both a matching saucer and teacup in the 12″ x 12″ display box.

The general rule of thumb for display box groupings is that for every 2 inches of length and width added to the box another item within a similar scale can be added to your display. When adding new items to your display, always remember to keep the tallest item within 1 to 2 inches of the display boxes' overall height. Please note this rule is likely to change depending on the size of your item. We always recommend that for larger items you should add 10 to 20% to the size of your box.

Keep in mind that items being displayed together must have varying heights to create an optimal viewing experience. If you are looking to elevate some of these items consider using an acrylic block riser, stand, or easel to help create a staggered look.

Different Bases for a Unique Look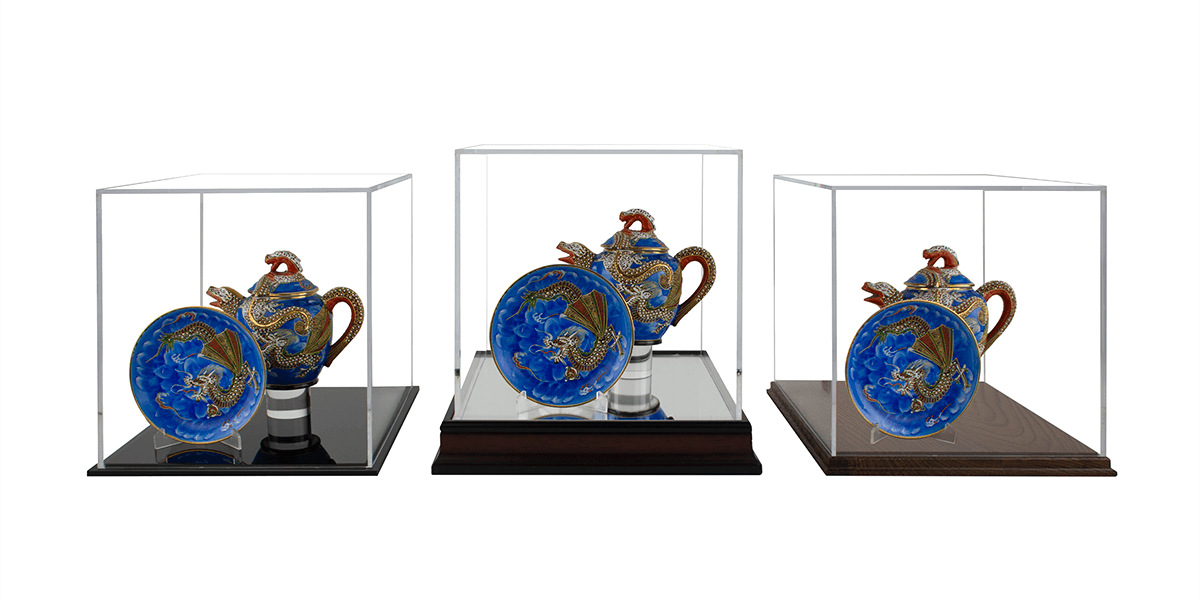 When picking the best base for your display box, you may want to determine the specific style you are seeking to achieve. With multiple kinds of bases available, it may be hard to decide on where to start. Listed below is a simple break down of the various types of bases you may want to consider when purchasing your display box.

Black Base: If you are looking for a modern, sleek look that will help amplify the colors of your item, then a black base may be the perfect option for you. Black bases are great for helping contrast bright, vibrant, or light color objects and blending into any contemporary setting.

White Base: If you are seeking a clean and fresh foundation for your item, then a white base is what you need. Perfect for bold items that need a polished surface, this base is ideal for any modern atmosphere.

Mirror Base: Looking to accentuate your item from all sides? A mirrored base is the perfect way to show off all parts of your item on display. A mirrored base also helps the illusion of space and offers more color and light when highlighting your object.

Wood Base: If you are looking to achieve a stately presence for your item on display, then you may opt for our wooden base for your display box. This elegant look offers a more traditional style that can be ideal for a home, gallery, or office setting.

Color Base: Looking to mix things up? If you are looking to highlight a specific color inside of your item or to promote your favorite brand or sports team, then a colored base is the perfect option for you. At shopPOPdisplays, we have various color bases that will suit your needs. Contact us with your specific requests.

Final Thoughts
With a wide variety of sizes and bases available, at shopPOPdisplays, we are sure to have a display box that suits your specific needs. By following these tips, you will be able to choose the perfect platform and display more effectively anywhere you desire.