For those newly in love or others celebrating their long-time relationships, Valentine's Day brings a certain amount of pressure to get things right. Over the years, that has translated into a lot of buying activity. In fact, in 2020, the National Retail Foundation (NRF) estimated in its annual survey that consumers spent about $27.4 billion on Valentine's Day items, in comparison to only $20.7 billion in 2019, a 32% jump!
Retailers know that lovebirds are on the look-out for that perfect gift. And let's keep in mind that even with online sales increasing, about 40% of Valentine's Day sales still come from brick-and-mortar stores.
A Valentine's Day window display is the perfect opportunity to grab attention and help someone solve their gifting dilemma. Whether you want to take a page from some of the best in the business or just tinker with new approaches, here are five ways retailers can show their Valentine's Day window displays some love this year.
1. Try a big, simple message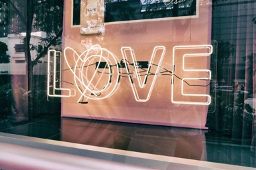 Some merchandisers prioritize volume of product over messaging in their visual merchandising strategy. For your Valentine's Day window display, ditch that thinking. Instead go with large signage or a simple, big statement. Sometimes, a single word in large, bold lettering can do all the talking and get your customers curious enough to come inside and have a look around.
2. Use different elevations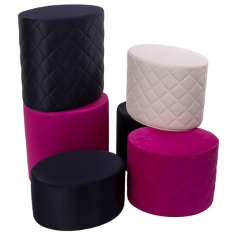 If you do want to emphasize products, a Valentine's Day window display can benefit from items being at different eye levels. It forces a person to look around the space and spend more time with your brand.Use different elevations
If food is your thing, try some simple, round acrylic risers to display different tasty confections. If it's clothes, the lack of color in an acrylic riser helps a brightly colored stack of sweaters stand out. And yes, seeing the clothes in action on a mannequin is great, too, but use the mannequin's height to display more pieces along with props and other elements to show off complementing items and other décor that keep people intrigued by the scene you create.
You can also use colorful product display pedestals or soft cloth display items like the ones in this photo to give the space powerful splashes of color. Just make sure it doesn't drown out any major messaging or products you're wanting the audience to see in the display. Some of the items in this photo would work well as a prop for a mannequin to sit on. The pinks and reds may be stand-alone items, but the white and black ones can highlight bright red and pink products setting on top of them quite well.
3. Use a black backdrop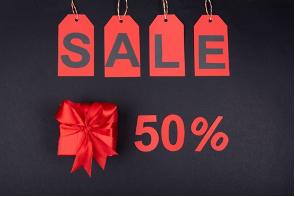 One reason a Valentine's Day window display may fail is because the backdrop muddles messages and drowns out products. That's why a black background rarely lets you down.
Red or pink lettering, products and images absolutely pop into the foreground, grab attention and help you communicate clearly with the audience. These examples highlight a sale, but a black backdrop will absolutely illuminate colorful products. You don't even need words to describe the product. If it's a bestseller, the vivid visual with black behind can be noticed immediately.
4. Challenge balance and gravity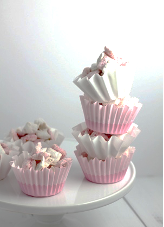 We absolutely love food displays! That bakery that has those amazing cupcakes and Valentine's cookies has items that can make for great Valentine's Day window displays.
Try a little merchandising trick: let some items hang precariously. In this photo, the food items look as if they'll tip. Seeing something that appears unsteady out of the corner of your eye draws upon your instincts to reach out and catch it. That's good for capturing the attention of those who pass by.
You may need to find creative ways to keep items in place, but go ahead and set up a few riser tables and start stacking and arranging in ways that show your daring side! Sometimes items can look like they're floating or thrown or about to be caught by a mannequin, too.
5. Play with language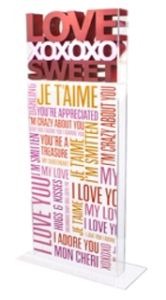 The language of love is indeed in the air. So, why not let your Valentine's Day retail display show it. Sometimes saying something differently is all it takes to get someone's attention. It doesn't need to necessarily be a different language, but borrow from unique turns of phrase that say "I love you" in their own special way. Use one or several. You never know. You might have the next popular Valentine's Day saying millions of people embrace in your lexical library.
Last but not least… share it
If you have a window display that's unique, gets people talking about your brand and has them walking in the door, share it with the world on social media. With so many of us sharing images and videos with one another, who knows where your awesome creative expression might end up? And, the move could boost online sales, too!