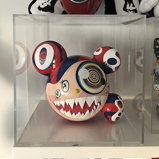 Jay I
5 out of 5
Very nice quantity display case order 4 of these and fit my figure nicely

Code: CS001ABCL
Ratings Snapshot
Would recommend this product.
Custom Size Acrylic Display Box with Clear Base
Item ships in 4 to 6 business days, is made-to-order and non-returnable.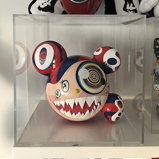 Jay I
5 out of 5
Very nice quantity display case order 4 of these and fit my figure nicely
Customize This Item!
Choose from custom sizing, printing & engraving options. Custom colors, lids & locks are also available.
Contact Us Today!
Product Description
Dimension Information
Box dimensions are EXTERIOR dimensions and have a tolerance of +/- 1/8 inch
Height, Length and Width are available from 2 inches to 24 inches
Cases with any dimension 10 inches or longer are made from 3/16" clear acrylic
Smaller cases are constructed from 1/8" clear acrylic
All bases are 1/4" thick acrylic plus a 1/8" tall step to hold the clear box in position
Custom Order Lead Time
These custom size display cases are made to order and typically ship in 4 to 6 business days
Contact us if you need your order sooner and we will try our best to accommodate you (additional RUSH fees may apply)
As with all custom orders, these custom displays are non-returnable
How To Choose Your Custom Acrylic Display Box With Clear Base
Height: This is the EXTERIOR height of of the clear acrylic box only. The total height including acrylic base will be an additional 1/4" taller.
Width: The narrower of the two remaining dimensions (EXTERIOR DIMENSION). The base extends approximately 1/4" beyond the edges of the display box, adding about 1/2" to the total width of the item.
Length: The longer of the two remaining dimensions (EXTERIOR DIMENSION). The base extends approximately 1/4" beyond the edges of the display box, adding about 1/2" to the total length of the item.
shopPOPdisplays manufactures clear five sided
acrylic display cases
with clear bases in both stock and custom configurations for every conceivable use; to display and store retail merchandise, for
trade show exhibits
, trophies, heirlooms, collectibles, gifts, presentations, and of course your treasured sports memorabilia. Create a custom clear acrylic display box with matching clear base to suit your needs. Each of our cases features solid construction and benefits from acrylic's natural UV resistance. If none of our stock size display cases fit your needs, then use this custom item to build any size between 2 and 24 inches.
Contact us if you need a size or color that is not available. We can fabricate nearly any display box you may want.
Click Below To View Other Styles
Customers Who Bought This Also Bought...
Reviews
Ratings Snapshot
Would recommend this product.
Let us know what you think!
Location / Company: Lowell, MA
Date: May 17, 2020
I have bought several of these type of display cases, including from amazon. This company produces some of the finest cases i've ever owned. Yes, their are a little more expensive, but you see why when you receive your package at the door. More than adequate packaging and shipping proceeds. I've never seen so much effort put into any package i've received in my life. These guys care about the product and how it gets to you in one shape. I carefully removed all the protective package and found a museum quality acylic case. It had thick glass and a solid base. They are my now go to people. I'm that blown away with the service and quality of this product. Thank for reading from a fellow hobbyist.
Location / Company: New York
Date: February 16, 2018
I liked the quality and robustness of 10"x6"x15" clear plexiglass box I ordered. The dimensions were perfect and the box was clean, packed well and had cleaning solution as well.
Location / Company: Maryland
Date: January 30, 2018
Very sturdy, high quality acrylic display cases exceeded my expectations and fit great on a standard table top. Great for trade shows/conventions. ShopPOPdisplays was easy to work with to have custom sizes made, and the items were shipped very quickly. Definitely recommend their service and products!
Location / Company: West Virginia
Date: January 30, 2018
Item was exactly as described and arrived quickly in perfect condition
Location / Company: Studio City, California
Date: January 16, 2018
It was perfect with amazingly fast service. Very impressed - wish I could provide more business.
Location / Company: CA
Date: January 7, 2018
I love the display box! It is a high quality display box and fits my collectable perfectly. It was also well packaged! I will defiantly order from shopPOPdisplays again.