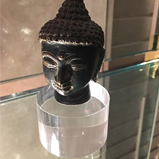 Irvin Modlin
5 out of 5
Flawless product, pristine appearance, wonderful amplification of a beautiful artifact using geometric float in space concept design

Code: 10106
Ratings Snapshot
Would recommend this product.
Solid Acrylic Column - 1.5"H x 2.5"D
Item ships in 5 to 7 business days.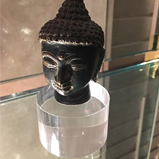 Irvin Modlin
5 out of 5
Flawless product, pristine appearance, wonderful amplification of a beautiful artifact using geometric float in space concept design
Product Description
The Solid Acrylic Column 1.5"H x 2.5"D is a great way to increase the utility of your space with a clean and sleek solution
The design allows customers to easily view the items on display
These are also easy to combine with other items to create custom display areas
Acrylic display columns are available in several sizes, perfect for a variety of retail needs
Quantity discount available
Clear polished acrylic
Customers Who Bought This Also Bought...
Reviews
Ratings Snapshot
Would recommend this product.
Let us know what you think!